After over a year and a half together, Chris Martin and Dakota Johnson have reportedly called it quits.
The surprise split comes just two months after we were hearing they might be going the other way — and getting married instead!
But it apparently was not meant to be. C'est la viva la vida, we suppose.
According to U.K. tabloid The Sun, a source close to the Coldplay frontman has confirmed the conscious uncoupling. The insider spilled:
"There was talk of engagement but now he says they have gone their separate ways, which has come as a real surprise to everyone."
The source had to emphasize just how much the couple's friends were floored by the news:
"Chris and Dakota were very easygoing and always seemed really happy together."
They were so chill, in fact, Dakota was even friends with Chris' famous ex, unintentional Spider-Man star and vagina egg shill Gwyneth Paltrow.
Video: Watch Gwyneth Argue She's NOT In Spider-Man: Homecoming
They all hung out last Thanksgiving. Then they proved it wasn't just making do for the holidays when Dakota was spotted having dinner with Gwyn again as recently as April, along with her new husband, Brad Falchuk.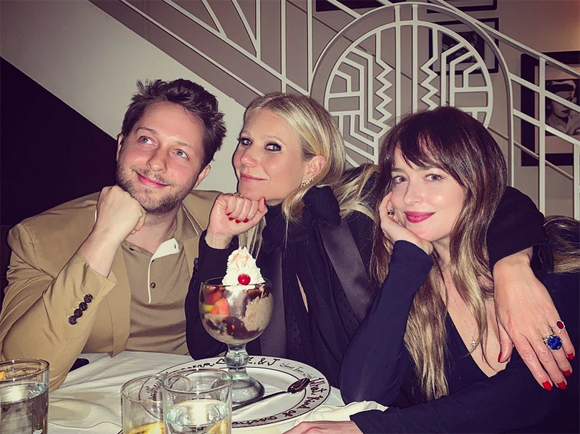 This just isn't news we saw coming. If anything we expected to hear they were expecting!
After Dakota's birthday balloons accidentally made it look like the couple was throwing a gender reveal party in October, we all though the baby announcement was coming any day.
Instead we get this.
Obviously show business relationships are always tricky to navigate, but Chris had some experience. Besides Gwyneth he also briefly dated Jennifer Lawrence, who at the time was one of the biggest movie stars on the planet! (Is that still true? Hmm…)
But we'd heard, as the source implies, things were going fine on that score. Dakota may be in demand, but she was returning to Malibu on the reg to spend time with Chris.
So what happened??
Frankly no one seems to know yet. The Sun's source was as surprised as anyone.
We should note, the news of the split has not been confirmed by either Chris or Dakota's camps.
So maybe it's just another misread of party balloons?
What do YOU think??
Source: Read Full Article