AceShowbiz –Kevin Spacey has come out of hiding again, just days before he's set to appear in court for sexual assault charges stemming from an encounter with an 18-year-old boy in 2016. The former "House of Cards" star stepped out on Sunday, December 30 in Baltimore, two days after he was spotted for the first time in over a year in the East Coast.
Looking more relaxed than his previous outing, the 59-year-old smiled as he delivered free pizza to paparazzi. According to Daily Mail which obtained the photos, Spacey headed to Domino's to pick up a medium cheese and tomato pie before handing it over to photojournalist Jae Donnelly who has been following him.
Spacey praised the photographer for finding him. "I know you're just doing your job," he reportedly said with a smirk, before adding, "Keep warm and have a happy New Year."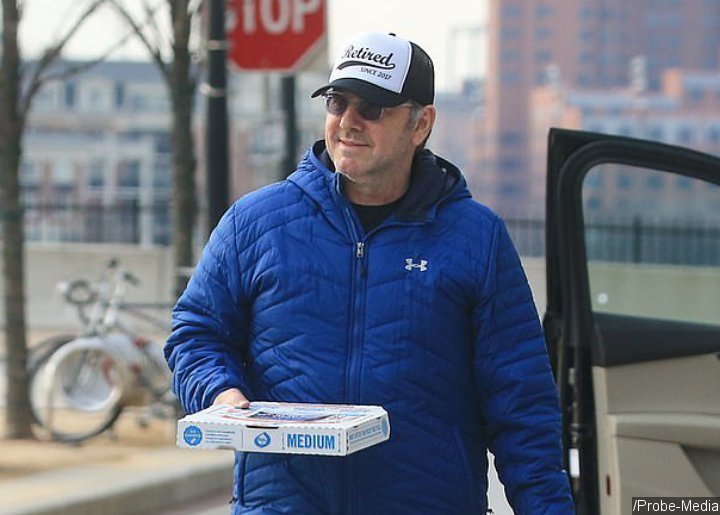 Not hiding his face like the last time he was seen in public, Spacey wore a blue padded jacket, black pants and matching sneakers. He accessorized with a cap that read, "Retired since 2017," which seemed to be a reference to his career. He also sported black shades.
Previously on Friday, December 28, Spacey was pictured leaving a warehouse. The "Superman Returns" star wore a bizarre outfit which included a makeshift balaclava, an undershirt, sagging wind pants and unlaced shoes. Holding two books and carrying a black backpack with a red and blue pencil, he appeared to have just been attending a rehearsal. He was joined by a man who looked to be his manager and constant companion Evan Lowenstein and a woman who pulled over right in front of Spacey's car, seemingly to shield it.
Spacey is due to be arraigned in Nantucket District Court on January 7, 2019 related to charges of indecent assault and battery for allegedly groping the son of former Boston news anchor Heather Unruh. The victim claimed Spacey groped him without his consent in a Nantucket restaurant in 2016, when he was 18 years old. Spacey's lawyer has asked a judge to allow the Academy Award-winning actor to miss the court appearance in Massachusetts, but prosecutors urged the judge to deny the motion.
Source: Read Full Article