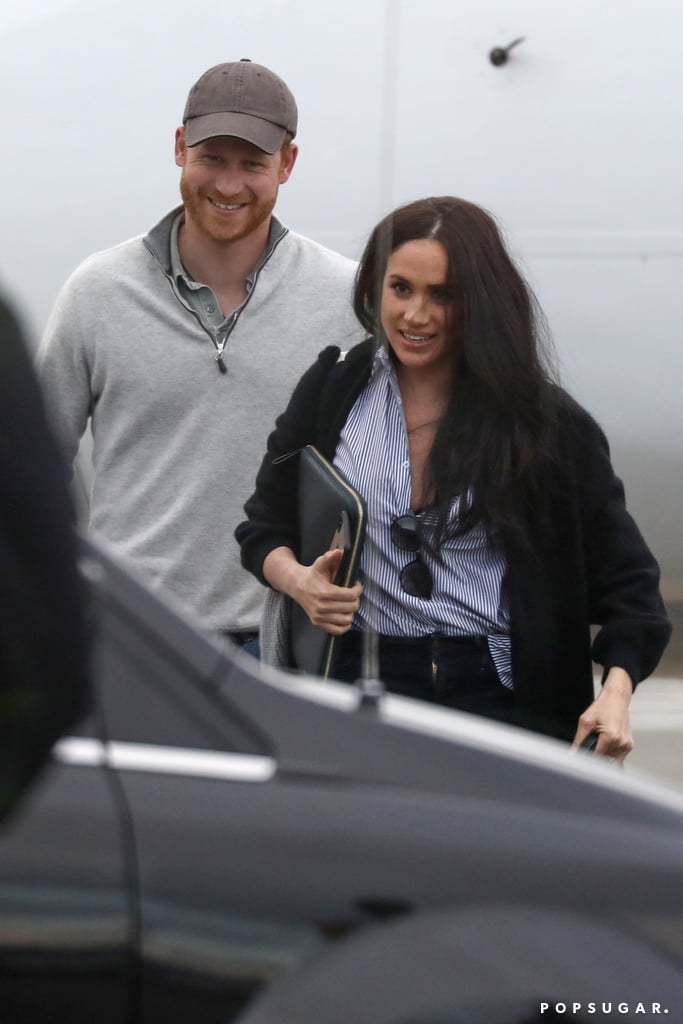 Prince Harry and Meghan Markle have made their first joint public appearance since announcing their split from the royal family. On Feb. 14, the couple was spotted exiting a plane at Canada's Victoria International Airport after reportedly doing business in the US. They dressed casually for the trip as Meghan rocked a button-down shirt, cardigan, and dark pants with a pair of eco-friendly Rothy's flats while Harry wore a gray sweater, jeans, and sneakers with a baseball cap. Carefully stepping off the aircraft, they flashed bright smiles and carried their luggage. Their son, Archie, didn't appear to be with them.
Harry and Meghan have remained low-key since they revealed they'd be stepping back from their royal duties on Jan. 8. A week later, Harry addressed the announcement at a gathering for his Sentebale charity. "The decision that I have made for my wife and I to step back is not one I made lightly," he said. "It was so many months of talks after so many years of challenges. And I know I haven't always got it right, but as far as this goes, there really was no other option."
The pair has since made private outings, including an appearance at a JPMorgan event in Miami where Harry gave a speech and at Stanford University where they met with professors to discuss a new charitable foundation they're launching. By the looks of it, their time away from the public eye has given them a bit of peace. Look ahead to see more photos of them arriving in Canada!
Source: Read Full Article