The holiday season is all about spending time with family, friends, and of course, your fur baby. Together, you and your pup enjoy winter hikes, sleigh rides through the snow, and cuddling up close while watching some of the best holiday classics. Though, the most holly jolly of all is seeing dogs in Christmas sweaters, and dressing your furry friend up in their own. In my opinion, seeing a festive pup is the peak of holiday cuteness. You just can't help but say "aww" when you see a snuggly little pup rocking a Christmas outfit like it's their job.
Let's be honest: Your heart instantly melts when you can tell by the wide grin that your pooch loves wearing their comfy holiday sweater. There's also that extra little pep in their step on your daily walks that's truly the sweetest. They're cozy AF, but also super excited to show off their cool sweater to their doggy friends.
Your dog wearing their Christmas best is also a great idea for your holiday Insta, wishing your loved ones a very Merry Christmas. So, if you need a little inspo (or just some holiday cheer), check out these eight dogs in their cute sweaters, and have yourself a pawsitively wonderful holiday season with your pup.
1

This Dog Is Looking Pug-Tastic In His Red Sweater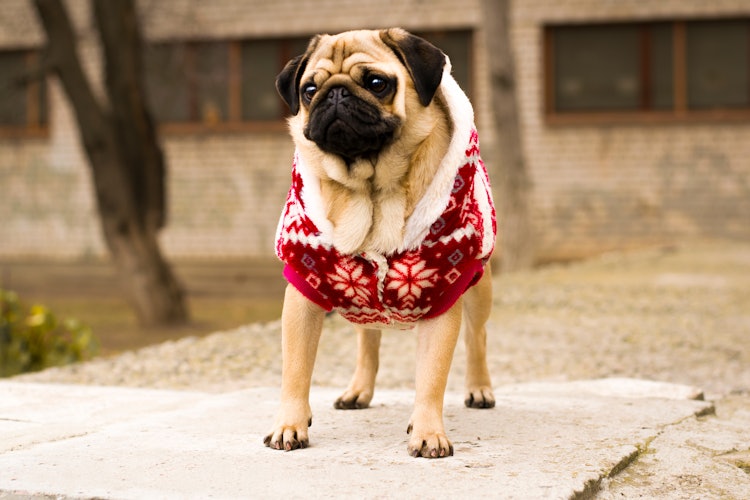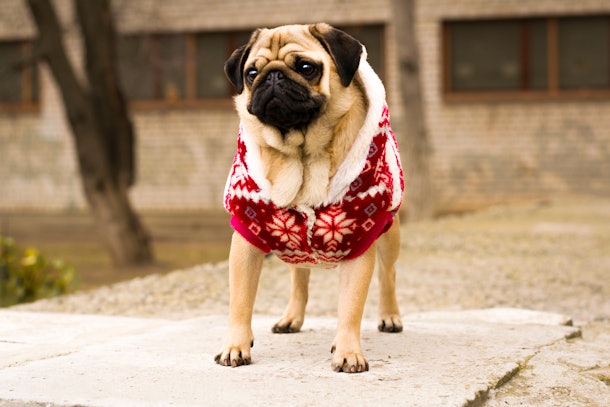 This dog knows that you can do no wrong with a festive red sweater. He's ready for all the holiday activities, from building snowmen and making snow angels, to going on sleigh rides through the park. If your furry friend is a pug, be sure to take a picture of them in a sweater and caption it, "Can't be bah humpug with you around!"
2

This Duo Is Holiday #SquadGoals Right Here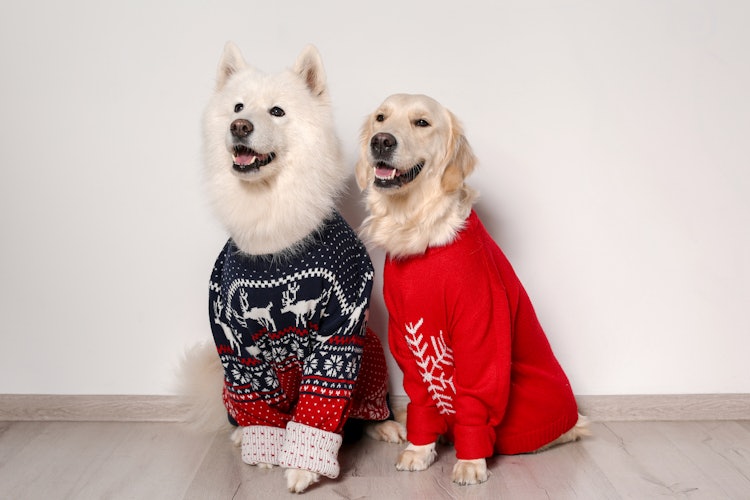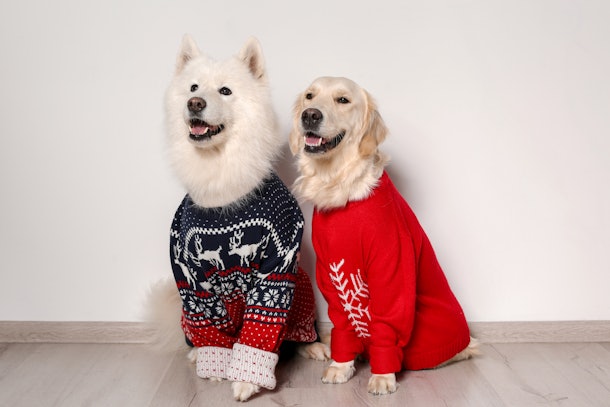 You thought one dog in a sweater was cute enough, but the sight of these two buddies will fill you with instant Christmas cheer. They are ready for any holiday sweater party they get invited to. They might even win best dressed.
3

This Chihuahua Knows How To Strike A Dapper Pose Next To The Christmas Tree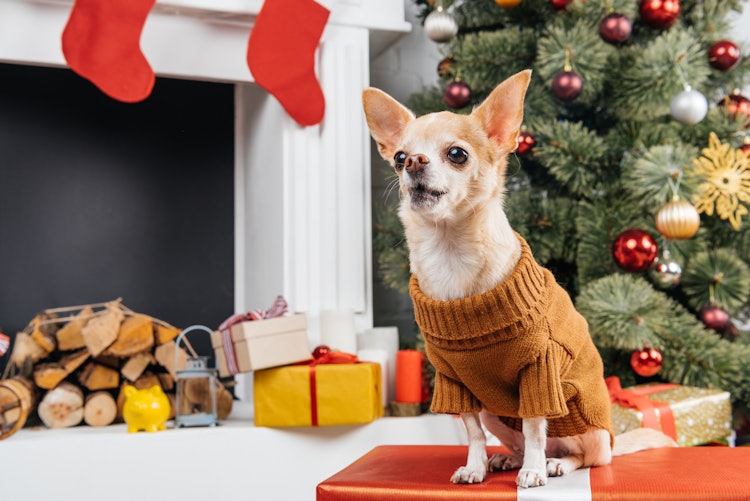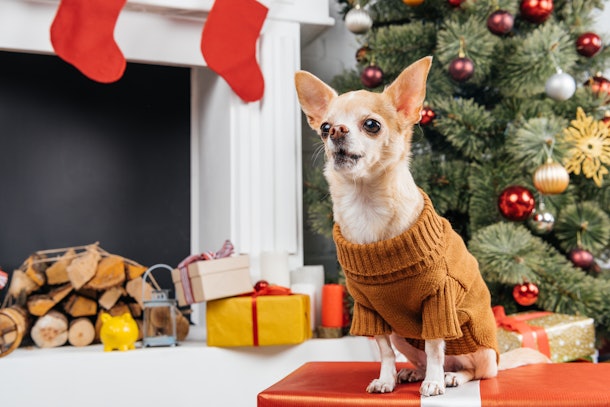 You don't always have to go with the traditional white, red, or green sweater. Instead, you can opt for something that matches the aesthetic of the presents or ornaments. It's clear this Chihuahua is shining bright in front of the tree like he's the star on top.
4

This Pup Is As Excited As I Am On Christmas Morning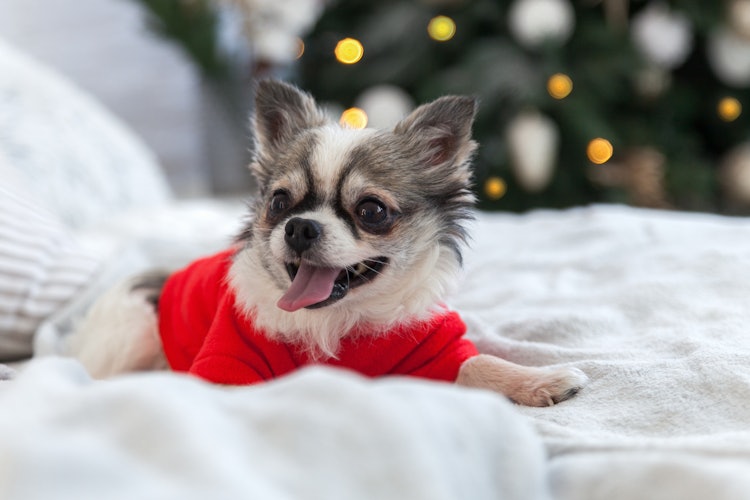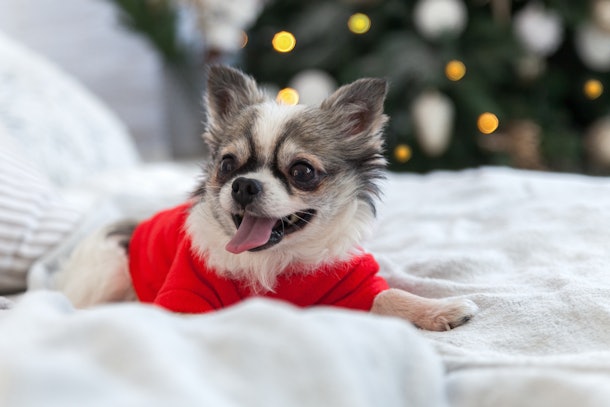 There is nothing more exciting than Christmas morning. It will have you smiling from ear to ear, just like this pup with his tongue out. Don't forget to snap a Christmas morning selfie in your PJs with your pup, and caption it with, "Happy Howlidays."
5

Watch Out, Pup — Santa's Watching Behind You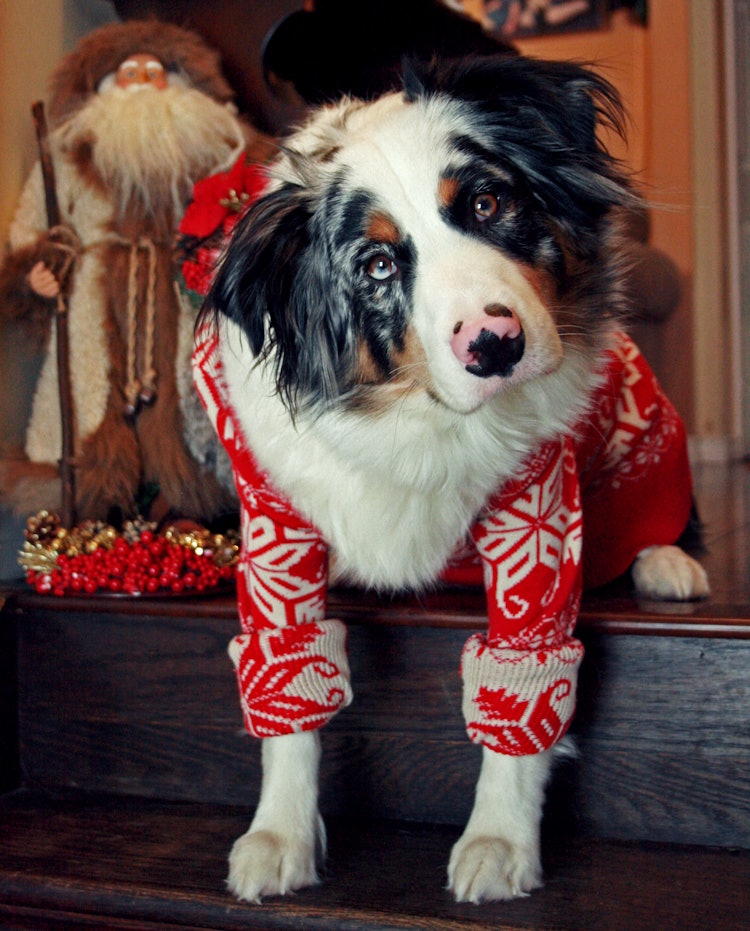 Don't give me those sweet puppy-dog eyes, pooch, because I will instantly melt. And I must say, you look absolutely fab in your holiday best. Also, the Santa in the background is really adding to the pic.
6

These Pups Are The Cutest Pair Of Santa's Helpers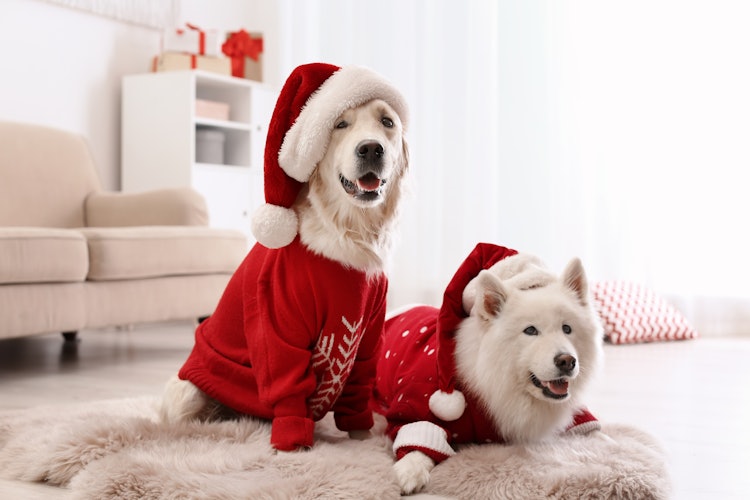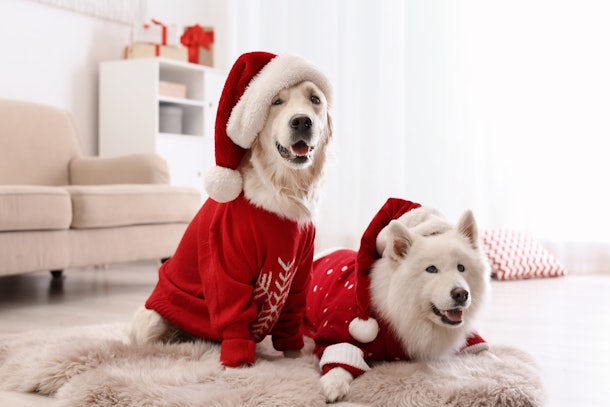 The best accessory for a Christmas sweater is a Santa hat. So, along with your cozy gear, add a Santa hat to your pup's look for the sweetest Christmas card photo shoot ever.
7

This Pup Is Dachshund Through The Snow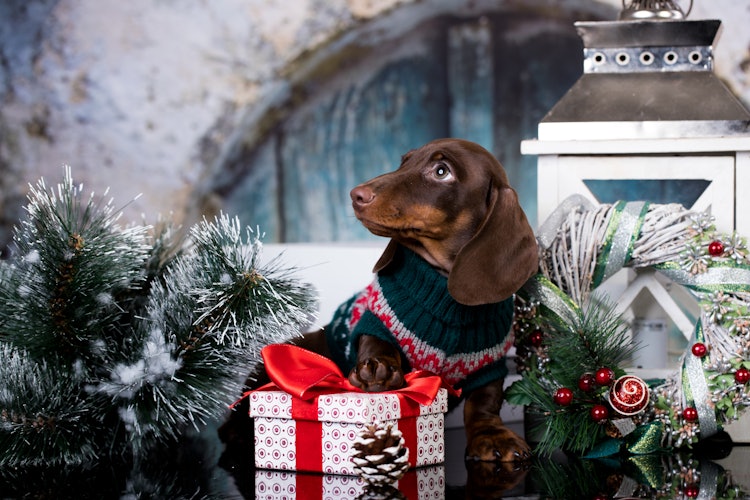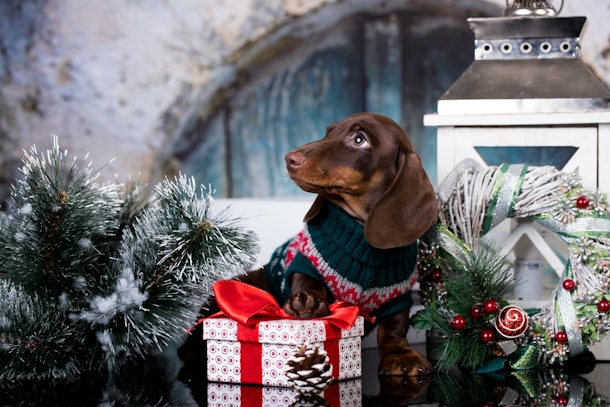 I'm loving the candid pose this dog is going for in his Christmas pic. The subtle paw on the present is a nice touch as well. I'm taking so many notes.
8

This Pup's Cozy Sweater Has A Hood To Keep His Ears Warm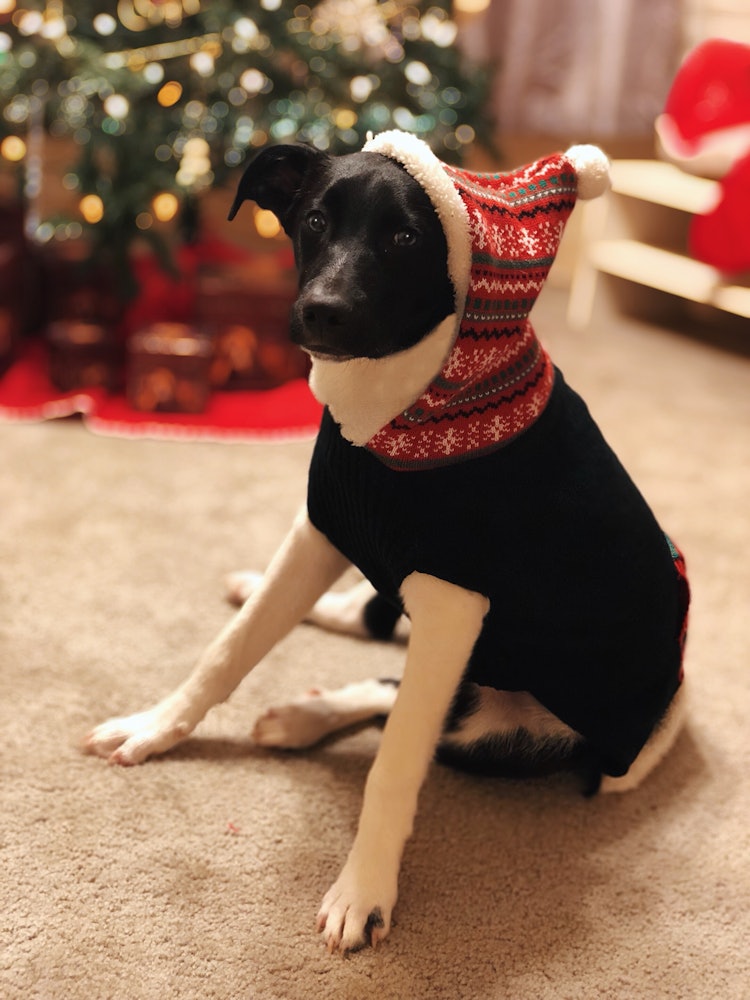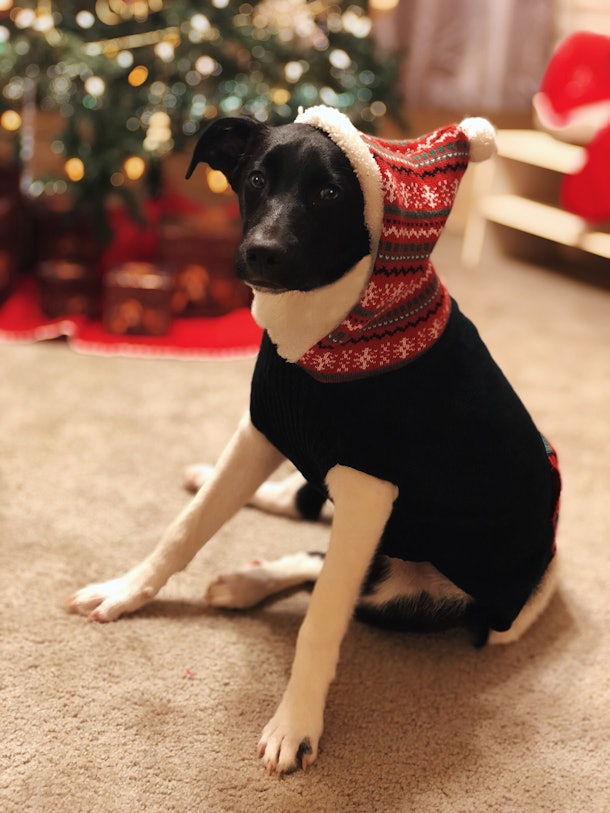 Baby, it's cold outside, but your dog still needs to go for a walk. Make sure you're both warm and cozy by covering up your ears. This cute sweater comes with a warm hood for this dog, and the little pom pom on top is a cute touch that makes him look like a Christmas elf.
Source: Read Full Article