There's no denying women tend to be unfairly labeled by society — but there are also women who refuse to be defined in these ways. On Wednesday, Jessica Simpson tweeted Natalie Portman, defending herself, her body, and her sexuality in response to a statement Portman made about Simpson wearing a bikini on a magazine cover back when she was still a virgin. Portman's comments were in an interview with USA Today that was published on Dec. 4, and she later responded to Simpson on Instagram with supportive words and an apology.
First, let's discuss Portman's initial comments. While talking about her new movie Vox Lux, where she plays a pop star, the actor opened up about admiring Madonna when she was a child. Portman said,
Then, the Academy Award winner touched upon, as USA Today reported, "the virgin/vixen paradigms lobbed by the music industry as the millennium neared."
Portman commented,
Simpson found fault with Portman's words and decided to respond on Twitter.
As you can see above, Simpson's tweeted,
When she first became famous as a singer, around the same time she was dating and then engaged to Nick Lachey (they got married in 2002, but later divorced in 2005), it was a well-known fact that Simpson was waiting until marriage to have sex. As she told People in 2000, "My virginity is something I stand strong in."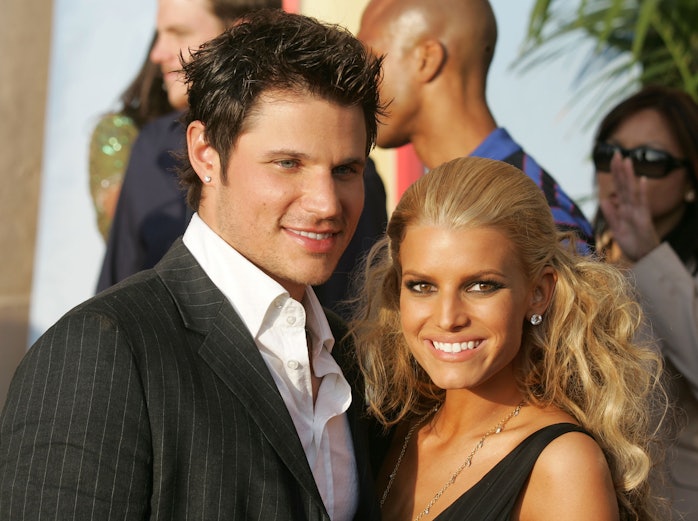 She fully embraced her choice and still does to this day. The shoe designer also tweeted Portman,
Simpson continued,
Soon after Simpson's tweet was posted (she also shared it on Instagram), Portman responded in the Instagram comments section with an apology and nothing but praise for Simpson. (Simpson has not yet responded to Portman's post.)
Portman partially wrote,
You can read her full post here: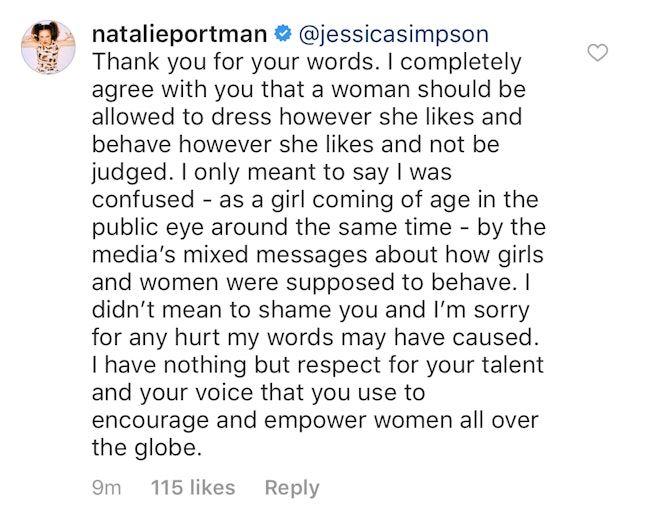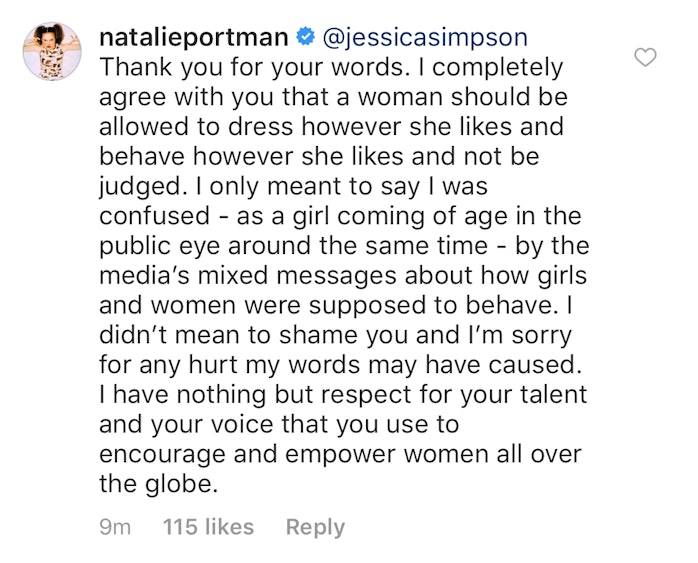 Like both Simpson and Portman noted, someone can wear a bikini and be a virgin. An individual's virginity and choice of outfit or swimwear aren't mutually exclusive.
Simpson's tweet should be applauded, because she makes a lot of great points, not to mention how she stands up for women everywhere. It's also understandable why Simpson felt like she needed to defend herself, something she's been doing most of her life. As for Portman, she's always been a class act and there's no denying she continues to influence and uplift women.
Source: Read Full Article