Steve Lazarides has had enough of the art scene.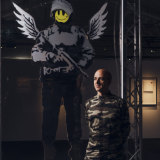 Steve Lazarides represented Banksy for 12 years before the pair had a falling out.Credit:James Brickwood
Lazarides is best known as the former agent and dealer for Banksy, the legendary anonymous street artist and activist, before the pair had a falling out more than a decade ago.
At 50, he says there is nothing in the world of art to excite him any more.
"I belonged to this subculture since I was 14 years old so the only reason I ever did it was to promote a culture that was being completely overlooked," says Bristol-born Lazarides, who first met Bansky in the mid-1990s. "Then the whole thing ran away with itself and I ended up having a gallery, selling paintings and everything else. I'm not an angry young man anymore.
"I've got no interest in dealing with billionaires to sell them paintings. That's not what I went into this for in the first place."
As much as [Banksy] doesn't like it, I think at some level he must want the general public to see his artwork.
He says his next move after stepping outside the art world will be to set up a London-based charity to help teenagers trying to escape street violence.
"It's a bloodbath for these 14 to 18-year-olds," he says. "A lot of these kids are supremely talented but no one is willing to help them."
Lazarides was in Sydney to launch The Art of Banksy, a most definitely unauthorised retrospective consisting of 80 original Banksy artworks including iconic pieces such as Girl with Red Balloon and Rude Copper.
He happily admits his former collaborator (the pair have not spoken since their bust-up) would hate the idea of the show.
"But as much as he doesn't like it, I think at some level he must want the general public to see his artwork," he says. "The general public made him a folk hero so the general public deserves to see his art.
"I genuinely believe in what he did as an artist. I always will do. He changed the face of art."
And as to the delicate question of how much money he made from his work during the 12 years he represented Banksy and from his unauthorised activities since, Lazarides is characteristically blunt.
"Yes, I made money out of it," he says. "I'd be a lying motherf–ker if I said I didn't. Am I ashamed of it? Absolutely not. Do I want to keep going just for the sake of making money? Absolutely not. The money was a by-product of being successful. I'm working class so I've got no f–king embarrassment about making money. There's nothing good about being poor."
So, despite the rancour that exists between the pair, would Lazarides sit down for a beer with Banksy if the occasion ever arose?
"Sure," he says. "He'd probably throw it at me though."
The Art of Banksy opens at the Entertainment Quarter from September 13.
Source: Read Full Article