It was, as beleaguered Melbourne City boss Warren Joyce said, only one game.
But 90 minutes can make a huge difference in the career of players and coaches and the seasons of clubs.
The 3-0 win over Newcastle Jets gives City, at the very least, breathing space after a traumatic week in which the capability of the coach, the players and the management has come in for fierce appraisal from angry fans who have hitched their wagon to the Bruno Fornaroli caravan.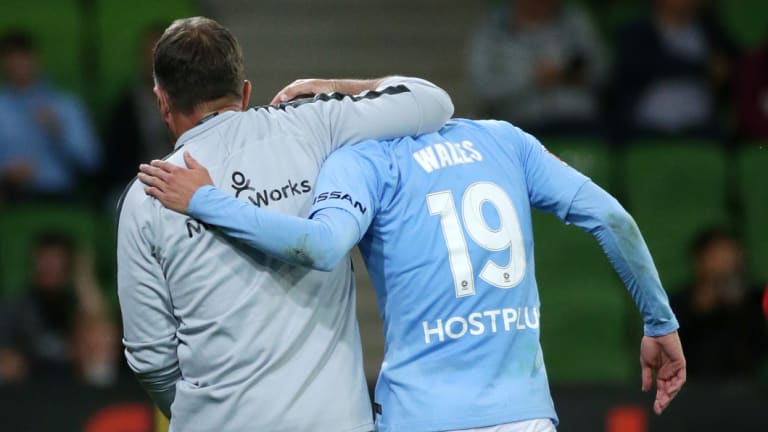 Warren Joyce and Lachlan Wales celebrate City's resounding win over Newcastle.Credit:AAP
Three excellent goals – two sensational strikes by Riley McGree and Luke Brattan and a cool chip by youngster Lachlan Wales – show City can hit the target without fan favourite Fornaroli, who sat in the stands surrounded by family watching his teammates get the job done in style without him.
To some extent Newcastle – described by their coach Ernie Merrick as insipid – made the job easier, as a poor Western Sydney Wanderers had done the night before when Melbourne Victory hammered them 4-0.
Still, all any team can do is beat the opponent in front of it.
Despite all the gossip about tension within the City camp there is no doubt that the players put in a shift for the coach.
City approached the game with a vim and vigour that they haven't always displayed this season; they hustled, harried, ran and worked to shut down the Jets and impose themselves on the game.
Still, it won't have gone unnoticed that it did take two exceptional individual efforts to seal the result although few would be anything other than happy that hardworking youngster Wales scored his first goal for the club in the dying minutes.
Whatever they achieve on the field – unless they bring in a galaxy of stars in a future A-League world where the clubs run the competition and the salary cap is scrapped – City are always likely to face questions from their fans about just who or what they are.
Are they a club dedicated to being the best they can in Australia's peak domestic competition?
Or are they merely the southern hemisphere flagship of a global franchise whose main priority is to harvest the country's best young players and then feed them into the City Football Group's global system?
Those are the questions the fans pose most – both in public fora and also via emails or social media posts to me from the club's small but vociferous supporter group.
The truth at the moment is that they are trying to straddle both aims.
If they are successful the fans will probably put up with it and accept that promising players will be passed on to their bigger brethren in the City Football Group, as Aaron Mooy and Daniel Arzani have been in recent years.
If they are not, they won't.
Joyce is an unwitting man in the middle in this situation.
He is adamant that he will apply the same rules to all at the club and is determined to change its culture.
Fornaroli has been City's best goalscorer for several seasons and there is no doubt that a fit and focused Fornaroli would be a huge asset to the team.
If he can win his way back into the fold – and Joyce says he has every chance to do so – then City will be stronger and can be counted as contenders in the championship race.
If the pair part company, City will have to replace Fornaroli with another top level striker in the January window, and do it smartly – not just to appease fans but to bolster their firepower.
Brilliant as their goals were on Sunday night, Brattan and McGree are not regular marksmen. Teams can win titles with goals coming from midfield, but the best route to goal is always to have specialist forwards.
The speculation over culture, commitment and the way the club operates is likely to continue for a while yet, especially if results are inconsistent and they struggle to hit the target.
Joyce is adamant that his team has been playing well, and he is equally keen for them not to bother with outside distractions – whether its speculation over Fornaroli's future, fan protests or media criticism.
''We have told the players not to follow anything in the press or on TV. We know within the club what we are doing, we know what's going on, so the negative stuff is not really important,'' he said.
Source: Read Full Article