Australian cricket's era of cruise control ends here.
As a summer ritual, cricket has provided comfort in continuity. About now, the cricket-watching community would begin to put its feet up and flick to Channel Nine for the first Test match at the Gabba, and settle in until Sydney in January. Further thought was not required.
On the field, after a few contestable days, the home side would gradually exert an inexorable dominance. In its hold on Australian life, cricket relied on its reliability.
Ghosts of former glory: Former captains Ricky Ponting (left) and Steve Waugh.Credit:AP
This time, the formula has been torn up and flung into the air like so many pieces of confetti – or sandpaper – and we are about to see how they fall. Cricket as you have not known it? Thanks to a year of scandal, life is imitating the advertisers' art.
The change in broadcaster is the first signal of change. So disruptive has the limited-overs shift to Foxtel been, in terms of lost viewers, that Cricket Australia will be watching the TV ratings nervously from Foxtel and Seven, who will both show the Test series.
CA's decision-makers were either unaware or uncaring about the effect of putting white-ball international cricket behind a paywall, and the public has so far responded indignantly. The question is, was that decline simply a result of the switch to pay-TV, or a wider public protest against the game? With the Test matches on free-to-air, we are about to find out.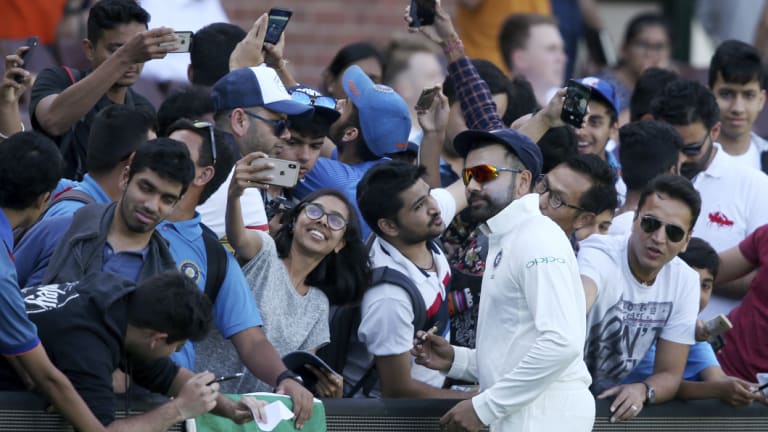 Star power: Rohit Sharma meets fans during a break in India's tour match in Sydney.Credit:AP
Another cultural shift was visible in the overwhelming Indian spectator presence during the T20 matches.
This may simply show India's enthusiasm for white-ball international cricket, which is surging as Australia's wavers. Or it may signal that India's time has come: that the superpower is ready to convert its economic strength into a new cricketing self-confidence.
In the rejection of Brisbane as a Test venue in this series and the refusal to play a pink-ball Test match, the Indian board has already shown its muscle. Can their team carry that assertiveness into the most rigorous form of the game? Let's see.
The best predictor – now as ever – for the outcome of a Test series is the simplest set of numbers. To be the first Indian side to win a series on Australian soil, Virat Kohli's men will have to be better than the Tendulkar-Ganguly-Dravid-Kumble teams of the early 2000s and better than the Gavaskar-Kapil Dev teams of the 1980s. But when it comes to the key numbers, this Indian team has an advantage over Australia that none of their predecessors enjoyed.
For all the variances in conditions and form, the most dependable indicator of who will win a cricket series is the number of Tests played, runs scored and wickets taken. India's advantage is clear.
Their likely top seven batsmen have played a combined 309 Test matches and scored 22,113 runs. By comparison, Australia's likely top seven have played 101 Test matches and scored 6434 runs. India's top seven are three times more accomplished than Australia's.
They have four batsmen who have scored more Test runs than Australia's leader, Usman Khawaja. I cannot think of any such clear disparity in a Test series that has not resulted in victory for the more experienced team.
Missing in action: Australia – sans a few key players – train at Adelaide Oval ahead of the first Test.Credit:David Mariuz
But Australia have India's measure in bowling, right? Obviously the Australian quartet are better suited to home conditions, but the basic numbers are also in India's favour: 227 combined Test appearances and 837 wickets for their likely attack, compared with Australia's 179 Tests for 721 wickets.
If India are ever going to win a Test series in Australia, it is this summer. Their on-paper superiority is overwhelming. But games are not played on paper, of course, and this series will feature two distinctly different versions of cricket.
For all the variances in conditions, India's advantage is clear. Their top seven are three times more accomplished than Australia's.
When India are bowling to Australia, we will see two line-ups carrying modest expectations. Australia's batting depth is so statistically weak that the absence of two players, Steve Smith and David Warner, has had an effect compared to the defection of 15 top-line batsmen to World Series Cricket four decades ago.
Nevertheless I expect Australia to be able to eke out defendable totals. Without Smith and Warner they are unlikely to bat India out of games, but each of their top six can make some contribution at critical times, and I think they will get useful runs out of their lower order as well. The Australian team will make India work for all 10 wickets.
The premium content, however, is Australia bowling to India, and this is where the series will be won and lost. If the Australians can limit the star-studded visitors' scoring, the ripple effect on both teams' morale will be profound.
Australia's bowlers do not need to stop just Kohli (Australia are far more reliant on Usman Khawaja, who has scored 38 per cent of the top seven's runs, than India are on Kohli, who has scored 29 per cent of theirs).
India's top order is composed of experienced, successful Test batsmen. Collectively, their output will decide the result.
This is a tantalising series because every possible result will be a surprise. If history is our guide, it says India, as the more experienced and accomplished team, will win – even if they would be the first in history to do so on Australian soil. But in this of all summers, history may be forgiven for taking a leave of absence.
Source: Read Full Article