A-League leaders Perth Glory have benefited from a bewildering VAR decision to snatch a late 1-1 draw with the Phoenix in Wellington.
Substitute Diego Castro smashed home an equaliser with eight minutes remaining against the 10-man hosts on Sunday as Glory rode their luck to maintain an unbeaten start to the season.
It cancelled out Roy Krishna's record-breaking first-half goal that appeared to have the Phoenix on track to record a monumental upset.
However, Spanish magician Castro's 65th-minute introduction woke the disjointed Glory from their slumber and came 10 minutes before the game's defining moment.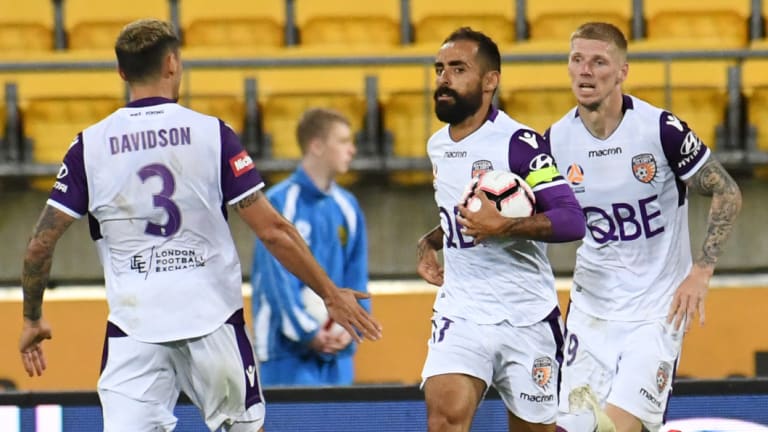 Racing time: Diego Castro runs back to halfway after scoring his equalisier.Credit:AAP
Defender Ryan Lowry was shown a straight red card by referee Adam Kersey for a tackle on Chris Ikonomidis after being alerted to a possible incident by video official Nick Waldron.
The decision outraged the home side, with Ikonomidis tripping over Lowry's sliding front leg long after the Phoenix substitute won a ball metres from the contact point.
Perth pushed on for a winner but couldn't produce it, ending a four-match winning streak. They nevertheless maintain their unbeaten start to the season but see their championship lead reduced from four points to two over Melbourne Victory.
Wellington end a three-game losing trot in what was their best performance under new coach Mark Rudan, dominating the first 60 minutes and unfortunate not to be further ahead.
The home side also had to cope after a sickening collision that resulted in Phoenix goalkeeper Filip Kurto being stretchered from the field in the 15th minute.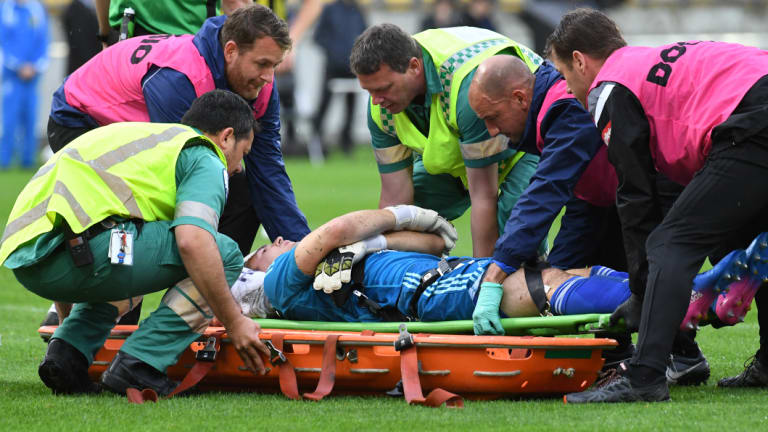 Casualty: Filip Kurto is carried from the field after clashing with Andy Keogh.Credit:AAP
The Polish stopper appeared to be knocked out when his head collided with the hip of Perth striker Andy Keogh's as they contested a through-ball.
After a delay of nearly 10 minutes, Kiwi youngster Oliver Sail replaced Kurto and was barely threatened until Casto slammed home from close range after some slick build-up work from Ikonomidis.
Krishna became the club's record scorer in the 44th minute, bagging his 34th goal to move one clear of Paul Ifill.
The Fijian striker pounced and drilled low from near the penalty spot when Nathan Burns' pass was deflected into his patch by Tomislav Mrcela, giving Liam Reddy no chance.
AAP
Source: Read Full Article