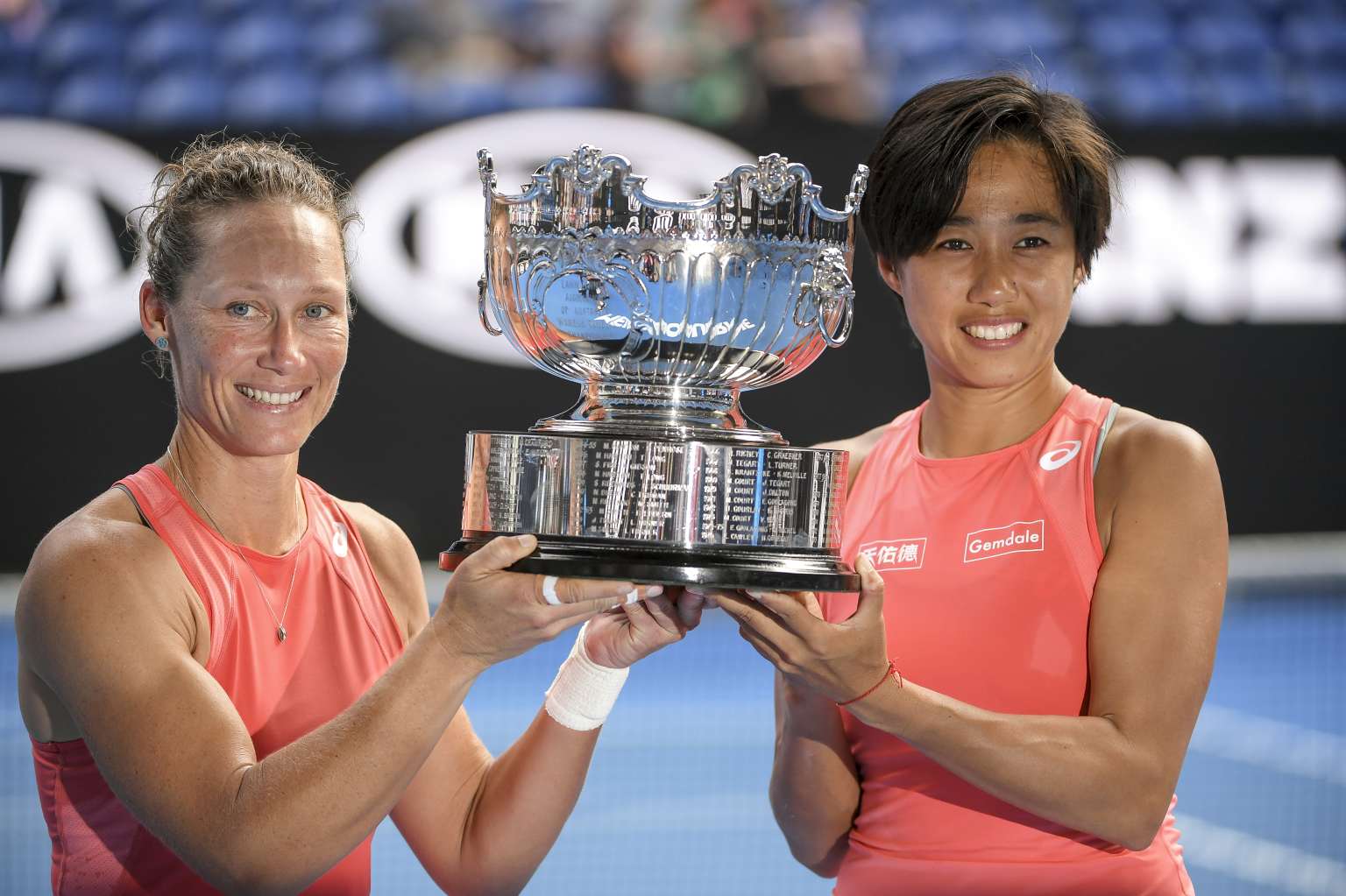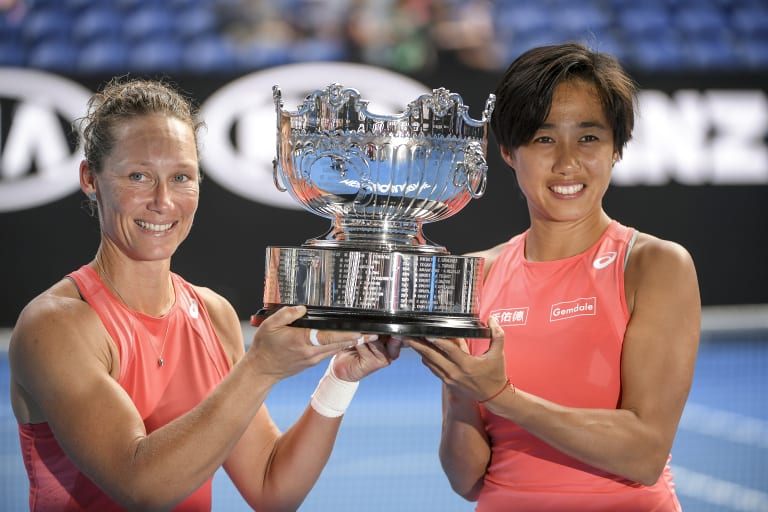 Samantha Stosur (left) and doubles partner Zhang Shuai with the silverware.Credit:Eddie Jim
It was a case of back to the future for Sam Stosur after the former doubles world No. 1 partnered with China's Zhang Shuai to claim the Australian Open women's doubles title.
For Stosur this Australian title was a satisfying moment and it showed with her on-court celebrations. The Queenslander, a French Open and US Open doubles champion, had reached the final once previously in Melbourne – in 2006 when partnered with Lisa Raymond.
They held championship points 13 years ago but failed to convert.
Stosur's resolve was tested several times through the match but especially when she double-faulted on her first championship point on Friday.
Stosur also won the mixed doubles crown with Scott Draper in 2005.
Stosur, 34, and Zhang, 30, were unseeded heading into this major but their form in recent months had been strong.
She was playing her 10th doubles major final and, along with Zhang, completed a memorable tournament with a 6-3, 6-4 victory over Timea Babos and Kristina Mladenovic in one hour and 34 minutes.
"Great tournament," Stosur told her defeated opponents post-match.
"You're obviously one of the best teams in the world.
Stosur and Zhang cover the court at Melbourne Park.Credit:Eddie Jim
"We were ready for a really tough one today, which it was.
"Bad luck, but very best for the rest of the year."
The Stosur-Zhang combination had managed a 13-1 record since September with their only defeat coming at the hands of Babos and Mladenovic in the US Open semi-finals.
Stosur spent 61 weeks as the world's top-ranked doubles player in a hot streak during the early stages of her career.
For Zhang, her partnership with Stosur has brought rewards in their fifth major as a team.
The Chinese 30-year-old was playing her first doubles grand slam final. In Melbourne, Zhang had never previously gone past the second round on the doubles court.
But she does have a taste of singles glory at Melbourne Park when she reached the final eight at the 2016 Australian Open.
"A big, big thank you to both of our teams over there in the corner," Stosur said.
"All my family are here today, and to all my friends who came out – thanks guys for coming. I couldn't do it without you."
Runners-up Timea Babos (left) and Kristina Mladenovic.Credit:AP
Stosur said her move to join up with Zhang had paid dividends.
"Thank you very much. It's always a pleasure being on court with you," said the 2011 US Open singles champion.
"We have a great friendship and I think that really shows when we play.
"We support each other no matter what – we win the point, we lose the point, we win the match, we lose the match. It doesn't matter we're always there.
"Thanks for being my partner this week and for many more to come."
With AAP
Source: Read Full Article