Sporting editor John Benaud, brother of Richie and later the last editor of The Sun, coming back from a news conference kicking an iron bin when he didn't get his way, is a lasting memory of more than 60 years with John Fairfax.
Ironic perhaps because Benaud, one of the outstanding newspapermen of my time,campaigned to get cricketers on the field in softer shoes and how his toes survived the bins is beyond me.
Golden era: Max Presnell with then-NSW Premier Neville Wran and legendary trainer Tommy Smith in 1976.Credit:Fairfax Archive
Sure, I started young but in the last days of the Fairfax publishing empire claim to be the longest-serving employee.
Apart from family highlights the most fortunate day of my life was when I joined the company as a copy boy in 1954 after just turning 15, the legal school leaving age, and started work with The Sun, the afternoon tabloid which was then operating operated in Elizabeth Street.
Yes, I did have a three-year lapse in the United Kingdom but since 1964 have been firmly under the Fairfax wing. Being short of formal education The Sun was a great university with learned professors, steeped in character formed in the Depression and war years when people survived more on their wits than a computer.
Racecourses are now devoid of this vital ingredient and so is the media. Behaviour in newspapers then wouldn't be tolerated now. Many journalists were brilliant, others eccentric but the pace in the circulation battle with the Daily Mirror was furious.
As a copy boy at Elizabeth Street to travel in the same lift as Keith Miller, the cricket hero who worked in the building, made my day. Some felt a young bloke employed in the counting house upstairs – Richie Benaud – was going to be good but showing my renowned judgment on all things sporting I felt Ray Flockton, from Paddington, had more promise.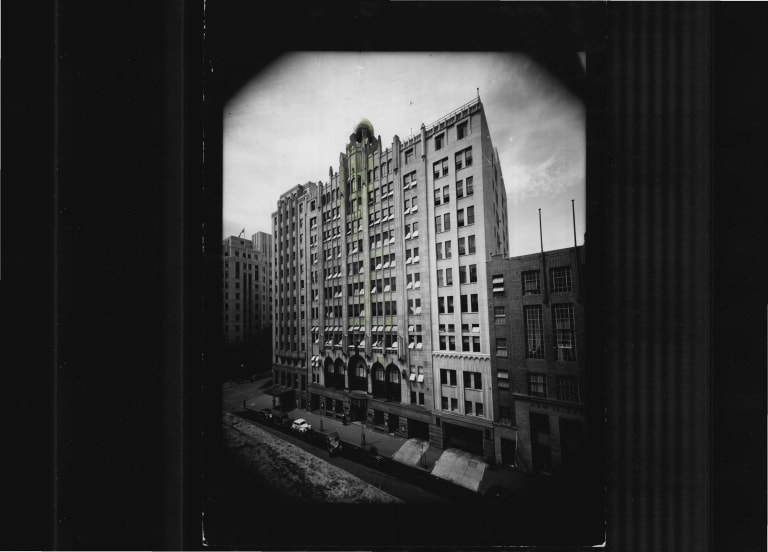 History: the headquarters of now-defunct tabloid The Sun photographed in 1949.Credit:Fairfax Archive
Copy boys ran messages but the term came from moving copy, stories often page by page, hot from the typewriter to different departments and sending it down chutes to the compositors. Lessons were learned.
Take, for instance, when I had to show Graham Davis, later to become an outstanding police rounds reporter, the system. Going into the subeditors' room he asked in a voice that boomed to Martin Place: "Sub-Editors are journalists who don't make the grade?" His markings, recognition in racing terms, were noted by John Moore and Len Cossey: two subeditors who did.
One of my early jobs was in sport where I learned not to cut corners for a man named Con. Norm Provan, the magnificent Saints forward, once said "Con by name and Con by nature" of Con Simons, one of the best sporting editors.
Simons had a taste for Sargents pies and in the early days at Broadway commissioned me to get one. Alas it entailed a journey to Railway Square, and I found an outlet closer to the office selling what looked like the genuine item but at first bite Simons reacted like it was filled with dog droppings. He ordered me to get "a Sargents and pay for it yourself".
Apart from Simons other outstanding tutors were Jack Toohey, the news editor, Zell Rabin, then a young reporter who became Rupert Murdoch's first editor at the Daily Mirror, Noel Bailey, the chief Police rounds man, and Jack Charles, the turf editor.
Running in the copy stakes with me but for a radio station linked with The Sun was Max Suich, who couldn't match my speed off the mark, being slow out of the gates absorbing the stories. Suich went on to become Fairfax CEO.
Certainly the best telegram I ever received came from news editor Jack Toohey – "please phone me urgently" – on April 11, 1957, to say I had been given a cadetship.
After failing to shine in anything other than lottery results – taking the numbers of prize winners – I was moved to racing, always my target.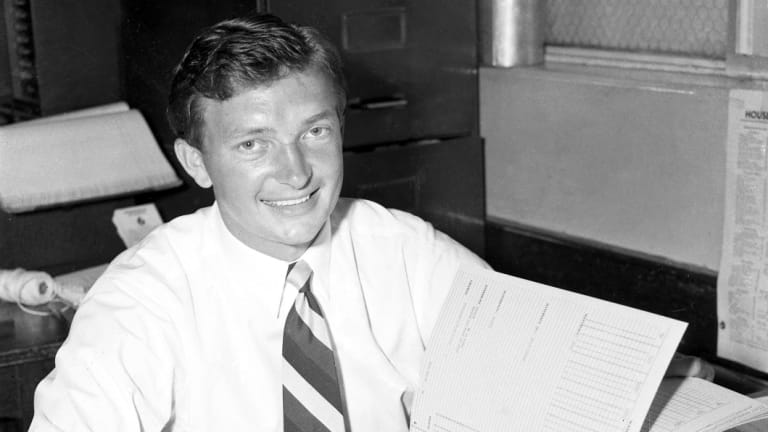 Legend: former Australian captain Richie Benaud wasn't a patch on Paddington's Ray Flockton … or so Max Presnell thought.Credit:3aw.com.au
En route Lou D'Alpuget, the news editor who followed Toohey, advised "you would be better suited to selling ties at David Jones". After bad days at Randwick I could see the wisdom in his advice.
Folklore reckoned that D'Alpuget, father of Blanche, reduced John Pilger, also a cadet at the time who went on to Everest heights in the media, to tears with a blast, but I was too dumb to react.
Like most D'Alpuget had a nickname, "The Seagoing Ox", due to his size and passion for sailing while my first turf editor Charles was "The Fat Man" for obvious reasons.
Charles had graduated from a Manly Billiard Room marker with an SP bookmaking concession to newspapers during the war. According to Ellis Glover, who knew where all the journalist reputations were buried, an editor had bet too well with Charles, couldn't settle and received a certain rails run as compensation.
SP bookmakers were rampant in Sydney and Fairfax had the benefit of two servicing the fifth floor at Broadway: the humanitarian Stan Applebee, who was in charge of the copy boys and extended liberal time to pay to clients, and Harry Hayes, a sporting sub, known as the "Coogee garfish" because of his address and certain physical features.
Hayes would create a massive exodus from the sporting room with his chant "anybody want to see me" on pay day.
The sporting room was a mix of the weird and the outstanding with Ernie Christensen who covered Olympic Games one out leading the way.
Later he was joined in rugby league Geoff (Pinky) Prenter, Peter Peters, the Golden Greek, and Gary Lester. John Benaud was tagged "thick edge" due to his most effective scoring shot with the bat.
On the eccentric side was Vic Simons, brother of Con, who hadn't mastered the typewriter and produced 10 races of pen-scribbled greyhound comment that only one compositor could read.
JS McAuley, the inimitable "Jazza", specialised in all sports and terrorised our two female copytakers Berryl Nicol and Joy Hand as well as "10 pound Poms" referring to David Jack, a gentleman and fine soccer writer. After years of being harangued Jack countered with "you feeble fart" which sent Jazza scurrying to a nearby water hole for a Scotch to revitalise his debating skills.
Brains trust: A Herald conference at Broadway in 1979.Credit:Scott Whitehair
Jazza came to newspapers via being a ballroom dancing instructor and prelim referee at the wrestling.
In those days The Sun led the way under Lindsay Clinch, perhaps Sydney's foremost tabloid editor but not one a cadet would clash with if his shorthand wasn't up to speed.
"Improve or else," he'd grind through teeth that clenched a pipe like a crocodile.
Shortly after completing my cadet term I left Fairfax for the United Kingdom in 1961 financed by a winning double at Randwick. Following a couple of years in various media I was in Darlington, County Durham, and headed to Royal Ascot to back a mud runner from the north but the meeting was washed out for the first time in 25 years. Looking for a substitute I lost my bank in a casino and was on the midnight rattler home without a razoo.
John Fairfax came to the rescue. At the time they were seeking subeditors back home and offered the airfare to be repaid in instalments. After three years' service with them, however, they returned the money.
When The Sun ceased in 1984 it was like losing a treasured relative. Still Fairfax eased the pain to the staff in a humane fashion aided by the wonderful Fairfax superannuation which survived after its Hospital Fund and Provident Fund was diced through Government intervention.
Fairfax has been better for me than the unions, dating back to the Australian Journalists Association. However, an old subeditor said to me when I was a cadet: "Kids would still be working in the mines if it wasn't for unions". As long as I'm working I'll pay my dues.
My most memorable AJA memory was the "fruitless fortnight" strike in May 1980 when we produced the 32-page The Clarion which carried the byline of worthies John Alexander, PP McGuinness, Frank Crook, and Tony Stephens among others.
I sold The Clarion on Mount Druitt railway station, a venue never experienced before or since, and gained a considerable lessons: buyers were more interested the services, crosswords and form guides than brilliant journalism.
The transition to the Sydney Morning Herald was comfortable although, since moving to Broadway, we were always in the same building.
The afternoon competition was missing as was the shoot-from-the-hip afternoon tabloid reporting.
The Herald lacked the urgency but gave time to produce a superior piece.
Why do I still do it after 60 years?
Shouldn't I be playing golf and bowls? Spending more time with the grandkids? Nah, racing is in my blood and newspapers my heart. Thanks John Fairfax.
Source: Read Full Article