After several charters of sharing the position, bosun Malia White from Below Deck Mediterranean finally named Alex Radcliffe as the lead deckhand.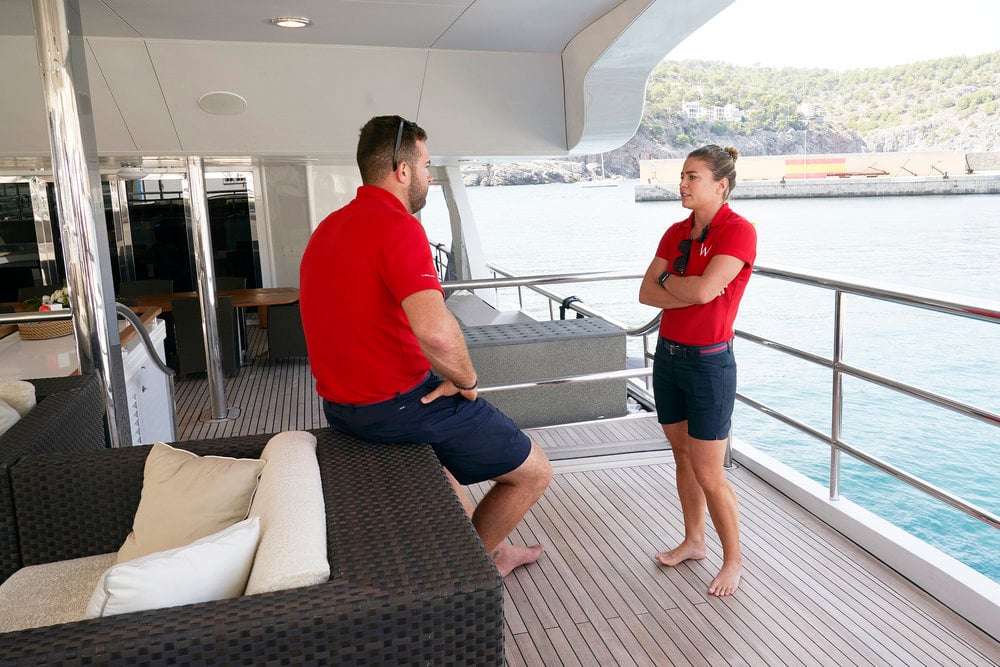 White hinted in a previous episode she planned to name one deckhand to the position but didn't reveal who would get the job. She demoted Pete Hunziker, who was the original lead deckhand after he made inappropriate sexual remarks toward stew Christine "Bugsy" Drake. Hunziker would often refer to White as "sweetheart" and sometimes ignore her direction.
After Hunziker was demoted, White temporarily told Radcliffe he was the lead deckhand. Radcliffe confirmed with Showbiz Cheat Sheet that the appointment was temporary and that White allowed the deck team to take turns in the position.
Alex Radcliffe becomes lead deckhand
But now White made it official and promoted Radcliffe. White gathered her deck team in the crew mess for the announcement. "I was going to give you a big inspirational meeting right before our last charter, but then we ran out of time," she said.
"You know we had this whole thing with the lead deckhand, and we all kind of squashed having a lead deckhand," she continued. "But I'm gonna name the lead deckhand for this last trip. Pete, we had a rocky start with you, and you took it on the chin. Rob [Westergaard], you've been the most consistent. And that's been amazing."
"And Alex," she exclaimed. "I never thought I would say this, you're the lead deckhand. You have it and you've shown it. The crew respects you. The crew comes to you when they need a laugh. And I can certainly come to you when I need something done. You've done amazing. And you guys have been an amazing deck team to have so thank you."
Radcliffe has enjoyed the experience
"It's freaking awesome," Radcliffe said in a confessional. "It's awesome she's able to trust me and want me to be her lead deckhand. Getting this role literally like makes me feel like I can actually grow in this industry."
Radcliffe told Showbiz Cheat Sheet about how he vibed with the crew. "I'm pretty good at reading people," he said in July. "For Malia, I could definitely see that she's a great person, but you could tell she has a 'don't f**k with me' mentality. She's in charge, she's fair but she's also very relatable." Adding, "She's also good at talking to all of us and finding a middle ground between me, Rob and Pete. She's awesome."
"Rob was definitely quiet," he observed. "I feel like Rob maybe had a little bit of a harder time because we were all American on deck and he's South African. So he thought maybe we didn't get his humor so maybe it took him a little longer to adjust. But he's just a goofy, funny [guy]."
"I think Sandy is awesome," he said. "Me and her got along very well. I think what happened with me and Sandy was she asked me, 'Oh so you wanna be a captain someday?' And I was like, 'No, I don't.'" 
Source: Read Full Article