JingerDuggar and Jeremy Vuolo have a lot of love for their daughter, Felicity.The family of three has been living out in California for nearly a year, andthey seem to be exposing their little girl toa different lifestyle from the way Duggar was raised.
Duggar has more than 1.3 million followers, and that only seems to leave her open to criticism. Fans were quick to judge her when she posted a photo of her daughter talking on the phone.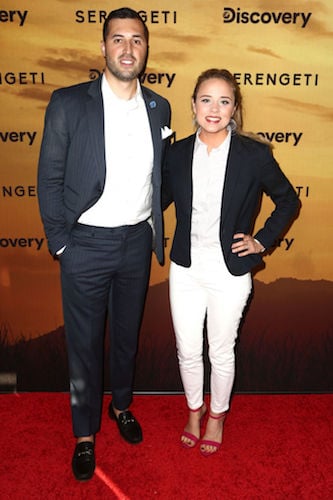 Jinger Duggar and Jeremy Vuolo have been raising Felicity differently than other Duggars
When Duggar and Vuolo first wed, it was clear that they weregoing to be different from other couples. The two met through Jessa and BenSeewald — Vuolo wasn't someone Duggar had known for years (the way most Duggarrelationships start out).
The two wed in 2016 and immediately moved to Texas, where Vuolo was working as a pastor. They have since had one daughter and moved to Los Angeles, and they're exposing Felicity to many mainstream things. She watches television and listens to music, and she even danced to "Baby Shark" — something her cousins probably know nothing about.
The two seem to give all of their attention to their daughter
Duggar and Vuolo have a lot of love for Felicity. She is clearly the light of their lives, and they've only welcomed one child in more than three years of marriage — another huge difference between Duggar and her siblings. Duggar loves posting photos and videos of Felicity to Instagram, as does Vuolo. And the love the two show for her has made the Vuolos one of the most well-liked families among Duggar fans.
Fans slammed Duggar for not covering her wall sockets in a photo
Duggar recently posted a photo of her daughter chatting on the telephone, and while any found it adorable, some were immediately concerned with what they saw in the photo: Electrical sockets that were not baby-proofed.
"Cute! But cover the wall sockets please!" one user commented. Other users told horror stories of kids playing with sockets, saying they know of children who were left with intellectual disabilities because of playing with wall sockets.
Many came to the TLC star's defense
Though some fans were taken aback by Duggar not covering herwall sockets, other fans came to her defense, saying that the family could havebeen staying at a hotel at the time or outside their own home, where thesockets might not be covered. Others said that certain sockets nowadays don'tneed to be covered because they have an automatic stop on them if somethingever went wrong.
Either way, people will always have problems withcelebrities' parenting styles. Though Duggar and Vuolo do their best withFelicity, they will always be subject to the criticism of their followers.(People have attacked Jill and Jessa Duggar fortheir parenting in the past, too.) ultimately, though, every parent isdifferent and follows a different set of rules for their own kids.
Source: Read Full Article