When my publisher, Allen & Unwin, invited me to choose 101 "marvellous movies you may have missed" it posed an interesting challenge. A great many movies disappear quickly, while some are never released at all in this country.
For example, French director Bertrand Tavernier's In the Electric Mist (2008), an atmospheric adaptation of the James Lee Burke novel, actually filmed in the rural areas of Louisiana in which it was set. This thriller, with Tommy Lee Jones and a strong supporting cast, never opened in Australian cinemas.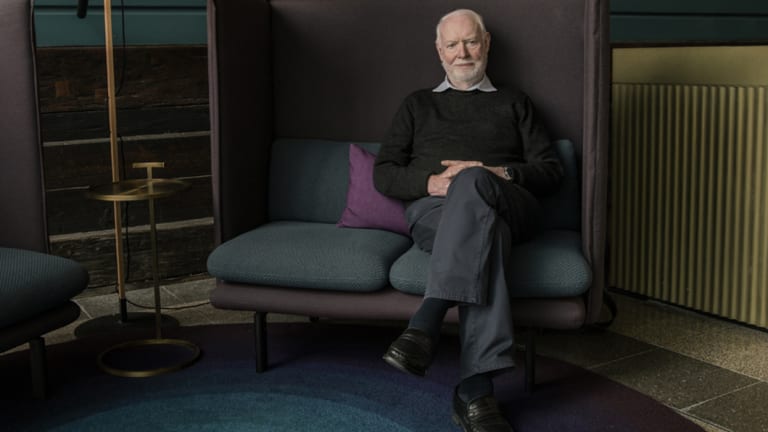 David Stratton's new book outlines films that you may have missed. Credit:Mark Rogers
I'm baffled too as to why John Dingwall's The Custodian (1993) is such an unknown film. A gripping tale of police corruption in an unnamed Australian city, it has a stellar cast (Barry Otto, Anthony LaPaglia, Hugo Weaving, Essie Davis, Naomi Watts, Bill Hunter and more) yet sank without trace.
These, plus the others listed here, are excellent movies by any yardstick – so why are they so little known? I hope my book will answer those questions and also provide useful sources to help readers locate, and finally access, these elusive gems.
I've picked out seven for readers of The Canberra Times.
Bad Blood, 1981.
New Zealand, 1941. In this small farming community inland from Greymouth and dwarfed by snow-capped, mist-shrouded mountains, Stan Graham (Jack Thompson) and his wife Dot (Carol Burns) live with their two children in the small wooden house Stan built, located opposite the local school. The Grahams are outsiders in this cloistered part of the country, and conflict arises when Stan refuses an order issued by the wartime government to hand over his guns to the police.
This tragic true story, brought to the screen by New Zealand writer/producer Andrew Brown and British director Mike Newell, stars Jack Thompson in arguably his finest screen performance as the unstable Stan Graham.
Anthony LaPaglia stars in The Custodian.Credit:Fairfax Media
The Custodian, 1993.
Detective-Sergeant James Quinlan (Anthony LaPaglia) is going through a crisis; his marriage to the alcoholic Helen (Joy Smithers) is on the rocks, he's left home and moved into a cheap hotel, and he's sick of the everyday corruption he experiences within the police department. He makes the decision to expose the corrupt cops and principally his partner, Detective Church (Hugo Weaving).
There has rarely been a better cast for an Australian feature film than the one assembled by director and screenwriter John Dingwall for his second and final feature as director (The Custodian followed the excellent Phobia, made in 1988).
Devil in the Flesh, 1985.
Paul Hansen (Keith Smith), a shy teenager, lives with his parents John (John Morris) and Jill (Jill Forster). Marthe (Katia Caballero) lives alone nearby; her Italian husband, Ermanno (Luciano Martucci), has been interned as a POW. Paul and Marthe become friends, then lovers. Despite their attempts to keep their relationship secret, the locals begin to gossip and the word gets back to Paul's parents. When the war ends, so does the relationship. Some time later, Paul visits Marthe and Ermanno and meets, for the first time, his baby son.
If ever there was a case of unfortunate timing, Scott Murray's first and only feature film, Devil in the Flesh, is a perfect example. Murray, a Francophile, based his screenplay on the famous French novel, Le Diable au corps, by Raymond Radiguet, and the 1947 Claude Autant-Lara film version that made a star of actor Gérard Philipe. However, at almost exactly the same time that Murray was making his film in and around Castlemaine, Victoria, the celebrated Italian director, Marco Bellocchio, was making his version of the book, Il diavolo in corpo. Both films screened at Cannes in 1986, the Bellocchio in an official section, and Murray's film in the Marche (Market). The Italian version, with its sensational unsimulated fellatio sequence, completely overshadowed the Australian film.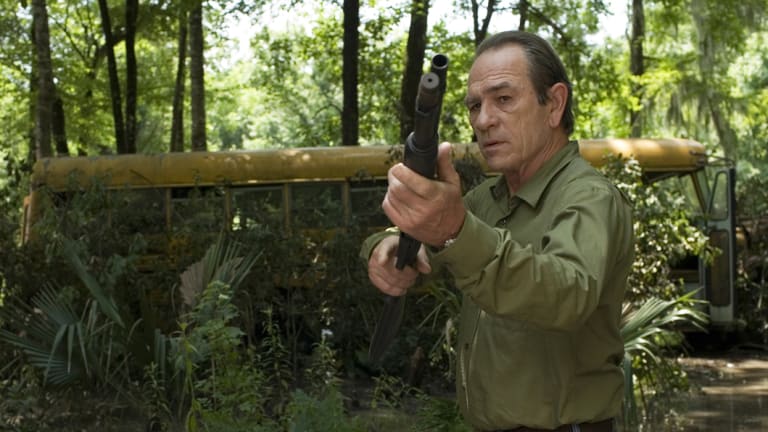 Tommy Lee Jones stars in In the Electric Mist
In the Electric Mist, 2008.
Part-time detective Dave Robicheaux (Tommy Lee Jones) lives with his wife, Bootsie (Mary Steenburgen), and young daughter Alafair (Alana Locke) in a house by the bayou, where he rents out fishing boats as a sideline. Dave is investigating the savage murders of a couple of prostitutes when he arrests movie star Elrod Sykes (Peter Sarsgaard) for drink driving. Sykes is starring in a movie about the Civil War which is being produced nearby; local identity Julie "Baby Feet" Balboni (John Goodman), is financing the film.
The first film to be made based on one of James Lee Burke's books about Detective Dave Robicheaux was Heaven's Prisoners (1996), which starred Alec Baldwin. It was unsuccessful at the box office, but that didn't deter Bertrand Tavernier, one of the finest contemporary French filmmakers, from tackling the sixth book in the series, In the Electric Mist with Confederate Dead, as a co-production between his own company and a small American producer. Tavernier consulted extensively with Burke, and shot the film on authentic locations in Louisiana, with a strong cast headed by Tommy Lee Jones, the perfect actor to play Robicheaux.
Mississippi Grind, 2014
Gerry (Ben Mendelsohn) is a sad loner who works in a desultory kind of way selling real estate. A gambling addict, whose addiction brought about the end of his marriage years earlier, Gerry thinks he's met a kindred spirit in Curtis (Ryan Reynolds), who seems far more together than he is. The pair form a team and decide to head for New Orleans to participate in a high-stakes poker game organised by a big-time gambler, Tony Roundtree (James Toback).
The performance of Australian actor Ben Mendelsohn in his first starring role in an American movie would be reason enough to see this compelling road movie which features a couple of gambling addicts, one relatively relaxed and carefree, and the other deeply desperate.
Although the writers-directors are clearly condemning the gambling industry, they have such sympathy for their characters, and especially for Mendelsohn's perpetual loser, that they can't resist a surprisingly upbeat ending.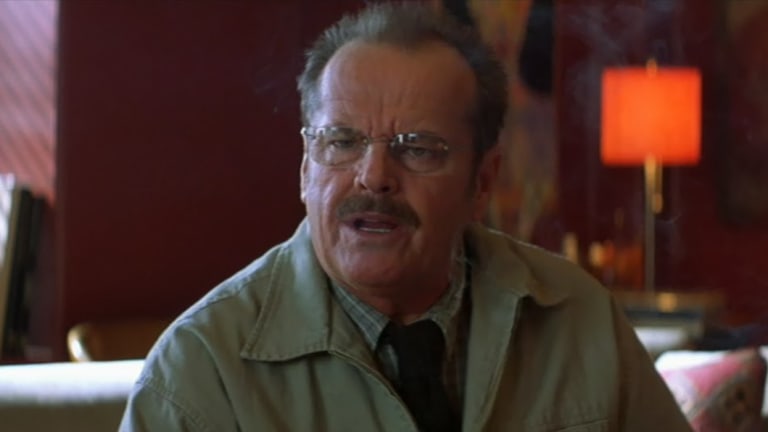 Jack Nicholson stars in The Pledge 
The Pledge, 2000.
On the day of his retirement from the police force, detective Jerry Black (Jack Nicholson) responds to a call reporting the discovery of the body of Ginny Larsen, an eight- year-old girl, who has been raped and murdered. Black brings the news of their daughter's murder to her parents, and makes a solemn pledge to her mother, Margaret (Patricia Clarkson), "on his soul's salvation", that he will find the killer.
Jack Nicholson gives one of his finest performances as the burnt-out cop who makes a most solemn pledge and is determined, even obsessed, with fulfilling it, no matter what the cost.
Despite generally enthusiastic reviews, and the presence of Jack Nicholson in the lead, the film was only a modest box-office success and has since, along with Sean Penn's other films, been pretty much sidelined.
She's Funny That Way, 2014.
Izzy Paterson (Imogen Poots), a celebrated actress being interviewed by a journalist, reveals candidly how her career began. Using the name "Glo Stick", she had worked as a high-class prostitute and her clients were often celebrities. One day she is assigned to a Manhattan hotel room to have sex with 'Derek Thomas', who is actually Arnold Albertson (Owen Wilson), a famous Broadway director about to start casting and rehearsals for a new play, A Grecian Affair. Izzy tells Arnold about her acting ambitions.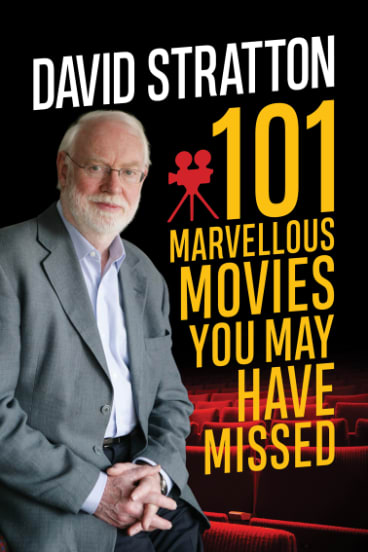 101 Marvellous Movies You May Have Missed, by David Stratton. Allen & Unwin, $24.99.
The next day she turns up at the theatre to audition for a role in the play. Arnold is horrified, particularly because his wife, Delta (Kathryn Hahn), is the play's star. But Izzy very much impresses the play's author, Josh Fleet (Will Forte), as well as Delta. Meanwhile one of Glo Stick's clients, a Judge (Austin Pendleton), has hired a private eye, who happens to be Josh's father, to follow her. Josh is dating Jane Claremont (Jennifer Aniston), a therapist. Meanwhile the male star of the play, Seth Gilbert (Rhys Ifans), is concealing the fact that he and Delta had enjoyed an affair when they were recently together in London. Coincidentally, all these characters decide to eat at the same restaurant one evening, leading to revelations and embarrassments.
She's Funny That Way is a wonderfully old-fashioned comedy, inspired by French farce and classic movies.
This is an edited extract from 101 Marvellous Movies You May Have Missed, by David Stratton. Allen & Unwin, $24.99.
Source: Read Full Article