Prince George might only be five-years-old, but the future King of England is already quite the character. From his luxurious bathrobes to his adorable hand waves –the prince is royal, but he's having a wonderful a childhood. With such a playful spirit, it's no wonder that Prince Louis and Princess Charlotte's big brother has a nickname for himself.
You'll never guess what the hilarious nickname is.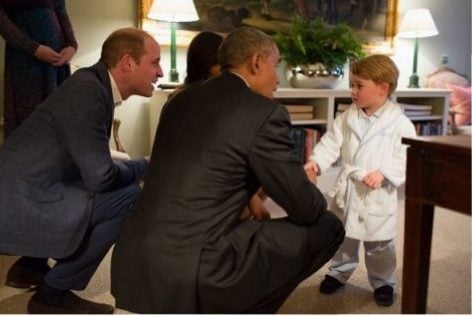 Prince George, Prince William, and Barack Obama | Pete Souza/The White House via Getty Images
What is Prince George's nickname?
Prince George is a delightful member of the British Royal Family. The little prince's parents have worked to make sure that his childhood is as light and carefree as possible. Full of imagination, Prince George just revealed the hilarious nickname he has for himself.
While taking a walk with his sister, Princess Charlotte, and grandmother Carole Middleton–Prince George spotted a woman walking her dog. The little royal approached the woman to pet the dog, and he introduced himself to the lady. The woman told The Sun, "I was asked by a police minder not to take a photo of the children, which I didn't, but George started stroking my dog. Just to be friendly I engaged in a bit of small talk and I asked George what his name was, even though obviously I knew it. To my astonishment, he said 'I'm called Archie' with a big smile on his face. I don't know why he calls himself Archie but kids often play with their names and I think it's lovely."
Honestly, we're obsessed.
Kate Middleton's nickname for her children
Just before Christmas 2018, Duchess Kate Middleton was spotted at a store is located in Norfolk near the queen's Sandringham estate where the family was spending the holiday. A shopper named Sarah Daniels told The Express that she overheard the adorable nickname Middleton used for the young royals. She said,  "As I was looking at the shelves I noticed a tall dark-haired lady further down the aisle and thought to myself 'I recognize that face."
According to the 43-year-old teacher, at one point Princess Charlotte sat down on the floor in the aisle before her mother said to her, "Get up, poppet." Daniels then recalled that George asked his mom if they could buy dinosaur slime and Middleton then called her son "poppet" as well.
Prince George's official 4th birthday photo | Kensington Palace via Instagram
What is Prince George's full name?
Prince George's full name is George Alexander Louis. Since their eldest son will sit on the throne one day, the Duke and Duchess of Cambridge wanted to make sure that their son's name had a rich history fit for nobility. George –named for King George VI, who was Queen Elizabeth II's father and the little prince's great-great-grandfather– is a royal favorite. It's a name that extends back to the 12th century, and it's also one of Prince Charles' middle names.
Alexander pays homage to his great-grandmother, Queen Elizabeth whose middle name is Alexandra. Arthur and Louis are also strong royal names that Prince George shares with his father, Prince William Arthur Philip Louis and his grandfather, Prince Charles Philip Arthur George.
Read more: Prince George, Princess Charlotte and Prince Louis' Cutest Moments
Check out The Cheat Sheet on Facebook!
Source: Read Full Article