AceShowbiz -HBO is teaming up with "Sesame Street" to preach about the importance of respect. In a video which was released on Thursday, April 18, the network also enlists two characters from its popular fantasy drama "Game of Thrones", Cersei (Lena Headey) and Tyrion Lannister (Peter Dinklage).
The video opens with the feuding siblings having an intense talk which sees them slamming each other. "I only want what's best for Westeros," Tryion says. "And I only want for you not to get what you want," Cersei snarks. Tyrion hits back as he retorts, "See, this is why you don't have any friends."
"Respect brings us together, and if anyone can convince @GameOfThrones's Cersei and Tyrion to get along, a familiar furry red friend might just be the one. #RespectIsComing #RespectBringsUsTogether," writes the official account of "Sesame Street" on Twitter.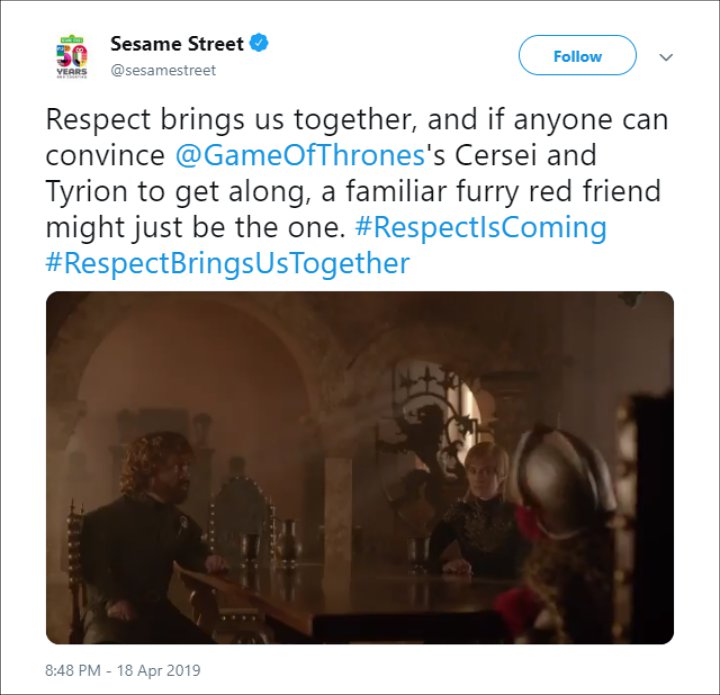 In addition to enlisting "Game of Thrones" characters, the muppets go into the "Westworld" universe to make sure that they are respecting each other. In another video, Cookie Monster is seen surprising Dolores Abernathy (Evan Rachel Wood) and Bernard Lowe (Jeffrey Wright) who are also arguing.
The long-running kids show is currently airs on HBO as part of a deal that was announced back in 2015. It was something of a lifeline for the Sesame Workshop.
Source: Read Full Article