People living with the aftermath of Islamic State's occupation of Iraq will receive a record amount of Australian government aid, worth $20 million over the next three years, to help rebuild their lives.
Australia, which was involved in the campaign to defeat IS, including aerial bombardments of areas around the northern city of Mosul, will pay the record amount to a number of non-government organisations.
People flee the last of the Islamic State-held areas in West Mosul in July last year.Credit:Kate Geraghty
More than a year after the war ended, 1.9 million people are still displaced, and injuries from conflict, suicide bombings and air strikes mean Iraq is among nations with the highest number of people with disabilities worldwide.
The Australian aid will focus on Sinjar, the traditional home of the Yazidi people, many of whose women were taken into sex slavery by IS, and Hawija, a Sunni-majority district south of Mosul.
Save the Children, which will lead the project, said it would build water, sanitation and hygiene facilities, as well as neighbourhood security, community centres, legal protection for property rights, and health networks.
Save the Children's head of humanitarian affairs, Rohan Kent, said the amount of money being given was unusually large, and the time-frame unusually long because, "we're not going to get this done in 2 1/2 years". The focus would be on rural settings where Islamic State "really took hold", and complement the work of the Iraqi government, which was more active in rebuilding in the big cities.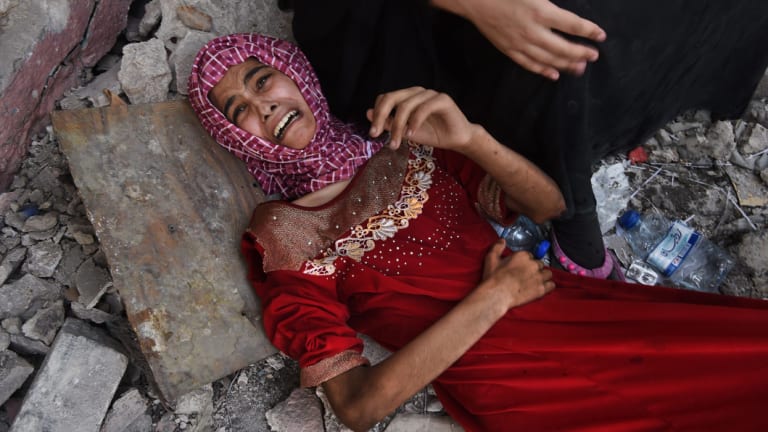 Fifteen year old Tabarek who is wounded and can no longer walk lies at the feet of her family as they rest for a few moments before making their way along a safe corridor during the offensive to retake West Mosul.Credit:Kate Geraghty
Two key areas would be people with disabilities and working on rights for people whose property was expropriated and documentation lost, leaving them destitute and unable to prove their ownership.
"The legal stuff here is really complex, and we are seeing kangaroo courts starting to spring up over these disputes," Mr Kent said.
Foreign minister Marise Payne said the aid should reach 100,000 people, including 60,000 women and girls, and more than 10,000 people with disabilities.  It's the first time Australia has funded a project of this kind.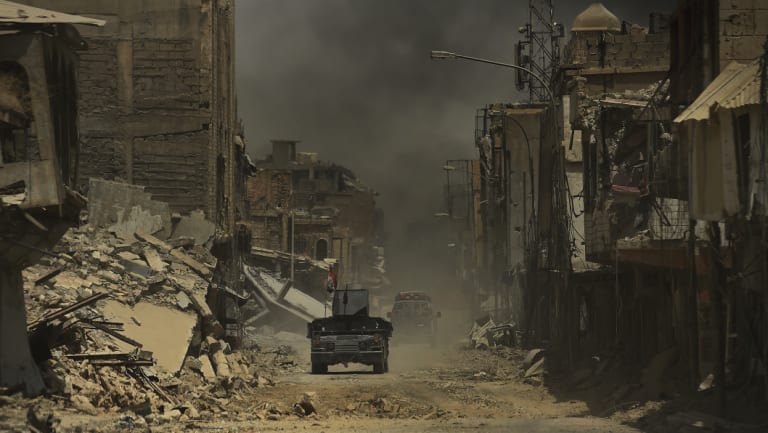 An ambulance and an Iraqi humvee make their way along an area in West Mosul, Iraq, which has been damaged by airstrikes in 2017.Credit:Kate Geraghty
Save the Children Australia's policy director Mat Tinkler said the money recognised that, "rebuilding their lives will take far more than infrastructure alone".
An Iraqi soldier walks past a wall of debris during the offensive to retake West Mosul from Islamic State. Australian aircraft were involved in the campaign.Credit:Kate Geraghty
"Improving emotional wellbeing and building resilience of vulnerable people in the region, including children, is essential for community reintegration, healing and long-term peace."
The Age and Herald went twice to Iraq in 2017 and found devastated people, including children, carrying deep psychological scars both from the three years living under IS, and from the war to liberate the country.
Hussein Hatem, 10, fled after witnessing his friend Sami being beheaded at school by IS fighters in Mosul.Credit:Kate Geraghty
Hussein Hatem, at 10 years old, saw IS behead his friend  in front of him at school because he was Shiite. Others were injured by heavy munitions, or seen friends and family blown up or shot.
Tabarek was hit by shrapnel in the stomach, then starved in the last weeks of the liberation of Mosul last year, to the point where her elderly father had to carry her out of the devastated city.
Yaser, 11, had vivid scars across his back from an Islamic State attack using a crude chemical weapon.
"One of the kids told me he used to see hands being chopped off, arms being chopped off, bodies hanging in the streets, hangings, lashing, whipping," said Save the Children's Jasim Mohmad Abed.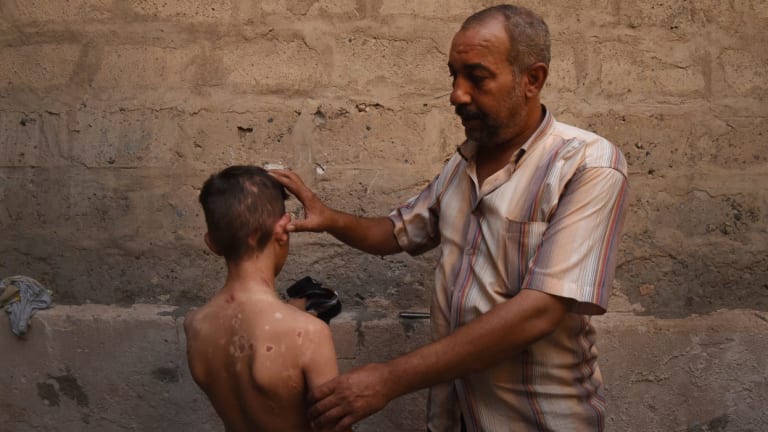 Nadhm Hamid shows the scars on his 11-year-old son Yaser caused by a chemical weapon that came through the roof of his home in Mosul.Credit:Kate Geraghty
"Some of the children are angry – they act out, hit each other. Others are isolated. They sit alone and don't want to talk."
Other collaborators in the project include CARE Australia, Handicap International and the Norwegian Refugee Council.
Source: Read Full Article