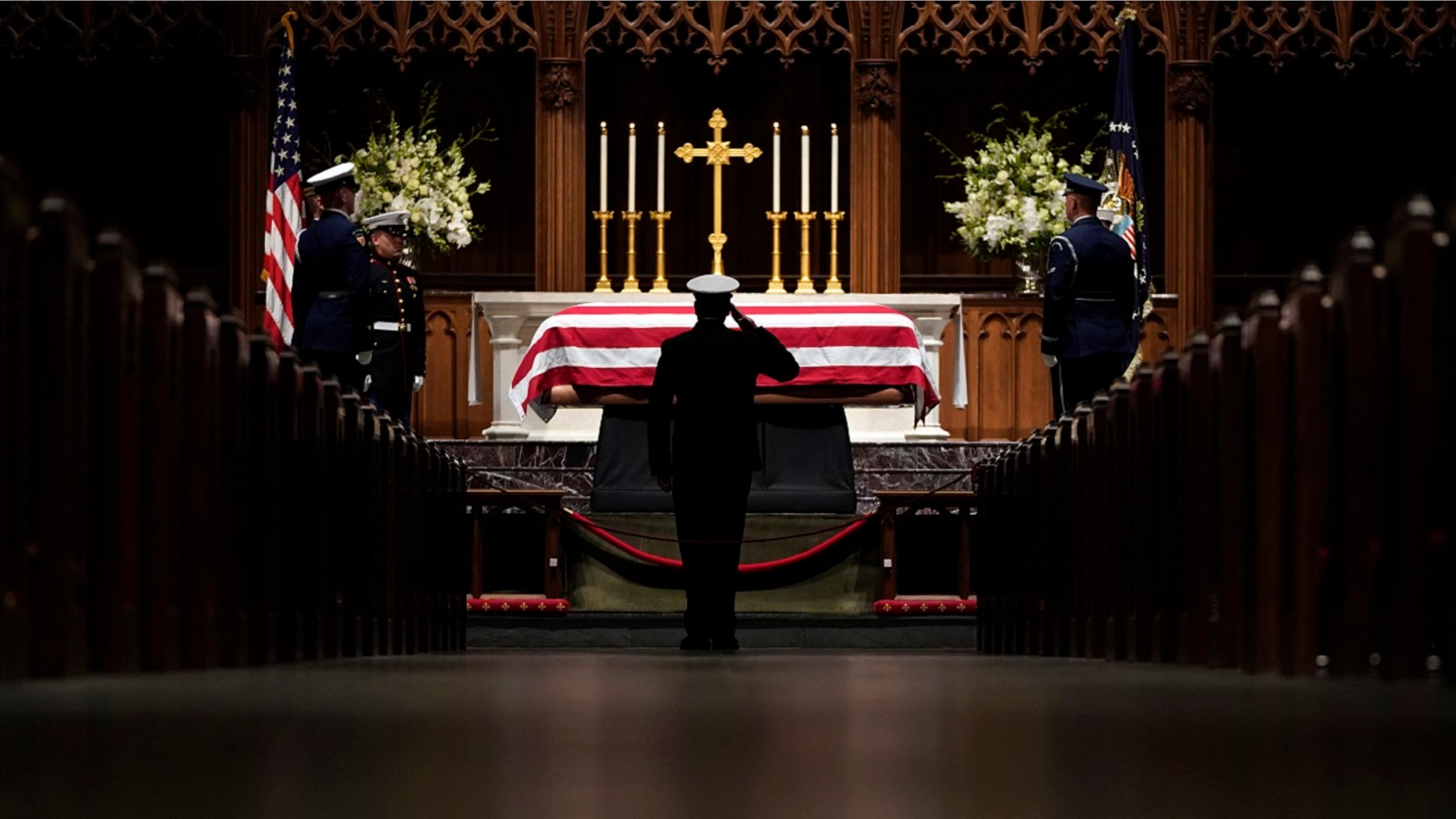 People pay their respects as the flag-draped casket of former President George H.W. Bush lies in repose at St. Martin's Episcopal Church Wednesday, Dec. 5, 2018, in Houston.
(Associated Press)
After the body of former President George H.W. Bush arrived back from Washington on Wednesday, Texans lined up by the thousands outside a Houston church, eager to pay their final respects before Thursday morning's service.
The casket of the nation's 41st president, who died last week at age 94, was on view at St. Martin's Episcopal Church, where his family worshipped and where services for former first lady Barbara Bush were held after she died in April.
During the night, the line into the church moved slowly — halting whenever mourners stopped in front of the casket to cross themselves or otherwise acknowledge Bush.
Jim McGrath, the Bush family spokesman, said about 5,000 people had passed through the Secret Service security checkpoint for the repose, with wait times under an hour.
Earlier Wednesday, the first people in line arrived in the morning, almost 10 hours before the church was scheduled to open to visitors.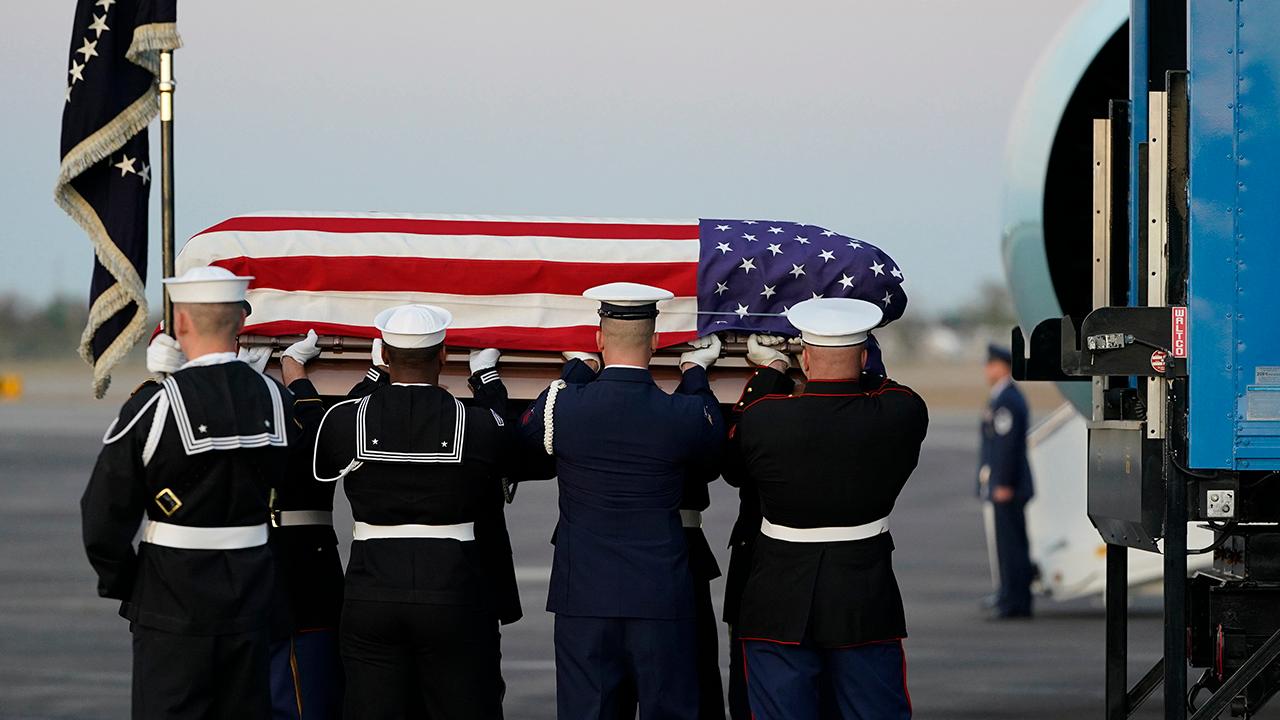 Pennie Werth-Bobian, 56, of Tomball, was at the front of the line. She said that she used to visit with Bush while a friend of hers cut his hair and that they became friends. She said the second time they met, he told her to call him George.
GEORGE H.W. BUSH'S CASKET ARRIVES IN HOUSTON EN ROUTE TO FINAL RESTING PLACE
Jennifer Dawson worked for the 41st president when his son George W. Bush was president, she told Fox 26 Houston.
"He was the most wonderful father and husband and he just loved his family," she said. "He was absolutely the most down-to-earth, real-life person I've ever met in my life."
Jan Robertson, a U.S. history teacher at George Bush High School, told the Houston Chronicle that she began teaching during the elder Bush's presidency and has kept tabs on the Bush family ever since.
"They're the type of people I wish more people were like," Robertson said. "They talked about giving back to society and service."
Texan Maria Lourdres Torres told the Chronicle that she rushed home from work to say goodbye to the president. She said she spent hours waiting for her chance to pay respects.
A funeral service will be held at the church Thursday morning, where about 1,200 mourners are expected to attend.
Scheduled to deliver one eulogy is James Baker, Bush's secretary of state, campaign manager and confidant of several decades. Baker was with Bush just before the former president died.
Bush's grandson George P. Bush will give the other eulogy. He is the son of former Florida Gov. Jeb Bush and serves as Texas land commissioner, the third generation of Bushes to win elected office in the state.
The country music group the Oak Ridge Boys will perform "Amazing Grace." Country star Reba McEntire will also sing. The 41st president was a noted fan of country music.
A special train will then take the casket to the Bush presidential library on the campus of Texas A&M University in College Station.
The train will take about two and a half hours to travel roughly 70 miles, allowing people to pay their respects along the way.
Hundreds of people will be waiting, including Texas A&M leaders, staff from the president's foundation and library and students from the Bush School of Government and Public Service.
The Bush family will be taken to the presidential library, where Navy planes will fly over in a "missing man" formation. Bush was a Navy pilot who was shot down during World War II.
Bush will be buried at his presidential library next to his wife, Barbara, and their daughter Robin, who died of leukemia in 1953 at age 3.
There will be a 21-gun cannon salute after the Lord's Prayer is recited.
The American flag will be presented at the end of the service to his daughter Doro Bush Koch.
The Associated Press contributed to this report.
Source: Read Full Article