Shortly following his leave from the Oval Office, former President Donald Trump has seemingly done everything he possibly can to permanently disassociate from his one-time trusted confidante and personal lawyer Rudy Giuliani. Giuliani, who is facing at least two lawsuits — both cumulatively worth billions of dollars — for baselessly accusing two different voting machine manufacturers of aiding in election fraud in November 2020, had his law license revoked in the state of New York in June, has by all appearances not taken Trump's distancing well. Oy.
Now, according to a new book about the final phase of Trump's presidential term, it looks like there might be more fuel to the fire than meets the eye over allegations and claims Trump has made about Giuliani to others, per Insider. So what exactly did Trump say about his former confidante? And to whom did he say these things? And is there a chance there's even a kernel of truth to any of it? So many questions! 
Keep on scrolling down below to find out all about it.
Donald Trump purportedly told people that Rudy Giuliani had a drinking problem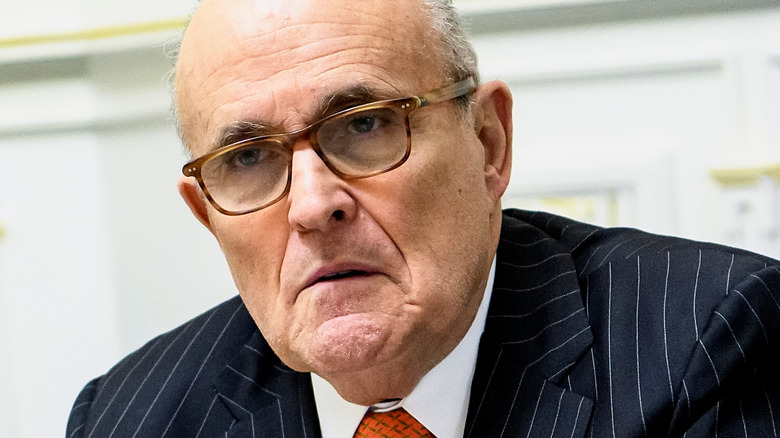 As Insider reported on July 8, an upcoming book by author Michael Wolff, entitled "Landslide: The Final Days of the Trump Presidency," alleges that Donald Trump told at least one person during a phone call that former New York City Mayor Rudy Giuliani had a drinking problem, referring to him as "a loose cannon" who lied to others.
"In the days after Giuliani's return, Trump, in a nearly reflective or perhaps slightly shamed moment, explained to a caller that he knew Rudy took a drink too many, and that he was a loose cannon, and that he said a lot of s— that was not true [to others]," Wolff wrote. "But Rudy would fight. He could be counted on to fight even when others wouldn't. And, too, he would work for free." (Notably, a factor in the Giuliani rift was that Trump supposedly did not pay Giuliani for his legal services at $20,000 per diem.)
Wolff also wrote (via Insider) that there was a "deep resentment and even hatred" of Giuliani in the corridors of the West Wing in the final days of Trump's presidency, with many seemingly blaming Giuliani for the administration's failures. Insiders thought he was regularly drinking or, "in the mumble tank," per Wolff. "You would have been hard pressed to find anyone in Trumpworld who had not thought or said as much," the author added. Trump has yet to comment on the book. 
Source: Read Full Article