Saltimbocca in Italian means "jump in your mouth," and celebrity chef Giada De Laurentiis guarantees the flavors of her Chicken Saltimbocca recipe will do just that. Featuring just a handful of ingredients including chicken, a lemony sauce, and spinach, the Food Network chef's recipe is a simple, yet impressive and flavorful meal.
De Laurentiis' Chicken Saltimbocca calls for simple ingredients found in your pantry and refrigerator
For De Laurentiis' recipe, you'll just need a handful of ingredients including chicken cutlets, thin prosciutto, frozen chopped spinach, thawed, olive oil, Parmesan cheese, chicken broth, and lemon juice. Toothpicks will also be needed for the recipe.
The chef notes in the Food Network video for this recipe that "When I make this dish, I like to use really thin pieces of chicken. You can have your butcher pound the chicken for you or in some supermarkets, they sell chicken scallopini, that means they're really thin; they work perfectly for this dish."
She adds: "With each bite, the flavors burst in your mouth; Chicken Saltimbocca will definitely tantalize your tastebuds."
Find the full recipe, reviews, and video on Food Network's site.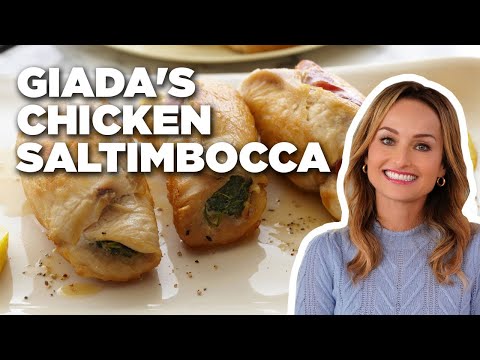 How to put together Giada De Laurentiis' impressive recipe
De Laurentiis' dish may look complex, but her recipe actually comes together quite easily.
The chef starts by placing the thin chicken cutlets on a cutting board or platter and seasoning it with salt and pepper. It's time to start layering the components of each delicious bundle of flavor by placing a thin slice of prosciutto on each cutlet.
De Laurentiis then calls for the thawed spinach to be squeezed dry of excess liquid and tossed with a tablespoon of oil; then, a "thin layer" of the spinach is placed on the prosciutto/chicken cutlets. Sprinkle the spinach on each cutlet with Parmesan cheese and then roll each cutlet "package" up like a jelly roll from "the short tapered end" up.
Each chicken bundle is browned in an oiled skillet over high heat, "about two minutes per side." De Laurentiis adds chicken broth and lemon juice to the pan bottom and brings it to a boil. She notes to simmer the liquid for about 10 minutes "until the chicken is just cooked through." Once the chicken is moved to a plate, the liquid it had been cooking in is heated over high heat for another five minutes. The chicken can be served without the toothpicks and then drizzled with the cooking liquid.
De Laurentiis' Chicken Saltimbocca received over 500 multi-starred reviews on Food Network's site
The celebrity chef's fans admired her chicken dish for its big flavor in such a simple dish.
"It was a snap to make, tasted delicious, and was a lower calorie option to boot!," one home cook said.
Another fan added, "Love Giada and this recipe is to die for. Have fixed it a number of times and everyone loves it. I make a light gravy with the broth by adding lemon juice, flour, and butter to make a [roux]. Thanks for another winner Giada."
Other reviewers noted the dish was "very fast to make for an excellent weeknight dish" and "Fast and easy recipe with lots of flavor. Looks sort of fancy, too."
Try Giada De Laurentiis' Chicken Saltimbocca for an easy dish that will impress guests and become a regular on your menu.
Source: Read Full Article