The '19 Kids and Counting' patriarch and his wife explain that their 'hearts and prayers are with anyone who has ever been harmed through child sexual abuse material' in a statement posted on their family website.
AceShowbiz –Jim Bob Duggar and Michelle Duggar have broken their silence after their son Josh Duggar was convicted of two criminal counts in an Arkansas court. The "19 Kids and Counting" patriarch and his wife issued a statement posted to their family website.
"This entire ordeal has been very grievous. Today, God's grace, through the love and prayers of so many, have sustained us," the couple said on Thursday, December 9. "Our hearts and prayers are with anyone who has ever been harmed through CSAM [Child Sexual Abuse Material]."
The couple's statement went on to mention Josh's wife Anna Duggar, who welcomed their seventh child on October 23, as saying, "In the days ahead, we will do all we can to surround our daughter-in-law Anna and their children with love and support." Jim Bob and Michelle continued, "As parents, we will never stop praying for Joshua, and loving him, as we do all of our children. In each of life's circumstances, we place our trust in God. He is our source of strength and refuge. Thank you for your prayers."
In the meantime, Josh's cousin Amy Duggar expressed gratitude after Josh was convicted on one count of receipt of child pornography and one count of possession of child pornography. Taking to her Twitter account, Amy wrote, "May the juror's and Judge Brooks seek healing / counseling from all that was exposed to them."
"May the children grow up with real Godly men as father figures who will guide and protect them," Amy elaborated. "May the people who were once in disbelief have their eyes opened for the first time."
In a separate post, Amy penned, "May the daughters who were abused feel validated. You are truly beautiful and worthy of love. May there be intense counseling / healing." She concluded her tweet, "May there be wisdom for all those involved on how to move forward. Thank you Jesus. Justice has been served."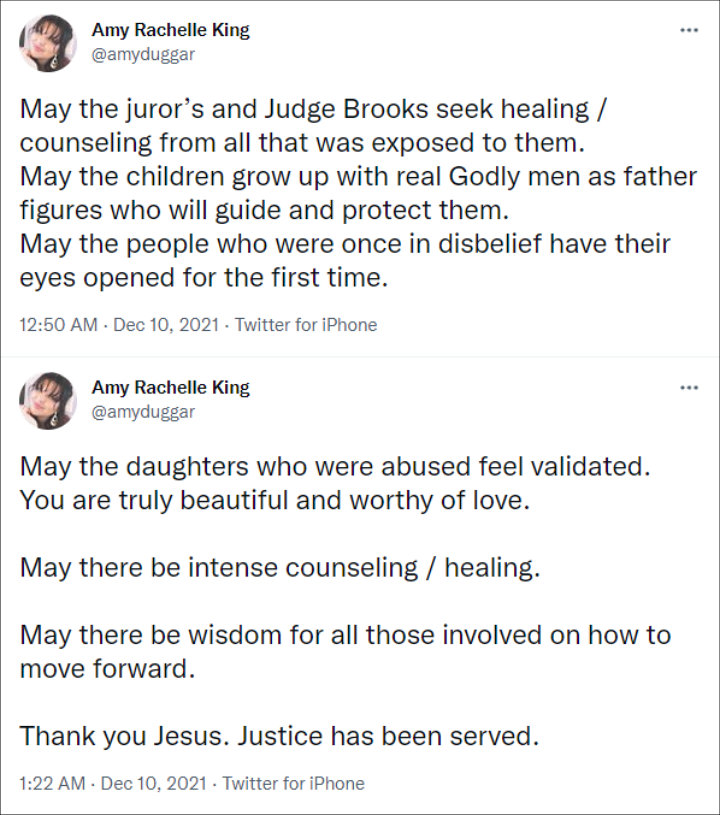 Amy Duggar weighed in on Josh Duggar's guilty verdict.
Following the guilty verdict, Josh's attorneys said in a statement, "We appreciate the jury's lengthy deliberations… We respect the jury's verdict, and we intend to appeal." Josh faces up to 20 years of imprisonment and up to $250,000 in fines after his conviction on both counts. His sentencing is expected in four months but a date hasn't been scheduled pending a pre-sentence investigation.
Upon learning the news of the guilty verdict, Derick Duggar told PEOPLE why he and his wife Jill Duggar, Josh's younger sister, had attended some parts of the trial. "We just wanted to, among other things, see the facts for ourselves," he said, before noting, "America is the best country to get justice."
Josh was arrested in April. However, he pleaded not guilty to the charges of receiving and possessing child sexual abuse material of kids under the age of 12. His possession allegedly occurred in May 2019.
Source: Read Full Article