The Duchess of Sussex, who arrives at the Westminster Abbey with Sophie, Countess of Wessex, appears to be wearing pearl and diamond earrings that were gifted by Her Majesty.
AceShowbiz –Meghan Markle silently paid tribute to Queen Elizabeth at the state funeral. The Duchess of Sussex apparently carefully picked her outfit and accessories for the funeral to honor her husband's grandmother.
Meghan opted for a simple black cape dress with a black hat as she joined royal family to bid final farewell to the late monarch. The dress is a signature style for her and is believed to be a nod to her relationship with the Queen.
The former actress wore a similar style cape dress in navy when she attended a celebration honoring the Queen's 92nd birthday back in 2018. The navy blue version, which was by English fashion designer Stella McCartney, had a similar crew neck and just-below-the-knee hemline. At the time, Meghan wasn't yet officially part of the family, with her wedding to Prince Harry still a month away.
As for her jewelry, Meghan sported what appear to be the pearl and diamond earrings gifted to her by Her Majesty. Pearls are also traditional mourning jewelry for the royals and are "seen to represent tears," according to The Telegraph.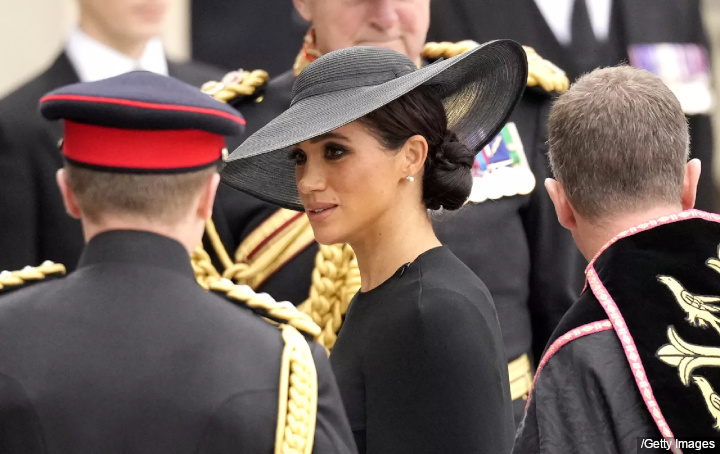 Meghan Markle honored the Queen with her outfit and jewelry at the state funeral.
Kate Middleton also honored the Queen with her jewelry at the funeral. She donned a diamond and pearl choker from the Queen's collection after previously wearing it to Prince Philip's funeral in April 2021 and at the 70th wedding anniversary of the couple, who wed in 1947.
Meghan arrived at the state funeral together in the same car with Sophie, Countess of Wessex, while their husbands walked behind the Queen's coffin. In a tender moment, the former "Suits" star was seen reaching out to comfort the Countess after the service. They were also seated next to each other during the service.
Sophie has been praised for allegedly offering Meghan an "olive branch" and "gesture of support" ahead of the state funeral. The two attended a service in honor of the Queen last week. They joined royals at Westminster Hall, where Her Majesty's body was lying in state, last Wednesday, September 14.
At the service, Meghan stood beside Sophie, Kate, Princess of Wales, and Camilla, Queen Consort, on the other side of the Countess. According to royal writer Rebecca English, who was in Westminster Hall at the time, there was a "noticeable gap" between the three other women, working royals, and Meghan, to begin with.
"There was something self-consciously awkward about her posture, demonstrating the depth of the rift between herself and the rest of the royal family even if you happened upon them without any prior knowledge of the acrimony of the past four years," Rebecca noticed. "Indeed Meghan, who was holding black leather gloves, seemed so lost for something to do that at one point she rested her left hand in her pocket."
Source: Read Full Article