The hit reality series "Chrisley Knows Best" follows family patriarch Todd Chrisley, his wife Julie Chrisley, and their family as they enjoy the riches of wealth. During a promo for the show, Todd boasted that the family spent more on their wardrobes than most could hope to earn for a salary. "In a year, we sometimes spend $300,000 or more, just on clothing," he said in 2014, per People. In 2019, Todd and Julie appeared to make a killing when they listed their 13,000-square-foot mansion located just outside Nashville, Tenn. for $4.7 million, per Dirt. They had quickly flipped the property after plopping down $3.4 million to purchase it. On the surface, the Chrisleys live an enchanting lifestyle, but financial troubles have plagued them in the past. 
In 2012, Todd was forced to declare bankruptcy. The USA Network star had over $4 million in assets, but that paled in comparison to the over $45 million he owed in debts, per People. Todd owed $12 million on mortgages of various properties, plus an outstanding bill to the IRS for nearly $600,000. On top of all the external debts, Todd apparently owed his own wife $4.4 million, as she had provided business loans. At the time of the bankruptcy, the reality star claimed to be cash poor with only $55 in his checking account. Keep reading to see how his job outside of the reality show and his fiscal woes.
Julie Chrisley is worth much more than her husband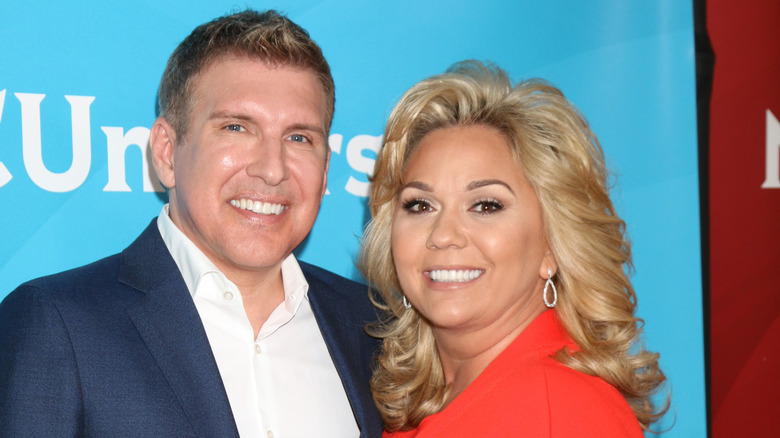 According to Todd Chrisley's lawyer, Robert Furr, bankruptcy could have been avoided had it not been for one massive misstep. "He guaranteed a real estate development loan and it failed," the lawyer revealed to People in 2014. "He was on the hook for $30 million. If he hadn't had that happen, he would have been fine, financially," Furr added. The deal he alluded to have involved Todd's main source of income. 
Prior to landing "Chrisley Knows Best," Todd made a fortune in real estate. In 2002, he opened Todd Chrisley Asset Management, a "management company that expedites loss recovery and liquidation of non-performing assets," per Crunch Base. Approximately 95% of Todd's wealth was acquired through real estate, per Celebrity Net Worth. The company was closed in 2013 after filing for bankruptcy. Years after he went bankrupt, Todd's personal fortune was estimated in the red at negative $5 million in 2020.
Fortunately, Julie Chrisley fared better than her husband financially. "She is well-off," Todd's attorney said about Julie's wealth. "She has her own money." Although Todd has a personal asset sheet with a negative balance, Julie has a net worth of $3 million, per Celebrity Net Worth. She helped keep the couple afloat, but they both came under heat for alleged fraudulent financial behavior. 
The couple was accused of tax fraud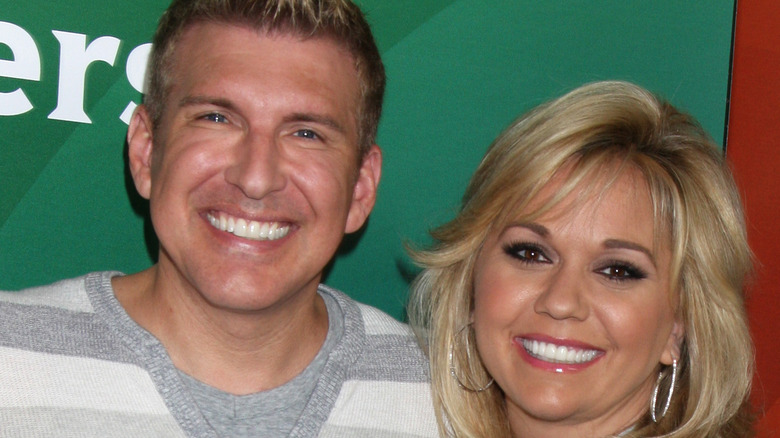 Todd Chrisley and Julie Chrisley were once again under scrutiny when they were indicted for tax fraud in August 2019. Byung J. Pak, the U.S. attorney who handled the case, issued a strongly-worded statement condemning the reality stars. "Todd and Julie Chrisley are charged not only with defrauding a number of banks by fraudulently obtaining millions of dollars in loans, but also with allegedly cheating taxpayers," Pak said. "Celebrities face the same justice that everyone does," he added, per Justice.gov. The couple was accused of tax evasion from 2007 to 2012.
Shortly after the charges were made public, Todd issued a statement on Instagram that put the blame solely on a former employee who had been fired in 2012. "To get revenge, he took a bunch of his phony documents to the U.S. Attorney's office," Todd wrote.
By October 2019, the Chrisleys signed a settlement with the Georgia Department of Revenue. Initially, they were accused of owing $2.1 million in unpaid state taxes, but that amount was reduced to $110,000, per People. "Julie and I knew all along that we had done nothing wrong and that when the facts all came out, we would be fine," Todd told the press at the time. All's well that ends well, we guess?
Source: Read Full Article