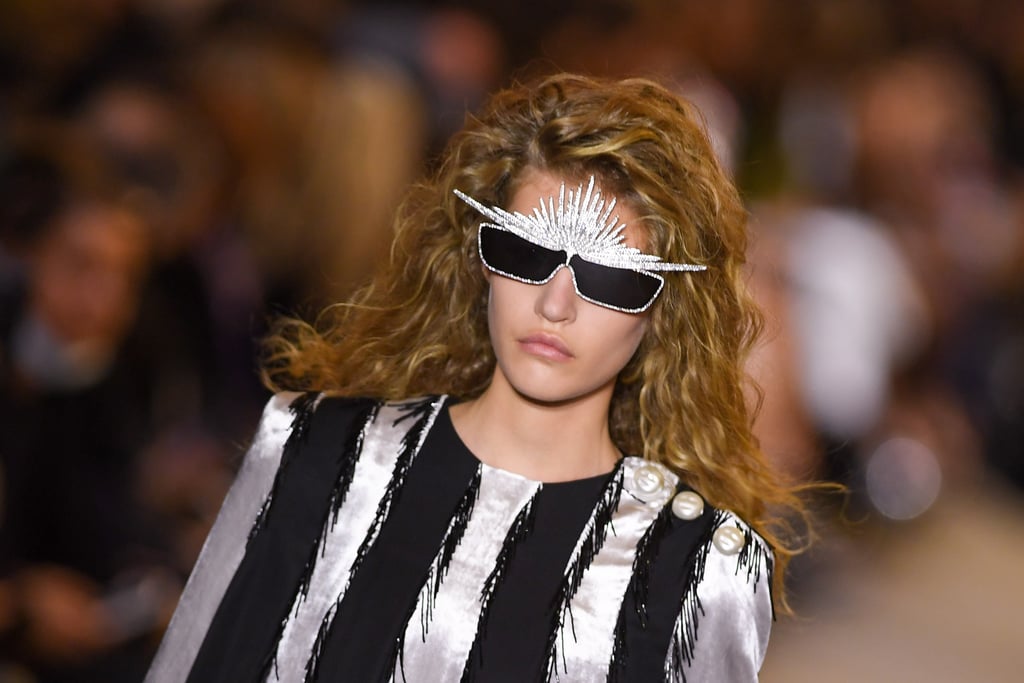 23 Things to Know About Louis Vuitton's Over-the-Top Spring 2022 Show

You may recall Louis Vuitton's last spring collection — sharp tailoring, vibrant prints and color, but largely practical in silhouette. Aside from two or three styles, it was void of anything too avant-garde, fitting for the times. In looking at the brand's spring 2022 collection, which debuted at the Louvre Museum in Paris on Tuesday, I'd say the brand's done something of a 180, pointing toward downright opulence. And even that is an understatement. For this collection, Nicholas Ghesquiere seems to be straying away from house's signature sleek, ultraelevated aesthetic in favor of something even more Parisian. Whoever the Louis Vuitton girl is this season, she's ready for a grandiose event or two.
There are nightgowns as dresses (some done with artful structural elements at the hips), lace and shimmer at every turn, ruffles up to the chin, and masquerade sunglasses. In the same breath, there's the new rendition of the dad sandal, the coolest everyday denim to ever exist, and to-die-for puffer coats. Yet, the two come together cohesively under a chandelier backdrop, and all I can think is: this is the aspirational fashion we need. Ahead, read on for a few more of my thoughts on the collection, and to, of course, peruse some of its best looks.
Source: Read Full Article