The guys possibly broke the record for most F-bombs in a single episode, while looking at their wild fashion, ranking their songs and sharing the real story behind Justin's pronunciation of "It's Gonna Be Me."
The *NSYNC reunion promo is in full swing — with all five of the guys sitting down for one helluva Hot Ones.
On the latest episode of the viral interview series, Justin Timberlake, JC Chasez, Lance Bass, Joey Fatone, and Chris Kirkpatrick sat down with Sean Evans to answer some probing questions while also eating the spiciest of hot wings.
And, well, it was pretty brutal.
Unable to render YouTube Video.
The guys first reunited on stage at the VMAs earlier this month — before confirming the following day that they recorded a new song together, "Better Place," for the upcoming Trolls Band Together movie. Timberlake has done voice work for all the previous films. During the Hot Ones interview, Timberlake said the new song was their attempt at taking their old sound and making it feel more "modern"
Throughout the taping, the guys looked back at on-stage mishaps, being staples on Total Request Live, the first time they heard one of their songs on the radio and how fans went above and beyond to get their attention — including how girls broke into Justin's hotel room and hiding in his closet. They also reflected on some of their wildest fashion moments, revealing they designed some of the looks themselves.
They were then asked to confirm or deny a number of rumors about the group, with the guys confirming JC, Chris and Joey were cast as Jedi warriors and filmed fight choreo for Star Wars: Attack of the Clones, but had the footage cut from the film. Justin, meanwhile, said he was told by producers to pronounce "Me" as "May" for "It's Gonna Be Me," thus launching a meme that has lived on to this day.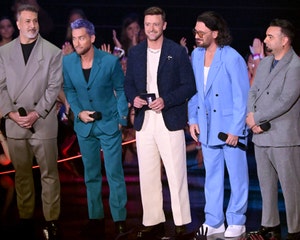 NSYNC Reunites at MTV VMAs — See Boy Band on Stage Together for First Time In 10 Years!
They all began sweating around the midway point, as they started to really feel the the sauces. Joey started to spit, while Justin almost checked out due to the heat — wondering how JC and Sean were doing so well.
The guys then broke out into a chorus of F-bombs, trying to break the show's record. They also revealed their five favorite songs, with "I Thought She Knew" making a surprise appearance at the top of the list.
As the episode came to a close, Joey exclaimed, "Right now, my ass is gonna be on fire, I can't wait!" — before Lance joked he'd be in the bathroom for two days.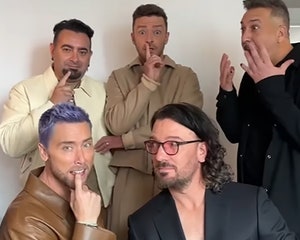 NSYNC Continues Teasing Fans, Launches TikTok with Hilariously Awkward Photo Recreation
Before the full interview went live, the guys also shared a number of videos to social media showing how they prepared for the shoot, as well as the "aftermath" of taping.
Beforehand, Timberlake — who did the show solo before kin 2020 — said, "I can't f–king believe I'm doing this again," before they all were seen taking shots of Pepto Bismol. "I'm all about preventative measures, I don't want to be bad later," joked JC, while Lance quipped, "This is 40."
"Why is this a thing?!" exclaimed Timberlake in one, while Kirkpatrick asked, "Has anyone ever died?" from doing the challenge.
The group's new single drops September 29 and while they're clearly happy to be together and promoting the new tune, they aren't planning any kind of reunion tour anytime soon.
Trolls Band Together, meanwhile, hits theaters November 17.
Waiting for your permission to load TikTok Post.
TikTok Post Unavailable
Waiting for your permission to load TikTok Post.
TikTok Post Unavailable
Source: Read Full Article