Steve can't really explain why he's so disengaged with state politics, having only just realised there's an election on this weekend.
"I know it's not great," he admits with a shrug. "[Information] just doesn't come to me and I don't really have the time to be going out looking for it … I didn't even know there was an election until about last weekend until I was at the shops. I had no idea."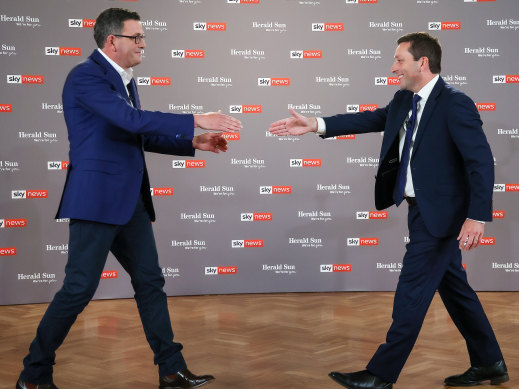 Premier Daniel Andrews and Opposition Leader Matthew Guy at the people's forum.Credit:Ian Currie
The Age was invited to observe focus group polling run by RedBridge Group via Zoom this week, on the condition participants' identities be protected.
RedBridge has been running multiple focus groups every night in the lead up to polling day, probing voters' views on which policy announcements are cutting through, their views on candidates in their electorates and Premier Daniel Andrews.
If this session is any guide, it's safe to say many voters are not particularly impressed with this election campaign.
Few in this group of people aged in their 20s, 30s and 40s can name more than one policy announcement made during the campaign.
Another participant, Katie, said she didn't know what it would take to get her inspired by politics, or this election: "I feel like I'm not inspired right now, but … I'm not sure exactly what it would take."
In the final days of the election campaign the polling in the battleground seat of Richmond shows many young voters are uninspired about Saturday's election and disengaged with the major parties' policies.
Richmond is held by retiring Labor MP Richard Wynne on a nominal margin of 5.8 per cent after redistribution. In his place, Labor is running Lauren O'Dwyer against Greens candidate and favourite Gabrielle de Vietri, while Lucas Moon is running for the Liberals.
Richmond has the highest median weekly personal income in the state ($1354 compared with $803), but it also has among the highest average rents in the state ($450 a week, compared with $370 a week), according to the most recent Census data.
More than half of Richmond's residents rent their homes, and several focus group participants nominated housing affordability and the cost of living as their main concerns during the campaign.
"It's just so difficult and the prices of rentals have just skyrocketed through the roof," Katie said. "So I don't really understand how people can continue to pay the prices that are indicated and live."
Graham added: "Obviously the housing crisis and affordability is a big one. But I think on top of that is the disconnect, the social disconnect, and the mental health kind of crisis … there's a level of social disconnect that's probably on the rise."
It is clear listening to them that the parties' housing, mental health and cost-of-living policies have not reached this audience.
Asked what she thought Labor stood for in this election, Sophie replied: "They're not the Liberal Party".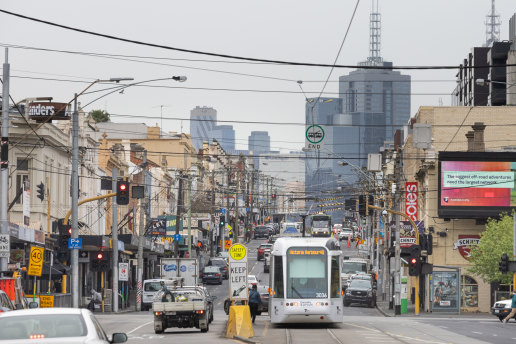 Richmond is tipped to change hands at the election on Saturday.Credit:Jason South
Graham added: "I was ironically going to say the lesser of two evils".
After the focus group, RedBridge director Kosmos Samaras said the results were being replicated in other inner-suburban electorates.
"They're clearly not inspired, are they? And that's the mood that we get, and it gets more intense as we get further out [into the suburbs]. So, a bit further out, you get this blanket cloak of pessimism with the angst and the anger.
"They're tuning out. They have not been inspired by what they've been hearing, and they're fatigued with Victorian politics.
"And they've got this view that Andrews will be re-elected. I think the mojo that he had in 2018 was because there was a message that was built in to some of these electorates that Labor could lose, and so that motivated them to vote Labor. But now there's a view that he'll win, and they're planning to vote Green."
An exclusive survey conducted by Resolve Strategic for The Age and published on Tuesday showed that, as the campaign enters its final days, the gap between the major parties has narrowed.
Labor's primary vote had fallen by 7 percentage points since the last election to 36 per cent – making it level with the Coalition.
More than 50 per cent of the electorate is expected to cast a vote before November 26, and Samaras said people who turned up on polling day, particularly in seats such as Richmond, would be more likely to vote for the Greens.
He predicted Labor would lose Richmond and Northcote to the Greens, and said if the Greens could get ahead of the Liberals on primary votes, they could also win Albert Park and Footscray.
This story is part of our in-depth local coverage of the key seats of Melton, Hawthorn and Richmond at the November state election.
The Morning Edition newsletter is our guide to the day's most important and interesting stories, analysis and insights. Sign up here.
Most Viewed in Politics
From our partners
Source: Read Full Article