The torment of Ben Stokes offers the starkest warning of what can happen when a talisman becomes undroppable.
It was a seductive illusion, the idea that England's star all-rounder could rescue their Ashes tour the moment his left index finger healed from a severe break. But the sheer quality of Australia's pace attack exposed the awkward truth that he should have been nowhere near this Brisbane Test.
It was a brute of a delivery he took in the death throes of England's second innings, Pat Cummins generating trampoline-like bounce to strike the shoulder of his bat, gifting a catch to Cameron Green at gully.
And yet, Stokes's dismal figures at the Gabba spoke less of mere misfortune than of a player who remains anything but match-fit. He scored a total of 19 runs, took no wickets for 65, produced four consecutive no-balls and had to be treated for cramp after bowling only 12 overs in sporadic spells.
This is not the athlete who reached a state of all-conquering splendour in 2019, but one who looks as if he is now held together by duct tape.
England are discovering the hard way that no single player can transform an Ashes series in Australia through reputation alone.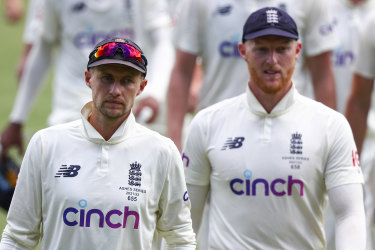 Joe Root and Ben Stokes trudge off the Gabba after the first Test.Credit:AP
Andrew Flintoff arrived here in 2006 with his image still buttressed by the eulogies of the previous year, only to succumb to a 5-0 squashing on a tour that, by his own admission, descended into a "booze cruise". On the latest evidence, Stokes risks losing his lustre at similar speed.
His reinstatement to the England camp was initially greeted with breathless joy, as though he could disguise the team's batting deficiencies with a few heaves of those lumberjack arms.
But it is unrealistic to expect any individual talent, even one of Stokes's transformative qualities, to be Ashes-sharp on the strength of a few looseners in a warm-up against the England Lions.
Without him, or so the theory went, this side had zero chance of wresting the urn back from Australia's grasp. With a much-diminished Stokes in their ranks, though, the prognosis is hardly any rosier.
England appear to be picking him less out of any conviction that he is the answer than out of fear of a PR calamity if they did otherwise. Chris Silverwood, the head coach, made a telling point last week when he predicted Stokes could galvanise the dressing room by his mere presence.
Charisma, alas, only takes you so far when you are painfully out of practice. Stokes overstepped the mark with his run-up 14 times in five Brisbane overs. That is not just careless, but borderline unprofessional.
Where Stokes is beyond reproach is in his response on the grandest stages. His 135 at Headingley still deserves the highest place in the canon of great England performances, especially coming just six weeks after the 84 that laid the platform for World Cup glory at Lord's.
The setting at the Adelaide Oval this week should be to his taste: there is the novelty of a pink-ball Test, the promise of a febrile atmosphere under the lights, not to mention a side of cocksure Australians crying out to be brought down a peg. If Stokes cannot rise to the task with his trademark belligerence, the Ashes will be as good as gone.
His spirit is not in question, but his conditioning surely is. Stokes has looked creaky and exhausted on his return to the Test crucible, holding his left knee in pain after chasing a ball to the boundary.
He appeared unable either to run flat out or to bowl with his usual ferocity. Such struggles can be ascribed not only to the difficulties of coping with Brisbane's saturating summer humidity, but to Stokes's ring rust after more than four months without playing.
It was in late July that Stokes announced he would take an indefinite leave of absence from cricket, prioritising his mental well-being after 16 months in bubbles and the death of his father, Ged, at the age of 65. It is a moot point as to how much he has purged this psychological turmoil.
He arrived at the crease in Brisbane wearing a black armband marked "568″, the same cap number that Ged wore on his one appearance for New Zealand's rugby league team in 1982.
No sooner did Stokes rejoin the fray in Australia than he was plunged back into the same rituals of isolation he had been so desperate to escape.
The absurdity of starting this series in Queensland, which continues to subject international arrivals to 14-day quarantine despite such measures being lifted in neighbouring states, was highlighted by the chaotic fourth day of this Test, with the global television feed unable to be restored after a power outage due to the shortage of production staff.
Stokes has endured the frustrations of local rules at firsthand: while in quarantine, he almost choked on a tablet and had nobody to call for help.
An immutable maxim in international sport is that by failing to prepare adequately, you are preparing to fail. Stokes, so far, is living proof of that logic.
Sports news, results and expert commentary. Sign up for our Sport newsletter.
Most Viewed in Sport
From our partners
Source: Read Full Article