The 2022 Winter Olympics will formally get underway with the opening ceremony taking place on Friday in Beijing. The ceremony is taking place at the Bird's Nest stadium, built and used for the 2008 summer Olympic games, as Beijing becomes the first city to host both editions of the games. The stadium also served as the venue for Track and Field as well the men's 2008 gold medal soccer game, but will not host any sporting events in 2022.
The opening ceremony will be directed by Oscar-nominated cinematographer Zhang Yimou, who directed the opening and closing ceremonies in 2008. The parade of nations is expected to follow the same order as at Beijing 2008, with countries entering the stadium according the strokes used in the Chinese-language characters of their names. Greece, as tradition dictates, will enter first as the first-ever host of the Olympics, and China as the host nation will enter last.
Away from the ceremony, British curlers Jen Dodds and Bruce Mouat will take on Australia in the mixed doubles event. Team USA dominated figure skating events that began on Friday, starting with American star Nathan Chen, 22, topping the chart with a new personal record of 111.71 in men's short while Madison Hubbell and Zachary Donohue earned 86.56 in rhythm skating. Follow all the latest below.
Recommended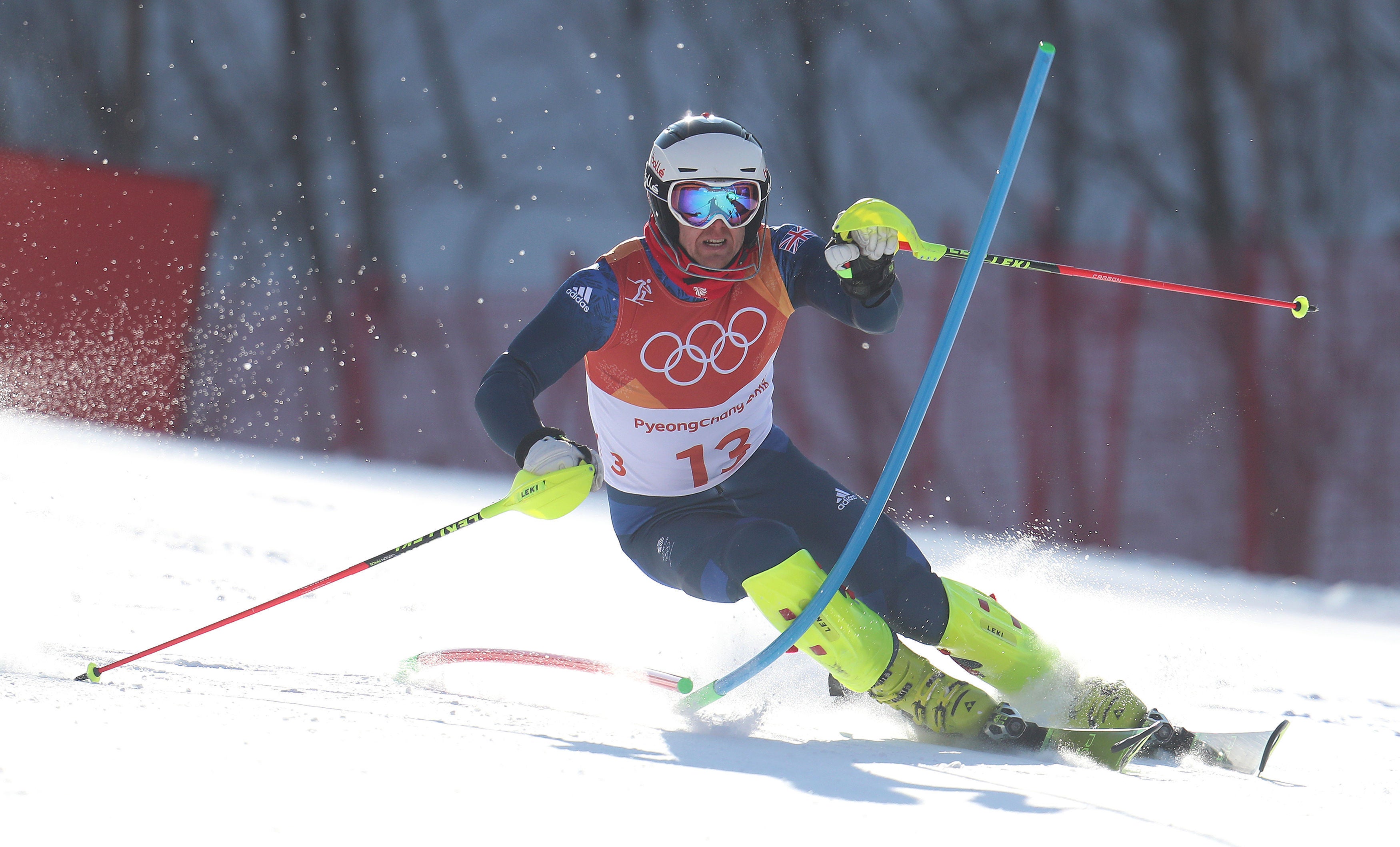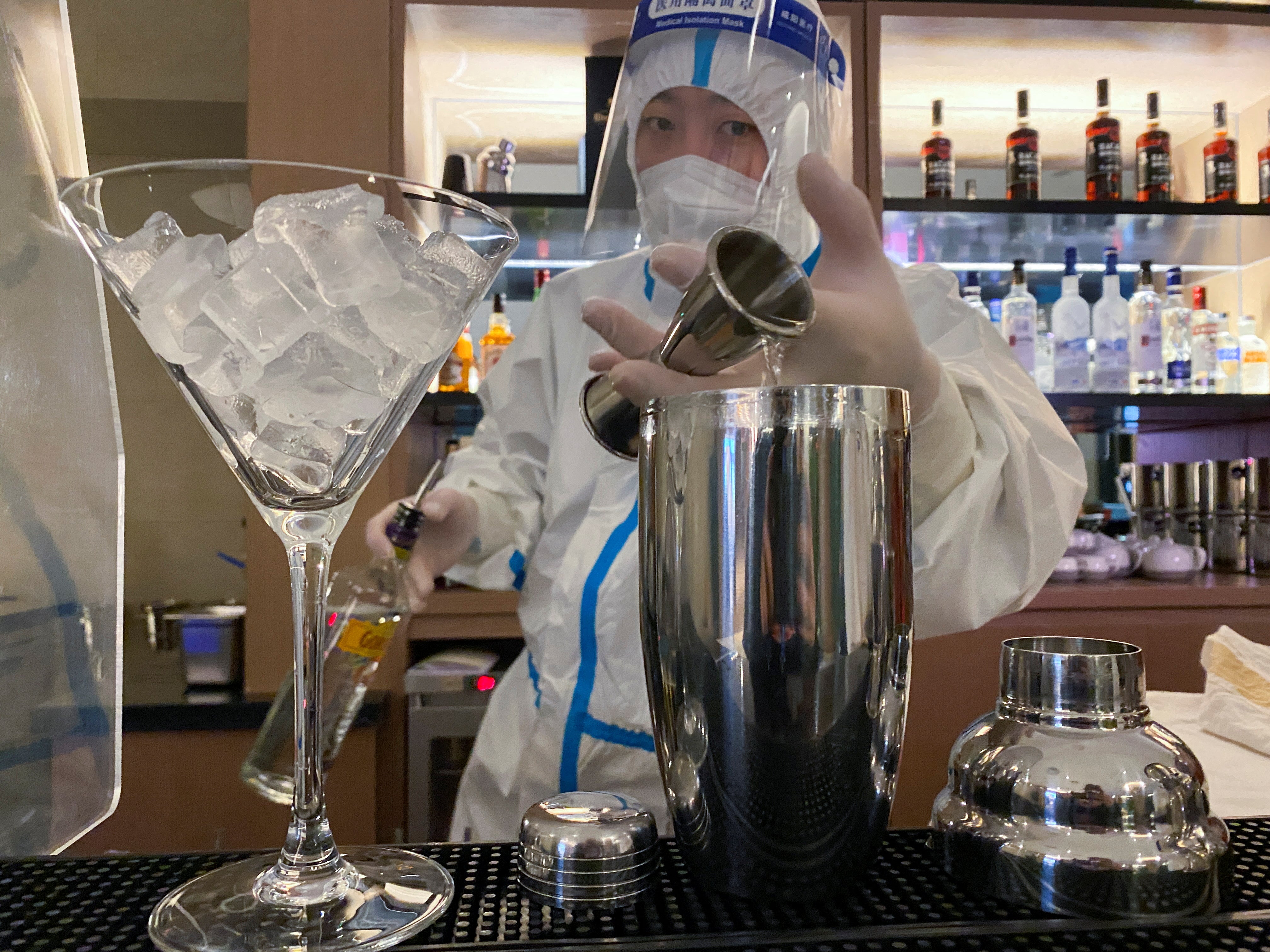 Team GB edge Australia in mixed-doubles curling epic
Earlier Britain snuck a tight curling victory over Australia, who came very close to their first ever win in the Olympic sport. Australia forced the mixed doubles match to an extra end after coming back from 3-0 down to tie 8-8. But Bruce Mouat cleared the house for GB and Australia's Tahli Gill overthrew with his final stone as Team GB narrowly avoided defeat, which more than makes up for the Ashes.
Right now we have figure skating, curling and men's slalom qualifying all going on.Earlier home favourites Sui Wenjing and Han Cong set a world record score in the figure skating pairs, scoring a stunning 82.83 with their performance set to the orchestral suite from Mission Impossible 2.
"We were still nervous and uneasy when we participated in the Olympics for the first time [at PyeongChang 2018]. Now it's the Beijing Winter Olympics in my hometown," Sui told Olympics.com.
"For us, it's about being our best selves and showing our best selves; show good programs to the world, and hope that more people can fall in love with figure skating and winter sports because of us."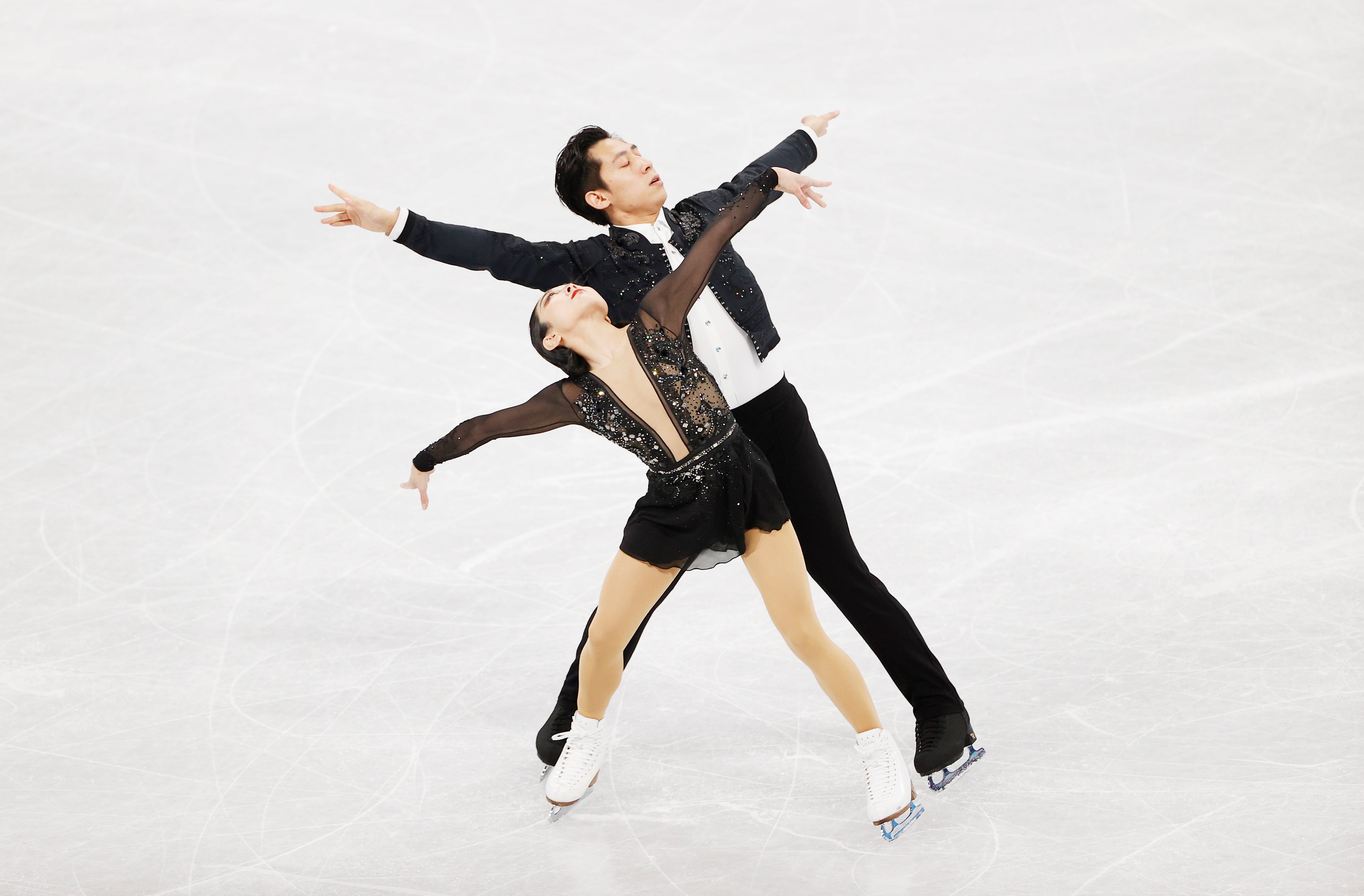 Cong Han (R) and Wenjing Sui (L) of China in action during the Pair Skating
Games are like IOC's reward to China for bad behaviour: Rippon
The selection of Beijing as the 2022 Winter Games host is like the International Olympic Committee rewarding China for bad behaviour on human rights, former US champion figure skater Adam Rippon said.
Rights groups have long criticised the IOC for awarding the Feb. 4-20 Games to China, citing its treatment of Uyghurs and other Muslim minority groups in the western Xinjiang region, which the United States has deemed genocide.
China has consistently denied allegations of human rights abuses and said it opposes the "politicisation" of sports.
Rippon, who won a bronze medal at the 2018 Pyeongchang Olympics and is coaching American Mariah Bell at Beijing, said the IOC needed to "step up" on human rights and exercise more discretion when choosing hosts.
"I think the Chinese are going to put on an amazing Games and I think they are going to make sure everyone is as safe as possible but when it comes to human rights, we're entering a Communist country," Rippon told Reuters by phone.
"And I think that when we're picking Olympic cities this needs to be something that is more regulated by the IOC. This is a position that they've put a lot of people in.
"It makes me think of being rewarded for bad behaviour. Always the hope is that (the Olympics) helps better the hosting nation as well, but I do agree that in light of all of the human rights violations in China, it does make you question why were they still allowed to host these Games?"
Team USA maintain top spot in figure skating
China's Wenjing Sui and Cong Han topped the score board in pair skating's short program, earning 10 points for their country. They were closely followed by Anastasia Mishina and Aleksandr Galliamov of ROC who scored 82.64 for ROC.
Team USA continued their dominance in figure skating as it secured third spot, earning their country 8 points. Alexa Knierim and Brandon Frazier scored the highest at 75.00 points, also their personal best short program score in pair skating.
The country remains on top after three of eight segments:
USA, 28 points
ROC, 26
People's Republic of China, 21
Japan, 20
Italy, 18
Canada, 16
Georgia, 15
Czech Republic, 12
Ukraine, 4
Germany, 3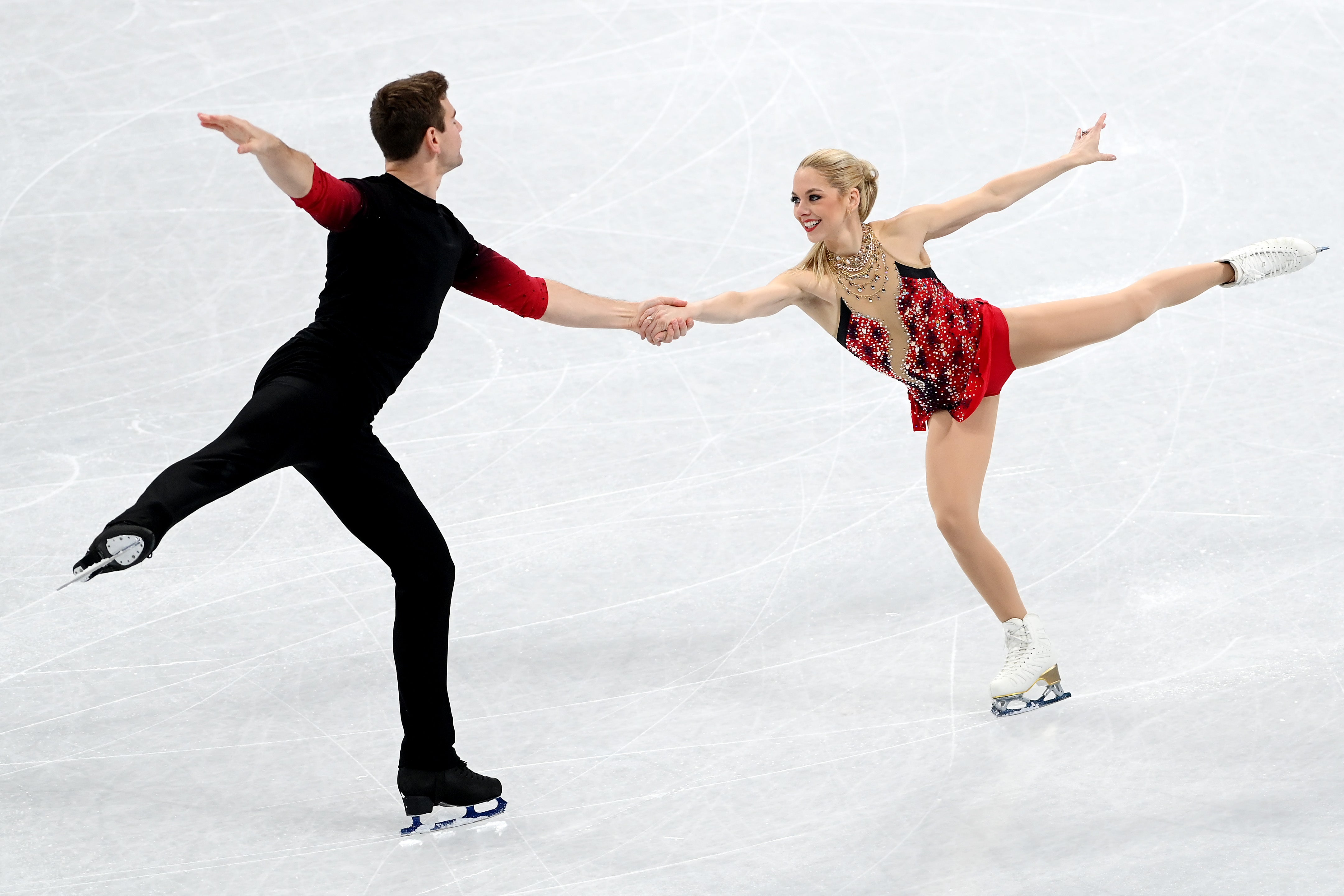 Alexa Knierim and Brandon Frazier of Team United States skate in the Pair Skating Short Program Team Event during the Beijing 2022 Winter Olympic Games
Russian president reaches Beijing ahead of the opening ceremony
Russian president Vladimir Putin arrived in Beijing ahead of the opening ceremony of the Winter Olympic Games.
His visit comes amid the growing Chinese support for Moscow amid the dispute with Ukraine that is threatening to break out into armed conflict.
Mr Putin held talks with his Chinese counterpart Xi Jinping upon arrival, reported the Associated Press.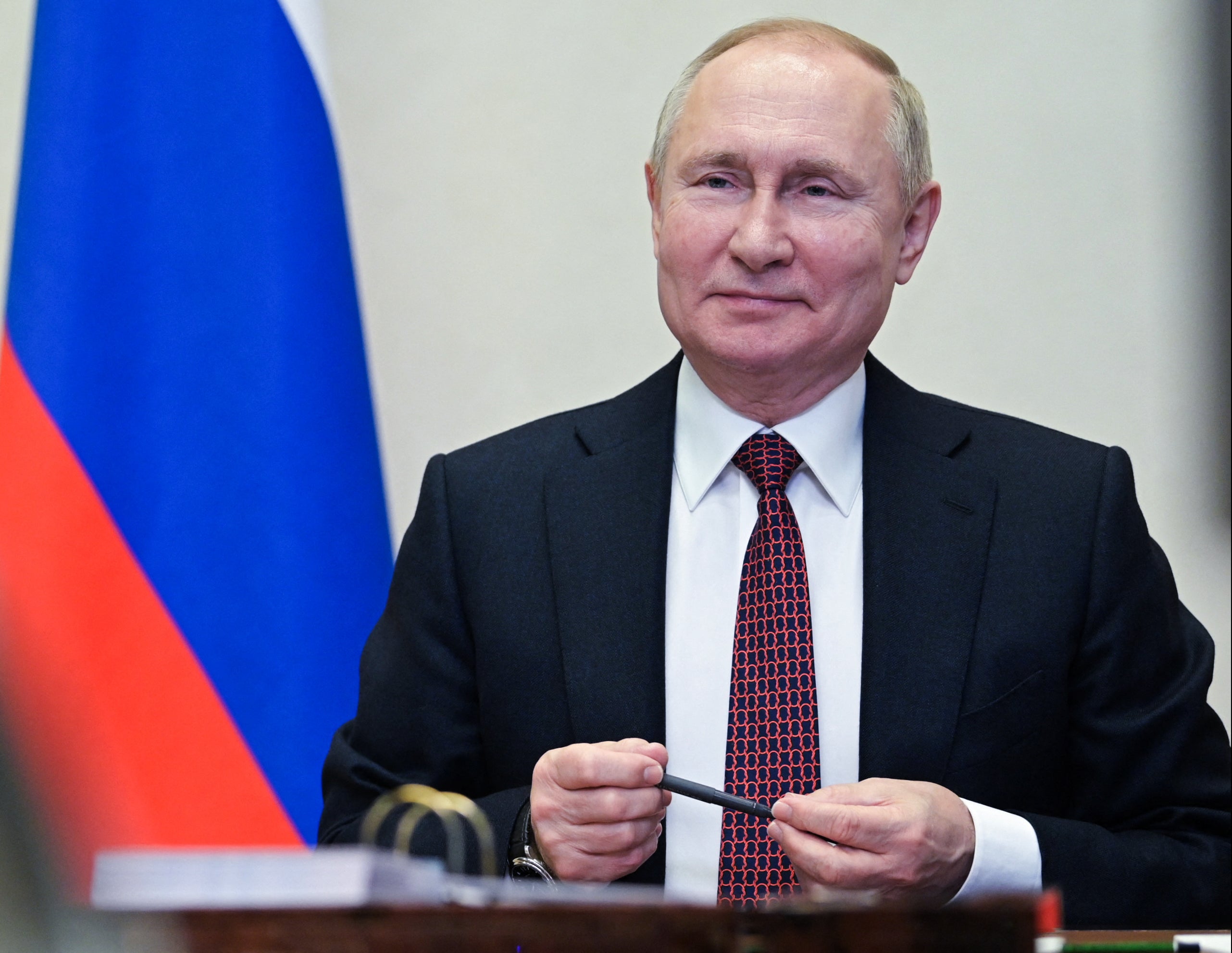 Russian President Vladimir Putin holds a meeting with members of Russia's national team ahead of the Beijing 2022 Winter Olympics, via a video conference
Three men's hockey player of Team USA test positive for Covid
Two top defenseman and a veteran forward of the Team USA men's hockey team have tested positive for Covid. These include Jake Sanderson and Steven Kampfer, and forward Andy Miele.
While Sanderson remains in Los Angeles, the other two are isolating in the Olympic Village in Beijing.
Eighty per cent of Team USA athletes will attend Beijing opening ceremony
Around 80 per cent of the athletes of Team USA will attend the opening ceremony of the Beijing Olympics, said team chief Rick Adams.
"In terms of the opening ceremony, it may even be a record, we have 80% of our athletes walking tonight," he told a news conference ahead of the event.
ROC's scores dominating win against Switzerland in ice hockey
Switzerland saw another stunning defeat in women's ice hockey as they lost to ROC by 5-2 in the group A match. Earlier on Thursday, they had taken a 12-1 thrashing from Canada.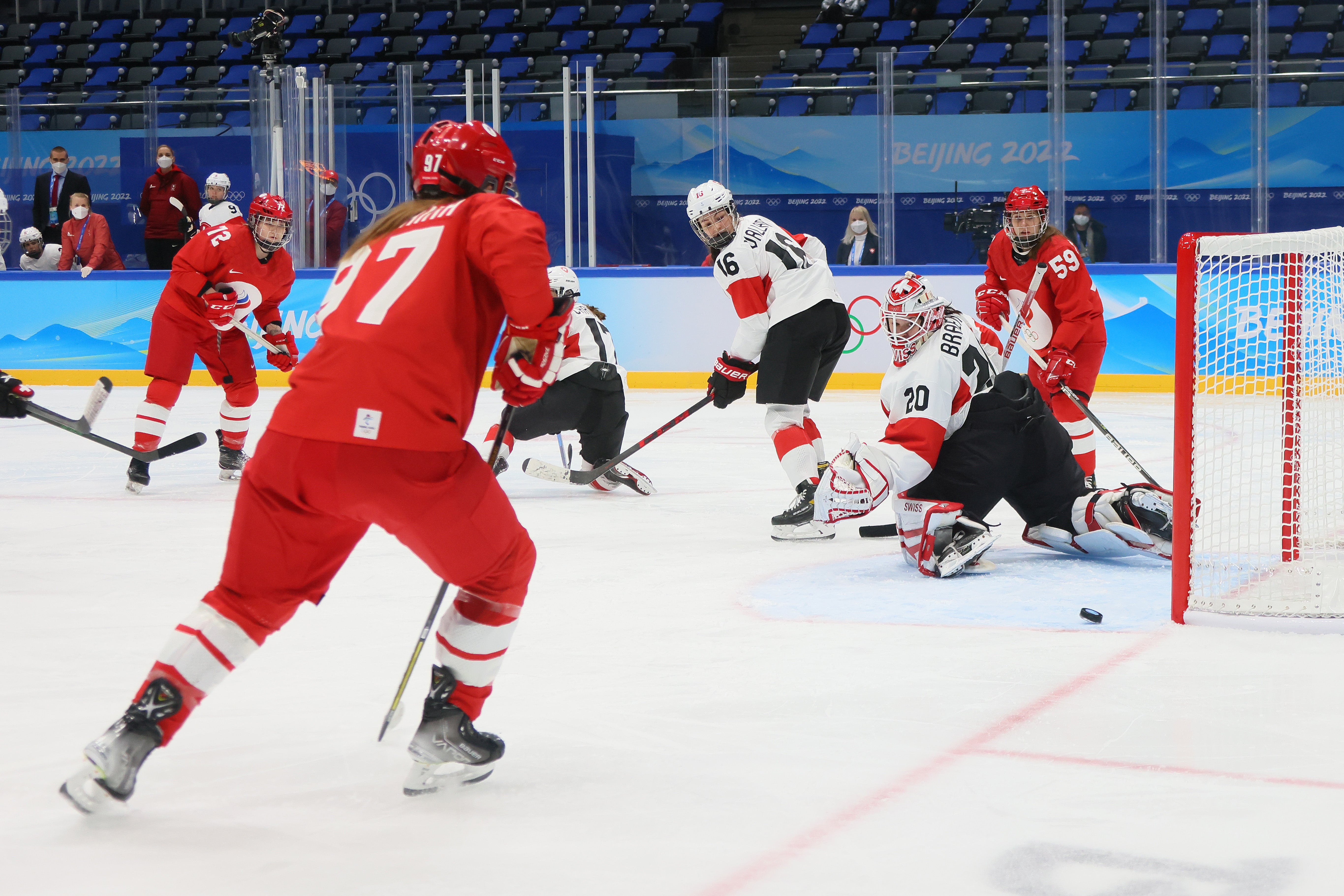 Maria Pechnikova of Team ROC takes a shot on goal against Andrea Braendli of Team Switzerland during their Women's Preliminary Round Group A match
China claim first win in ice hockey
Though Denmark began with a 1-0 lead against the host, they failed to build on it as China claimed their first win in the women's ice hockey beating the rivals 1-3 in group B.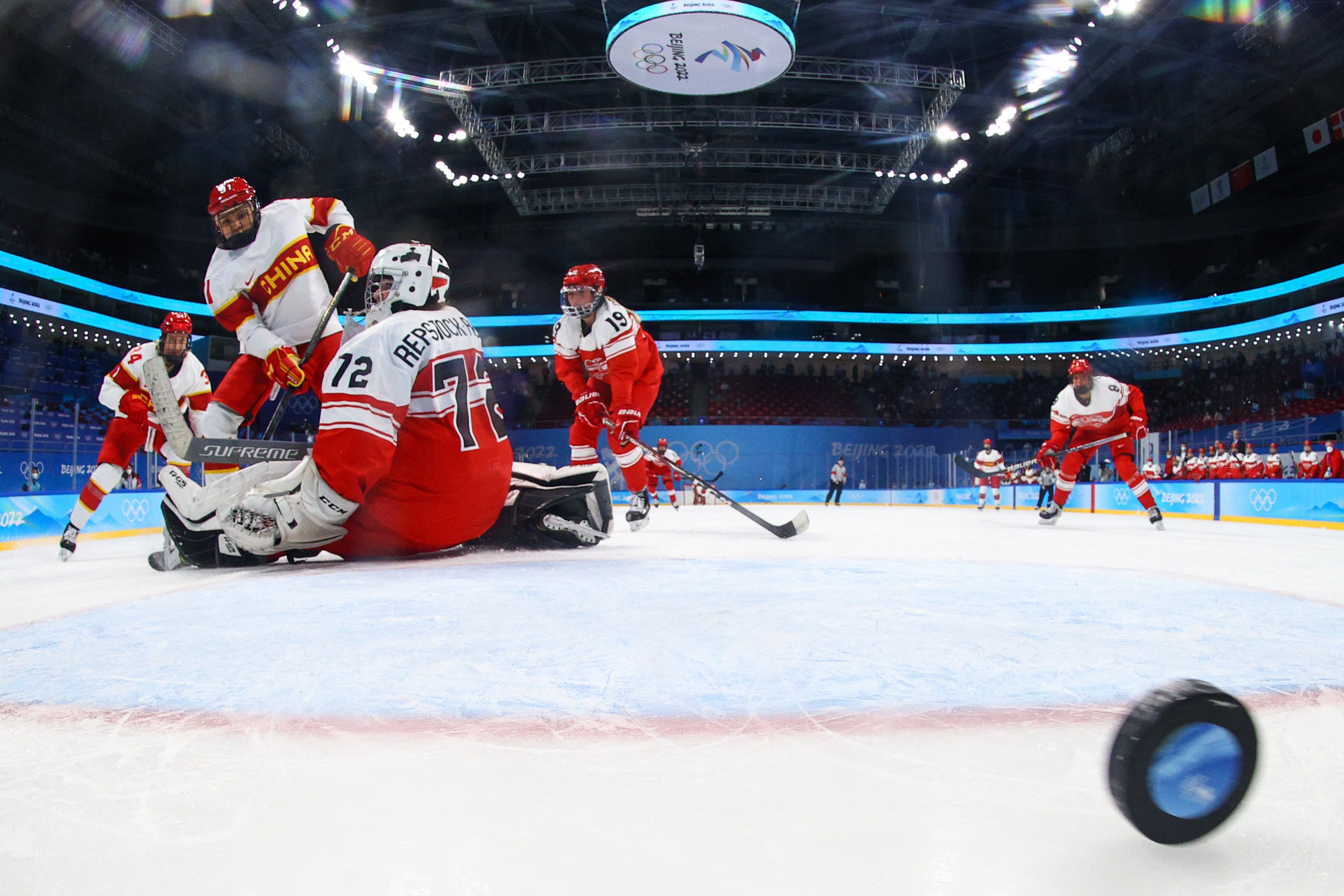 China's Lin Ni (2nd L) scores a goal during the women's preliminary round group B match of the Beijing 2022 Winter Olympic Games ice hockey competition between Denmark and China
Madison Hubbell reacts her rhythm skating performance
Madison Hubbell of Team USA says that she was feeling "calm" before the rhythm skating.
"This morning I was feeling so calm, [but I was nervous to] fall into that trap of being so comfortable that you just go overboard. We've been going 100 percent full out in practice. I was feeling very calm even in the locker room, and then all of a sudden the heartbeat was going," said Hubbell who topped the rhythm skating with her partner Zachary Donohue.
"Backstage, I could feel Zach's heart too, and we took some maybe extra deep breaths knowing that we had Team USA to show up for. But I think we skate our best when we know something's on the line and when we feel like we're not only doing it for ourselves, but for other people."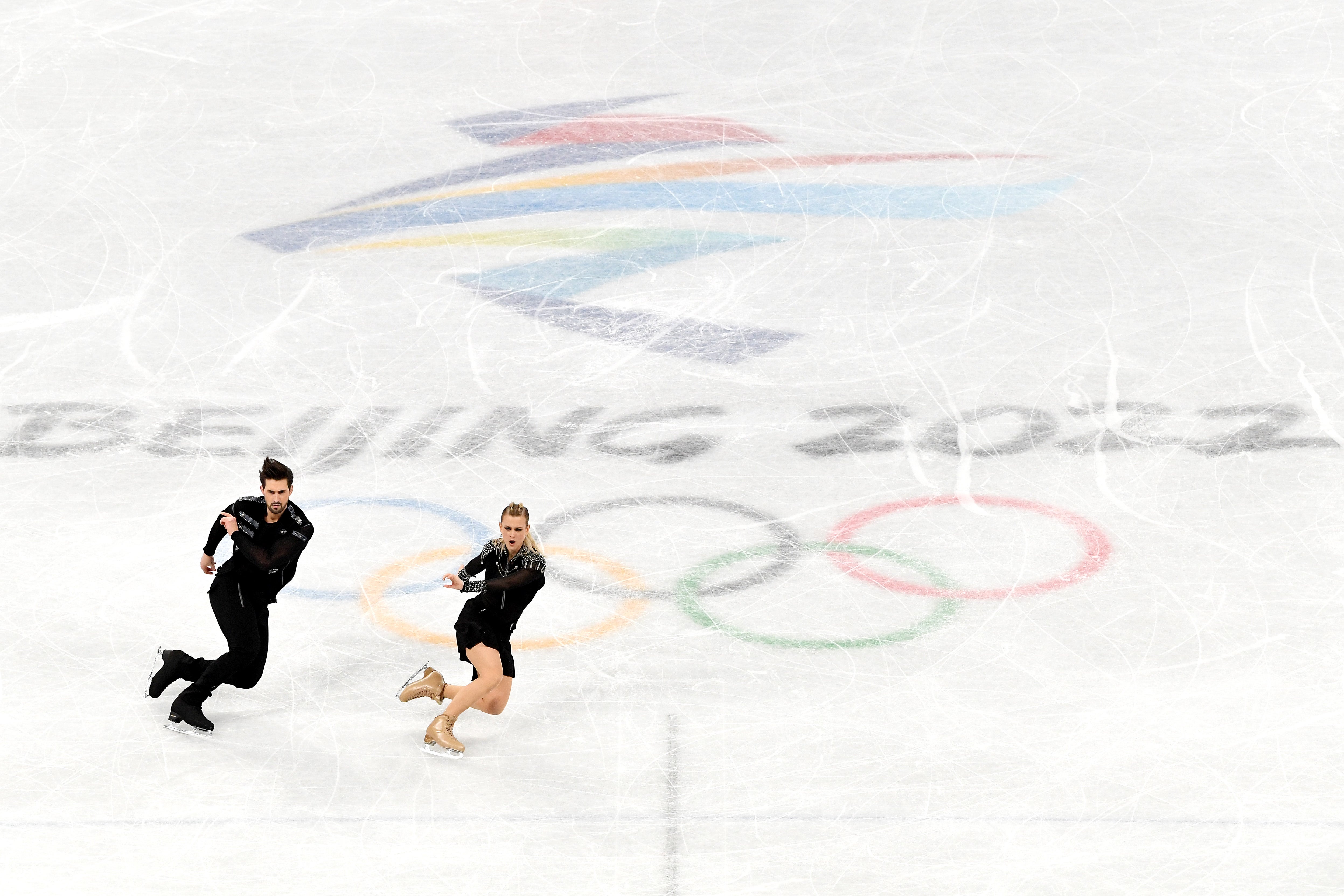 Madison Hubbell and Zachary Donohue of Team United States skate in the Rhythm Dance Team Event during the Beijing 2022 Winter Olympic Games
Registration is a free and easy way to support our truly independent journalism
By registering, you will also enjoy limited access to Premium articles, exclusive newsletters, commenting, and virtual events with our leading journalists
{{#verifyErrors}} {{message}} {{/verifyErrors}} {{^verifyErrors}} {{message}} {{/verifyErrors}}
By clicking 'Create my account' you confirm that your data has been entered correctly and you have read and agree to our Terms of use, Cookie policy and Privacy notice.
This site is protected by reCAPTCHA and the Google Privacy policy and Terms of service apply.
Already have an account? sign in
By clicking 'Register' you confirm that your data has been entered correctly and you have read and agree to our Terms of use, Cookie policy and Privacy notice.
This site is protected by reCAPTCHA and the Google Privacy policy and Terms of service apply.
Source: Read Full Article