Back in 1988, a seemingly innocent Good Guys doll launched a new movie franchise. Chucky became the face of Child's Play, the film that made a plastic serial killer doll a star. He's engrained in pop culture, has multiple sequels under his belt, and he's primed for his TV series debut.
But it all started with his one-time friend, Andy Barclay. Alex Vincent starred as the little boy who kicked off the battle with Charles Lee Ray, but it took him until adulthood to land his own Chucky doll.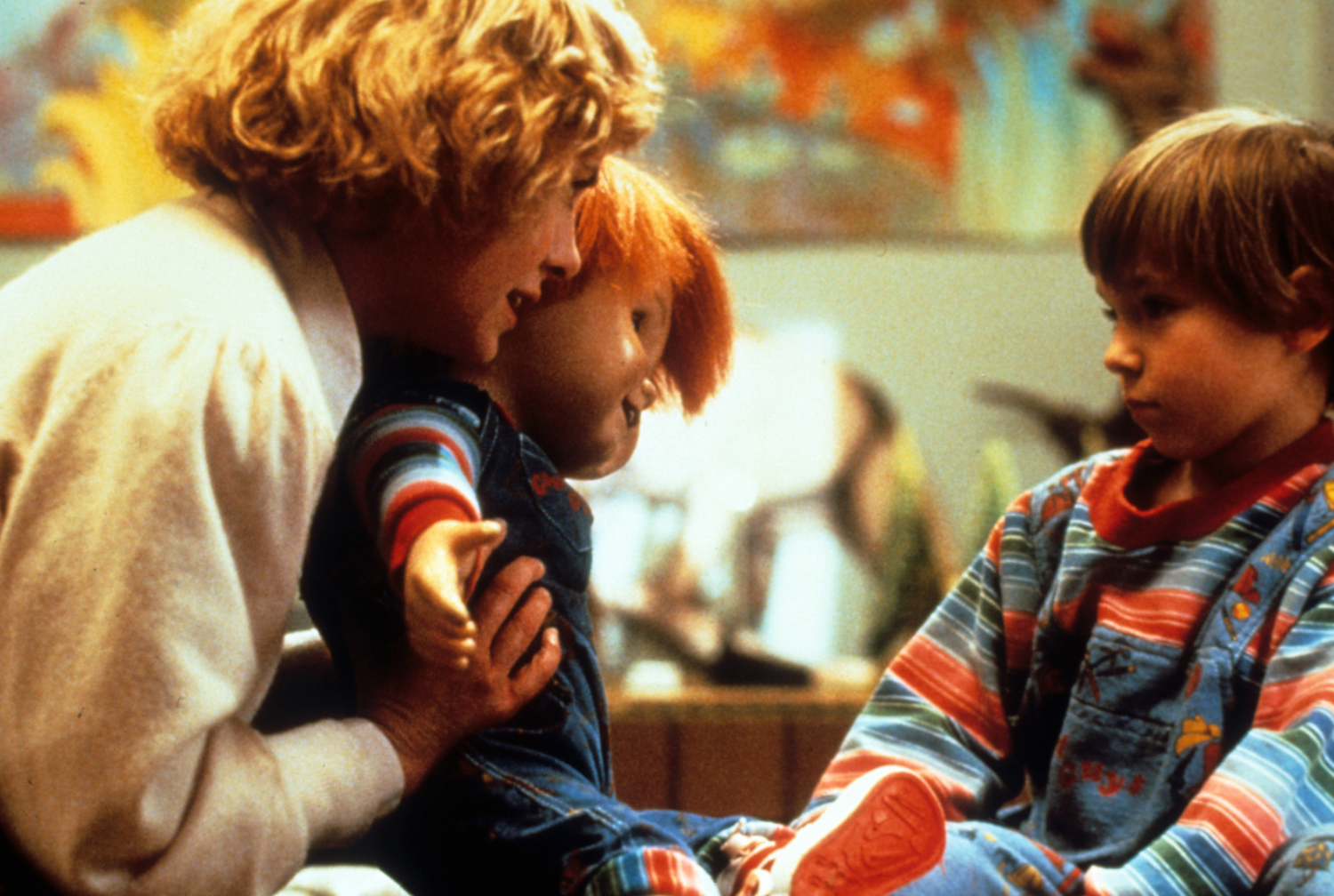 'Child's Play' actor Alex Vincent went without a Chucky doll for years
Vincent was only six years old when he played Andy in Child's Play. It was his first major acting gig, and he had no idea it would blow up into a horror classic. During an interview with Pounding the Meat podcast in 2020, he discussed his career and his famous role.
As he spoke, host Vinny Vegas noticed Vincent's Chucky doll propped up the background, next to a Good Guys box. But Vincent noted that it took him a long time to acquire one — and it's not a piece of merchandise from a retail shop.
"It took me four films and 30 years to get that doll. I earned it," he shared. "When we made Cult of Chucky, one of the first things I said to Don [Mancini] was, 'Alright, I need a doll, now. I mean, I've wanted a doll since I was six years old."
He said that many wondered why never received one sooner. Vincent explained that so many people were involved with making the movie and protecting the doll as an asset that putting one in a child's hands would not have been practical. "Giving one of those dolls to a 6-year-old actor was never up for consideration," Vincent said.
Chucky didn't frighten Vincent as a kid
Vincent said people always ask whether Chucky scared him or gave him nightmares. It's a valid question, given the film's premise, but he said nothing like that ever happened. "We didn't see what Chucky looked like on screen at that point. We didn't know," he stated. "It did not look real in real life, so we were trying to sell that and make it look real."
He added that as a child actor, he did not see the dailies or the film's edits, so he had no idea about all the things Chucky did until he attended the movie premiere. "For me, the whole thing was just amazing just to see the doll come to life and to see it actually scare people," Vincent shared.
Vincent will be in 'Child's Play' TV show
Though he's appeared in three Child's Play sequels, Vincent is set to reprise his role as Andy in the new SyFy/USA TV series, Chucky. He and Christine Elise team up to track Chucky's next rampage which lead Andy and Kyle to Hackensack, New Jersey. They've been hip to Chucky's mess since the foster home in Child's Play 2, and now they're back on the case. But is Andy a detective or a private investigator?
Tune in to find out when Chucky debuts on Oct. 12 at 10 p.m on USA and SyFy. Fans may even get to hear Andy say, "This is the end, friend!"
Source: Read Full Article