You has easily become one of the most-discussed shows on Netflix . Of course, Joe Goldberg is not the first fictional stalker-slash-serial-killer to make you question everything from your own social media security to your attraction to an actor's cheekbones.
If you're looking for something similar to binge instead of rewatching You yet again, here are 13 other shows. (Fair warning: They may make you want to never leave your house ever again.)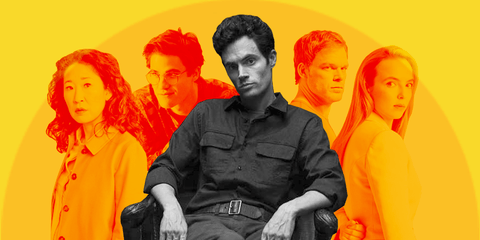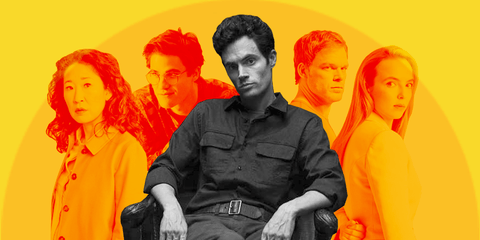 If you can't wait for You season 4: The Fall
Stream It
If the act of watching Jamie Dornan play a dangerous and twisted game of cat-and-mouse with Gillian Anderson is wrong, I don't want to be right.
If you're new to the genre and need a good binge: Dexter
Stream It
For eight seasons, Michael C. Hall played Dexter Morgan, a serial killer who also happened to be a forensic technician specializing in blood spatter pattern analysis. Feel free to skip this if blood isn't your thing, but know that the majority of this list is, um, pretty splattery.
If you're new to the genre but only have, say, 10 hours (the length of You): The Assassination of Gianni Versace: American Crime Story
Stream It
Darren Criss's portrayal of Versace's killer Andrew Cunanan earned him both the Primetime Emmy for Outstanding Lead Actor in a Limited Series or Movie and the Golden Globe for Best Actor–Miniseries or Television Film. His work is so bone-chilling, you will def have some sleepless nights (which is why a 10-hour binge works best here).
If you want #JusticeforPeach and feel like the world needs more Shay Mitchell: Pretty Little Liars

Stream It
Longtime PLL fans can obviously skip this, but if you're finally coming to your senses about this show, congrats! PLL Nation is surely seething with jealousy right now as you get to experience the show for the very first time.
If you want #JusticeforBeck and a whole lot more Elizabeth Lail: Dead of Summer
Stream It
Before she was Beck, Elizabeth Lail starred in this supernatural horror series set in the '80s at a Midwestern summer camp from the creator of Once Upon a Time. Unlike OUAT, this show was canceled after just one season (which technically still makes it super binge-able).
If you're tired of male serial killers: Killing Eve
Stream It
Run, don't walk, to finish at least season one so you can join everyone else in obsessing over Eve Polastri and the assassin she's obsessed with, Villanelle. Also, Sandra Oh is a badass.
If you want to travel back in time (like way back): The Alienist
Stream It
The only thing you need to know about The Alienist is that beautiful human Luke Evans is in it and the show is nothing like Beauty and the Beast.
If you need something out of the ordinary: Perfume
Stream It
This German series centers around a killer who collects body parts for…you guessed it…perfume. The first season has only six episodes, you'll want to cancel everything and watch with the lights on.
If you're into older killers: Hannibal
Stream It
Sorry to anyone who doesn't understand the attraction of Mads Mikkelsen, who played the complicated Hannibal Lecter for three seasons.
If you're actually done with serial killers and want to focus on the people catching them: Luther
Stream It
Go ahead, let DCI John Luther (Idris Elba) take care of you.
If you love a Nickelodeon alum: Eye Candy
STREAM IT
Just as her friend convinces her to get on the dating apps, tech genius Lily Sampson (Victoria Justice) gets what is probably the worst-case scenario. She encounters a murderous cyberstalker. She and her friends decide to hunt this guy down and bring him to justice.
If you're REALLY into true crime: Obsession: Dark Desires

This show—which has a total of five seasons—is a collection of real accounts from real people who survived compulsive stalkers. The survivors narrate, and the events are reenacted by actors. It's equal parts chilling and also hard not to get hooked.
Stream It
If you don't mind a cliff-hanger: Stalker
This is worth the watch if you don't mind the fact that the show was cut prematurely after 20 episodes. We follow Lieutenant Beth Davis (Maggie Q), the head of the LAPD's Threat Assessment Unit, who handles online harassment, voyeurism, and romantic fixation cases.
Stream It
Bonus:
If you're willing to watch ANYTHING starring Penn Badgley that's not You or Gossip Girl: His episode of What I Like About You
Buy season one
BABY PENN BADGLEY ALERT!
If you feel the need to appreciate other parts of Penn: The Bedford Diaries
This also starred Milo Ventimiglia. There is absolutely nothing scary about the show, but hands up if you are a fan of Penn with long hair.
Source: Read Full Article