"CSI: Cyber" didn't last long; the procedural about a team of cybercrime fighters ended after just two seasons. However, many of the cast members have enduring love stories that topple the theory that Hollywood relationships don't last. That definitely has to count for something, especially when there are quite a few big-name, A-list TV stars on the show. From James Van Der Beek's wholesome love for his wife, to the late Kelly Preston's enduring marriage, this ensemble's real-life partners are on solid ground — and we love seeing that.
Love in the entertainment industry isn't always easy — just ask Ted Danson, who took some time to figure out his personal life after his second marriage to producer Casey Coates ended in divorce. "I was a mess-and-a-half," he told AARP. "I thought, I'm incapable of being in a relationship. But I was working on myself. Ironic how life works in those moments. Once you throw your arms up and surrender, a lot of times things come your way."
For someone like Kelly Preston, her advice for a long-lasting relationship was pure and simple. "Keep checking in and keep growing and changing," she told Closer Weekly in 2017. "Keep doing things, just the two of you." That's what makes this cast so special when it comes to their real-life partners, the dedication to their partnership shines right through. With such happily-ever-after stories, it's time we take a look at the real-life partners of the "CSI: Cyber" cast.
Patricia Arquette's relationship stays under the radar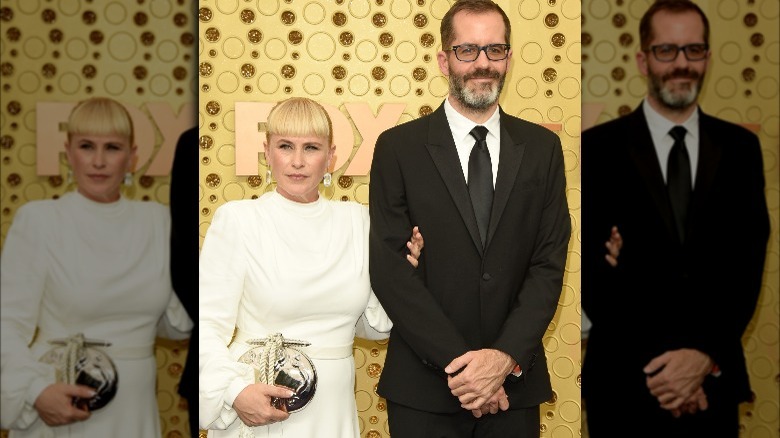 "CSI: Cyber" star Patricia Arquette has been with boyfriend Eric White since 2013, but they prefer to keep their relationship out of the headlines. That's likely because she had two marriages that everyone knew about (hello, Nicholas Cage and Thomas Jane) because they generated a lot of headlines and, unfortunately, didn't go so well. But that doesn't mean she can't have a happy ending. She and White have been blissfully together for years without needing the formality of marriage.
Arquette described her beau as "her favorite painter in the world" when she won her Academy Award for "Boyhood" in 2015. White's artwork takes inspiration from the industry his girlfriend works in: His pieces have involved actors like Harry Dean Stanton, or spoofed famous record albums, and they all elicit a feeling reminiscent of the 1960s and 1970s in Hollywood. Be sure to check out his artwork on his Eric White Studio website to see his talents firsthand.
The quality in White that the Emmy winner appreciates the most is the amount of support he offers her through every project. When she was starring in "The Act," White was there for her every step of the way when she was playing murder victim Dee Dee Blanchard. It took a lot of time out of her and it was often hard to leave that feeling behind on-set. "My boyfriend Eric helped me a lot," she shared with Page Six. That's a true artistic love match.
James Van Der Beek is loving his Texas life with his wife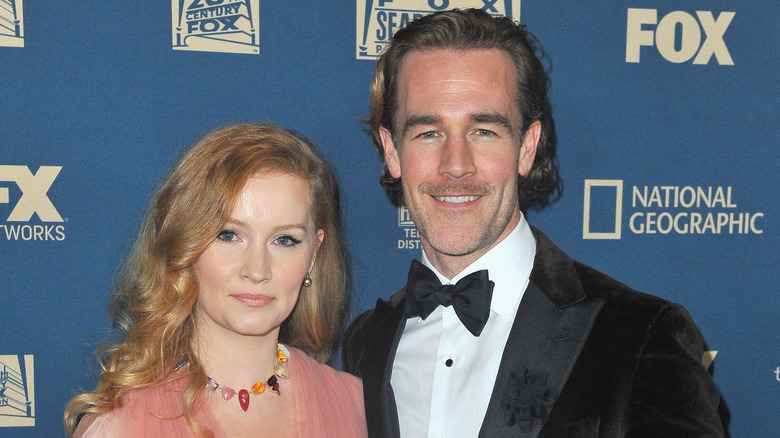 "CSI: Cyber" alum James Van Der Beek and his wife, Kimberly, are a tight unit with their five kids. As People recounted, he met the business consultant shortly after splitting from his first wife. "I asked her what she was looking for in a relationship," he shared on Instagram on their 10th anniversary in 2020. "Her answer: 'I'm not looking for a relationship.' Six months later we were living together. Two weeks after that we were pregnant, and almost exactly one year to the date after she'd first interrupted me, we were married."
After the couple weathered through five miscarriages, a subject that they've shared with their fans, Kimberly had a lot of perspective to offer other families who are going through something similar. "I understand that I am very blessed to be able to birth five children. I've also had five miscarriages, two of which were really harsh experiences," Kimberly said on "The Make Down" podcast. "It has changed my day-to-day quite a bit, because I'm in very much a healing mode right now."
The couple made a big change in 2020, packed their belongings in Beverly Hills and moved to a ranch in Texas, where they are blissfully raising their brood.
Ted Danson is 'madly in love' with his wife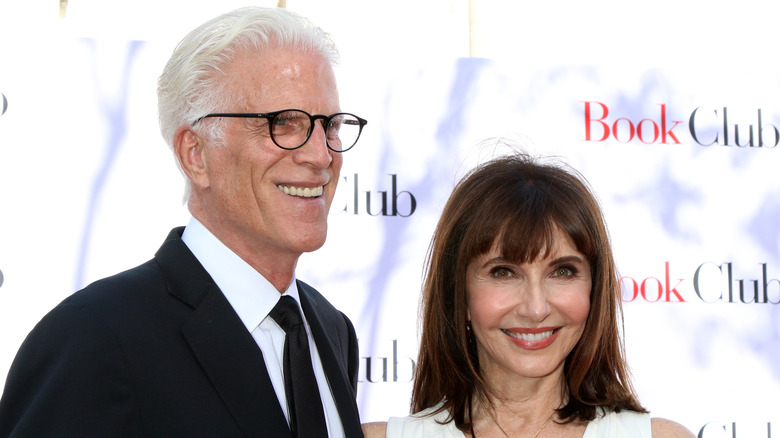 One of the greatest love stories that people don't talk about enough is "CSI: Cyber" Season 2 star Ted Danson and his wife, Mary Steenburgen. She's an Academy Award-winning actor who has popped up in a number of projects, such as "Step Brothers," "Elf," "Philadelphia," and "Melvin and Howard." Danson's extensive filmography includes "Cheers," "Three Men and a Baby," and "Mr. Mayor." But, let's get down to it and talk about their love because it runs deep.
"I'm madly in love with Mary Steenburgen. She's a remarkable human being, so I'm just incredibly blessed," Danson told Us Weekly in 2017. "It feels like heaven on Earth. If I were to die, I can say, I know what it's like to be loved and to love." Well, alrighty then, now you get how much he appreciates this relationship. They fell in love in 1993 on the set of "Pontiac Moon" and married two years later. And the timing was right. "We met when we were 40 and 45, and we had lived a bit," she told People. "We met at a time when both of us had stared down some demons within ourselves."
These two are now enjoying their time as grandparents. "I want as long as possible in my life with Mary," he said to People. "I know it will have all of its hard parts, but I want to experience love in all those moments."
Kelly Preston's love story with John Travolta was beautiful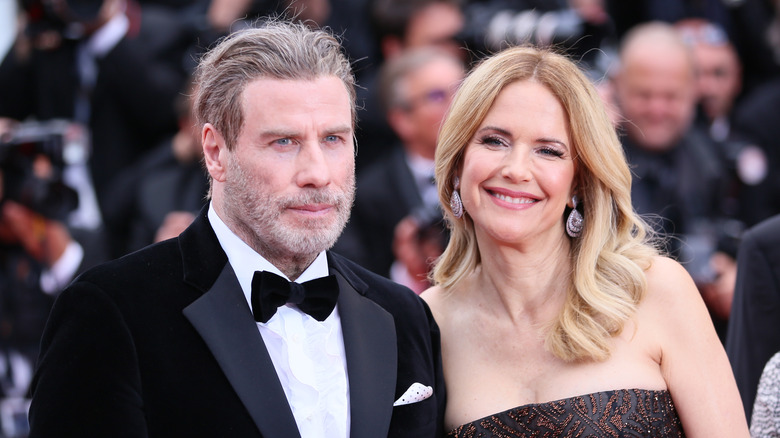 It's still hard to believe that "CSI: Cyber" actor Kelly Preston is no longer with us after passing away from breast cancer in July 2020, but John Travolta has been making sure legacy lives on. After her first marriage to Kevin Gage and dating high-profile actors like George Clooney and Charlie Sheen, her romance with Danny Zuko began. The "Pulp Fiction" star swept her off her feet and proposed on New Year's Eve in 1991, and as she recalled on "Live with Kelly and Ryan," they eventually eloped in Paris after originally planning "a huge wedding in New York."
Of course, we all know John Travolta as a big-deal movie star, thanks to his work in "Grease," "Saturday Night Fever," "Blow Out" — the list goes on. But at home, he's a big-deal pilot, and he and Preston would travel all over the world together. "He is so passionate and he is the best pilot I have ever flown with — literally," she told Phase 9 Entertainment.
Off-screen, their love of family reigns supreme; son Jett, who died in 2009, daughter Ella, and son Benjamin are their entire world. "I absolutely adore my kids. Johnny and I love them up constantly," she sweetly told Health magazine in 2013. "Ella's like, 'Mom, ugh! Thank god you had Ben because now he can take some of the kisses!' And Johnny sings to them—a lot of Tony Bennett and Barbra Streisand." 
Peter MacNicol met his wife on a blind date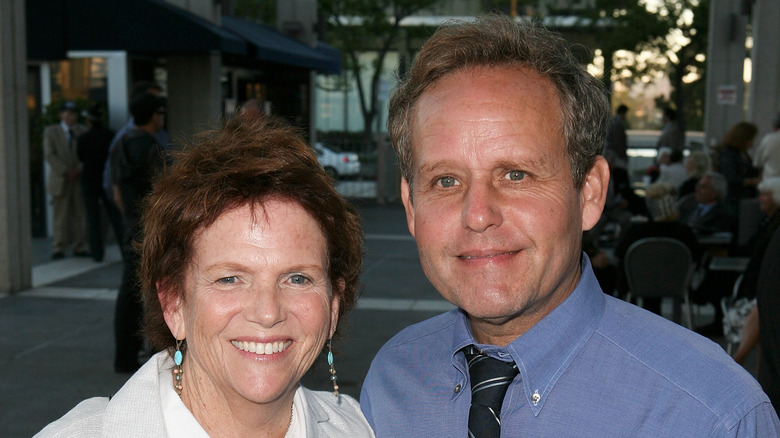 As People (via PeterMacNicolOnline) recounted in 1989, "CSI: Cyber" actor Peter MacNicol and his wife, Martha Sue "Marsue" Cumming, met on a blind date back in the 1980s. Their first encounter was a truly wholesome evening for the two of them because it involved a classic game of Password. "She got me to say 'pneumatic,'" MacNicol told the outlet, "and we knew we had that kind of connection." It sounds like a fun (and nerdy) wordsmith time because it was love at first sight for these two lovebirds. They married in 1986 and she became the executive director of the 52nd Street Project, which immerses homeless children in the world of theater in hopes of assisting them with higher education goals and scholarships.
While MacNicol's filmography grew with TV shows and movies like "Ally McBeal," "Ghostbusters II," and "CSI: Cyber," Cumming stayed behind the scenes developing her career while still supporting her husband's work. He also made sure to honor Cumming right off the bat in his 2001 Emmys acceptance speech. "Let me get this in right off," he began while Cumming looked on proudly. "My wife, Marsue, thank you for everything. Let me not forget that." It's no wonder this sweet relationship is going strong all these years later — a word game had them at "hello." Or rather, "pneumatic."
Charley Koontz credits his girlfriend for helping him through the pandemic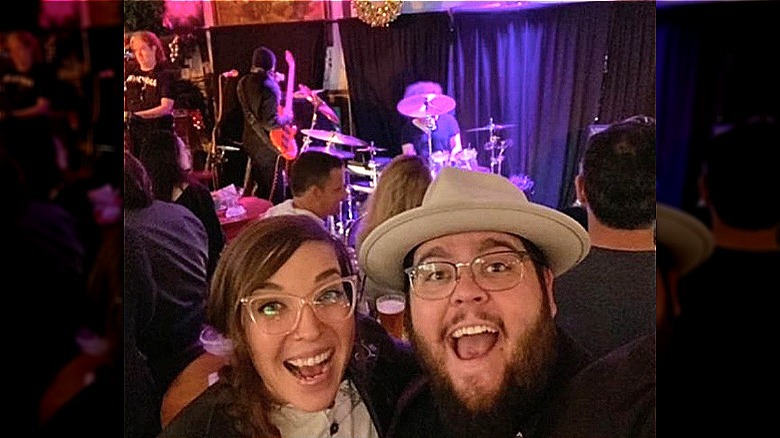 Charley Koontz of "CSI: Cyber" has been dating musician Emily Schalick since 2013. She's a member of the jazz band Sister Lip, who describe themselves as "a four-piece of lovely ladies whose sexy sound draws upon the influences of rock, blues, and the spirit of jazz." They've put out several albums, including "Thanks for the Mondays" and "Threads," but it looks like they've been on hiatus for a bit, according to their website.  
While Schalick keeps a low profile in comparison to her boyfriend, there are little public glimpses of her life with Koontz — like their shared love of craft beer. When Koontz did an interview with Beer Connoisseur in 2017, he talked about how she opened his eyes to local Arizona companies. "My girlfriend Emily is actually from Phoenix and she introduced me to Sonoran Brewing when I would go and visit her," he said. "It's pretty incredible." 
They've also been spotted doing charity work together for Habit For Humanity, and the talented musician is obviously the former "CSI: Cyber" star's biggest cheerleader. On Valentine's Day in 2020, he professed his love and thanks for her support. "Doesn't get much better than this. Happy Valentine's Day my sweet babe," he wrote on Instagram. "I couldn't have made it through this year without you! I love you so much!!" What a cute couple.
Shad Moss is on and off with the mother of his youngest child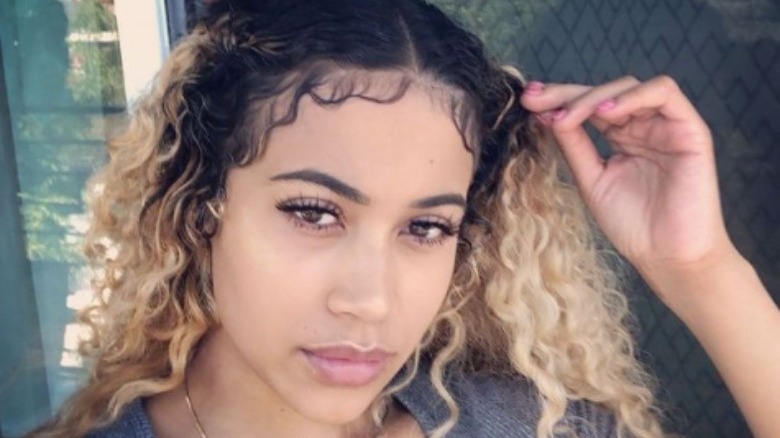 Are they together or aren't they? It's hard to say what the relationship status is between Shad Moss (AKA Bow Wow) and Instagram model Olivia Sky right now, but it's certainly been dramatic in the past. In September 2020, Sky and Moss announced the arrival of their son. Sky shared the news in an Instagram Story (via TMZ) with the tag, "My dawg for life," alluding to the fact that Bow Wow was indeed the father. While not a lot is known about Sky since she tends to be rather private about the rest of her personal and professional life, we do know that she and Moss engaged a public feud about co-parenting their child.
"I'm the best mom for my baby," she said in a leaked audio clip on the Instagram account @its_onsite. Sky went on to explain that she's "humble," works hard to "stay out the way," and earns her own money, yet she claims Moss prefers to "make [co-parenting] hard and that's crazy." 
On the flip side, the former "CSI: Cyber" star thinks he's easy to communicate with and that he will always be there for his kids (he has a daughter named Shai with ex-girlfriend Joie Chavis) and their mothers. "My children's moms, they can call me for anything and I'm going to get it done," he said in a clip posted by The Shade Room. So let's say for now that their relationship is complicated. 
Sean Blakemore and his wife are dancing to a beautiful tune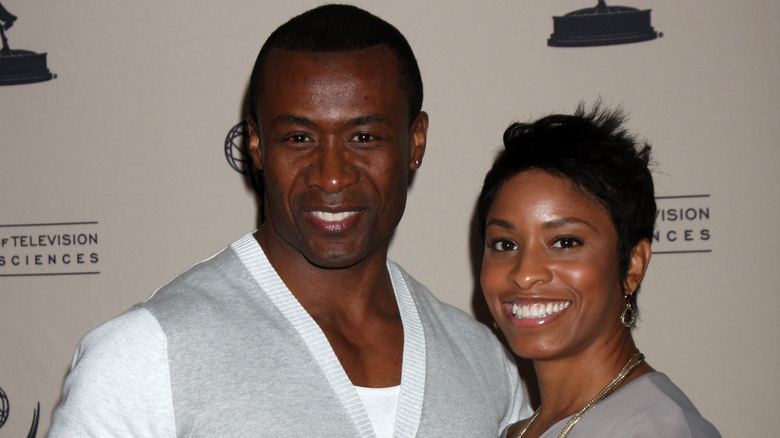 "CSI: Cyber" actor Sean Blakemore's wife Nadyia Jones-Blakemore also happens to be involved with the performing arts. According to her bio on her fitness brand's website, she's an Alvin Ailey American Dance Center alum who's danced alongside musicians like Fall Out Boy, Jay-Z, and Shakira. She's also created "choreography for top selling artists Wyclef Jean of the Fugees, Trey Songz, Adam Hicks of Disney XD, Keke Palmer, The Saturdays, Daytime Soap Opera 'Days of Our Lives' and Nike." Oh, and as she wrote on Instagram, she "had a life traveling the world" with Beyoncé. Don't miss Jones-Blakemore's dance reel to see all of the highlights of her incredible work over the years. 
The pair of performers share two children and a lot of love. In 2020, Jones-Blakemore wished her husband a Happy Valentine's Day on Instagram, writing, "Like a classic black-and-white wedding photo….. LOVE WILL NEVER GO OUT OF STYLE!!!!" That intimacy was also felt when the "General Hospital" star won his Daytime Emmy in 2016. As he shared with Soap Opera Digest, he couldn't attend the ceremony because he was on set for another production, but Jones-Blakemore made sure to capture the home celebration with Blakemore and their daughter, who they welcomed in 2013. "My daughter and I are all very close and she was so excited and it was such an amazing moment that she was sharing with me," he told the outlet. "I am a very fortunate man." 
Source: Read Full Article