Key posts
Porter admits scepticism on robo-debt talking points
Butler orders review of health regulator
This morning's headlines at a glance
Porter admits scepticism on robo-debt talking points
Former Coalition social services minister Christian Porter says talking points he was given as the robo-debt saga was making headlines appeared to avoid the question of whether debts were being incorrectly raised against welfare recipients.
Porter told the robo-debt royal commission he became increasingly frustrated with the lack of clarity from bureaucrats about the operation of the scheme after he took temporary control of it while human services minister Alan Tudge was on leave in late 2016.
Former Coalition social services minister Christian Porter told the robo-debt royal commission he was frustrated by the lack of information he received over the scheme.Credit:Alex Ellinghausen
Porter told the Brisbane hearing this afternoon he went from acceptance of talking points he was provided by the department, "which turned at some point to circumspection", then to scepticism.
"There was a point I became very frustrated," he said.
Read the full story here.
Butler orders review of health regulator
Health Minister Mark Butler has ordered a rapid review of attempts to reform the national health regulator, following reports in this masthead of widespread dysfunction in how complaints are investigated.
Butler said he would write to the chair of the Health Ministers' Meeting, a national group that meets to discuss health matters of national significance, to put the issue of regulatory reform on the agenda at an upcoming meeting.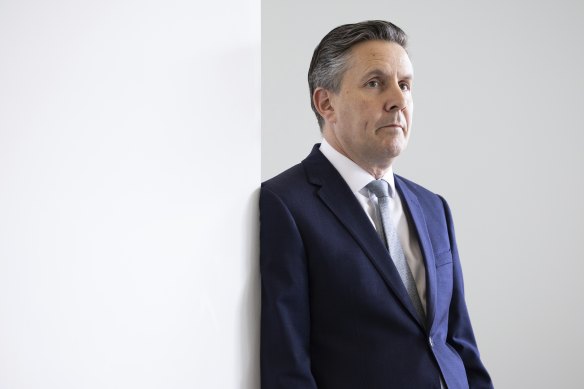 Health Minister Mark Butler has ordered a 'rapid review' of AHPRA following reports in this masthead.Credit:Alex Ellinghausen
His intervention comes after The Age and Sydney Morning Herald revealed concerns about the Australian Health Practitioner Regulation Agency in recent weeks, including chronic under-resourcing, bullying and a "toxic" culture, systemic racism, delays and lack of transparency while investigating misconduct.
More on this issue here.
This morning's headlines at a glance
Good morning and thanks for your company.
It's Friday, February 3. I'm Broede Carmody and I'll be anchoring our live coverage for the first half of the day.
Here's what you need to know before you get started.
National cabinet meets in Canberra today. State and territory leaders will urge for more hospital funding. Medicare reform will also be discussed.
The third day of public hearings for the robo-debt inquiry will wrap in Brisbane today.
Opposition Leader Peter Dutton and shadow attorney-general Julian Leeser yesterday met with the working group for the upcoming referendum.
And tensions ran high on Thursday when the late cardinal George Pell was laid to rest in Sydney.
Most Viewed in National
Source: Read Full Article