Washington: Paul Keating's blistering attack against the $368 billion AUKUS pact is having an ongoing ripple effect in Washington, where members of an Australian parliamentary delegation have been forced to explain the former prime minister's view that the plan is "the worst deal in all history".
Two weeks after Keating launched his broadside and blasted the "incompetence" of the Albanese government for signing up to the deal with the US and the UK, politicians and policy officials on Capitol Hill have continued to raise concerns about the incendiary remarks, pushing Australia into damage control.
The leaders of Australia, US and Britain, Anthony Albanese, Joe Biden and Rishi Sunak, at the AUKUS announcement in San Diego earlier this monthCredit:Alex Ellinghausen
The issue came to the fore when a Canberra delegation, led by Liberal senator James Paterson and Labor MP Meryl Swanson, landed in Washington this week to meet members of Congress and the Biden administration to discuss the implementation of AUKUS – only to find themselves fielding questions about Keating's comments.
"I've already been asked by people here about it, who are really interested to know who he speaks on behalf of, whether he has support, and whether it's a danger to AUKUS," Paterson told The Age and The Sydney Morning Herald after a day of meetings in the US capital.
"Keating is not just any former PM – he's got extraordinary stature and has a respected global profile. So if those kinds of narratives eat away at public support and aren't refuted, that's quite dangerous.
"I think that's one of the reasons why it's important that the government be really clear in distancing themselves from him because we wouldn't want any of our partners to misconstrue that he is speaking for all of Labor in some way."
The AUKUS submarine deal is a trilateral partnership between Australia, the US and Britain that will eventually result in Australia acquiring eight nuclear-powered submarines to help safeguard the Indo-Pacific against the growing threat of China's economic and military coercion.
But the plan nonetheless has ongoing challenges, including the eye-watering price tag, the fact that Australia's homegrown subs won't be in service until the 2040s and the maze of US export controls that could prevent it from becoming a reality.
Paterson said these were among the issues that would be discussed over coming days, when the Australian delegation meets Congress members such as Democrat Joe Courtney and Republican Mike Gallagher, co-chairs of the so-called AUKUS caucus; Republican Rob Wittman, the vice chairman of the House Armed Services Committee; and senior members of the defence industry.
Courtney, who is co-chair of the so-called "AUKUS caucus", has said the agreement is the "most important security partnership" the US has entered into in decades and warned "there's going to be a lot of hard work on Australia's side".
"This is the most ambitious national project Australia has ever entered into," Paterson said. "It's a multidecade partnership and there's a lot of things we need to do to make sure it works. Failure is not an option."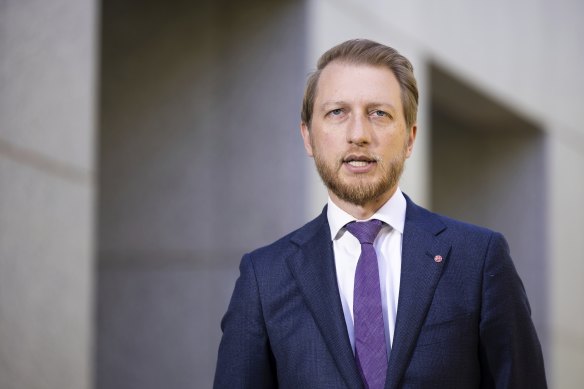 Liberal senator James Paterson, opposition spokesman for cybersecurity.Credit:Alex Ellinghausen
AUKUS isn't the only issue on the agenda this week. As the Albanese government prepares to announce a ban on the use of TikTok on government-issued devices, Paterson, who is the opposition's spokesman for cybersecurity, was set to discuss the issue over dinner on Wednesday night (US time) with Gallagher, who is also the chair of the US Congress' select committee on China, and one of Australia's biggest allies in Washington.
Earlier this month, the US threatened to ban TikTok unless the social media company's Chinese owner, ByteDance, divested its stake in the app. The US has already banned TikTok on federal government devices but this marks the first time that a potential nationwide ban has been threatened.
Paterson said the US crackdown, which he supported, could have "profound" implications for Australia.
"If it's only TikTok US which is divested from ByteDance but TikTok Australia won't be divested from ByteDance, that won't solve the problem for us," he said. "So if the administration and Congress are going down that path, we have to make sure we're included in that."
The Australian delegation's trip comes at a pivotal moment in US-China relations. In New York, Taiwanese President Tsai Ing-wen arrived on Wednesday on a sensitive US stopover, despite China threatening retaliation if she met House Speaker Kevin McCarthy, which she is expected to do next week.
In north-west Washington, another former prime minister Kevin Rudd – one of Australia's pre-eminent experts on Beijing – was settling into his new role as ambassador to the US, after taking over from former Liberal senator Arthur Sinodinos.
And at a congressional hearing at the Capitol, Joint Chiefs of Staff chairman General Mark Milley warned that China was on a "disturbing" path to become "militarily superior" to the US by mid-century, and that America may not be able to "stop, slow down, disrupt, interdict or destroy" China's nuclear development program.
"That's really bothersome," Milley said. "We're going to have to not only keep pace, but we have to outpace that, and that will assure the peace."
Get a note directly from our foreign correspondents on what's making headlines around the world. Sign up for the weekly What in the World newsletter here.
Most Viewed in World
From our partners
Source: Read Full Article