Moscow: Russian mercenary boss Yevgeny Prigozhin has responded to comparisons between himself and the monk Rasputin who treated the son of the last tsar for haemophilia, saying his job was not to staunch bleeding but to spill the blood of Russia's enemies.
London's Financial Times said at the weekend that Prigozhin had growing influence on the Kremlin and likened him to Orthodox monk Grigory Rasputin, who had considerable influence on the wife of Russia's last tsar, Nikolai II.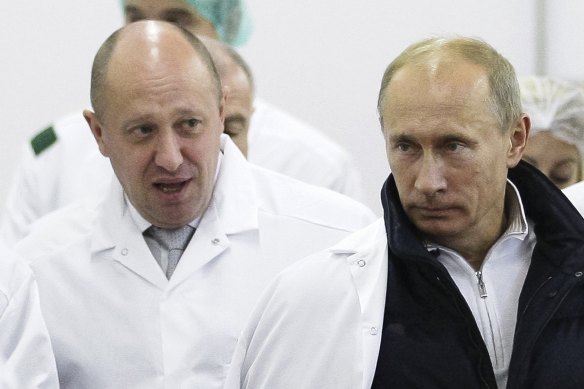 "Putin's chef" Yevgeny Prigozhin with Russian President Vladimir Putin in 2010.Credit:AP
Prigozhin acknowledged only last September that he had founded the Wagner group, which has played a major role in the Russian military's attempts to capture territory in Ukraine's eastern Donbas region.
"I am not very familiar with the history of Rasputin, but as far as I know, an important quality of Rasputin is that he staunched the blood flow of the young prince with incantations," Prigozhin's press service quoted him as saying on Sunday, referring to the article.
"Unfortunately, I do not staunch blood flow. I bleed the enemies of our motherland. And not by incantations, but by direct contact with them."
Wagner has been deployed in a number of African countries, generally to combat insurgents. In recent months, Prigozhin has been seen in online videos trying to lure inmates from Russian prisons to join its ranks in Ukraine.
The Financial Times was not the first to compare his role to that of the monk in the Russian imperial court – a Russian journalist made the comparison last year.
The newspaper said that Prigozhin, like Chechen leader Ramzan Kadyrov, another active supporter of Russia's war, "has positioned himself as a searing critic of military, bureaucratic and business elites who are supposedly failing Putin with their half-hearted, incompetent approach to the war".
Prigozhin said the comparisons were "absolutely clear" and he saw his role as bringing wayward Westerners back into line.
"When children engage in mischief, they try to draw the attention of their father with all sorts of unexpected tricks," he wrote. "All Americans have to do therefore is to come to dad, ask for forgiveness and continue to behave normally."
Rasputin was assassinated in 1916 by a group of Russian noblemen who feared his growing influence on the tsarist family.
Reuters
Get a note directly from our foreign correspondents on what's making headlines around the world. Sign up for the weekly What in the World newsletter here.
Most Viewed in World
From our partners
Source: Read Full Article