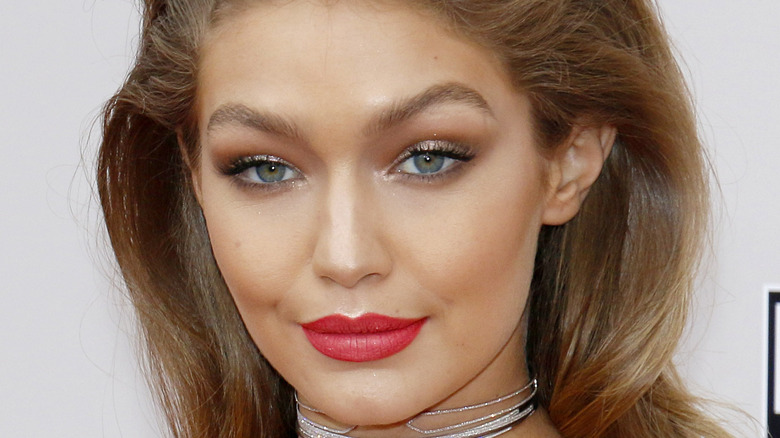 Gigi Hadid is the modeling world's it-girl, trekking around the globe along with sister Bella to walk fashion show runways and just be an all-around style maven. Nowadays, though, Hadid is more low-key, preferring time spent on her Pennsylvania farm with boyfriend Zayn Malik and their adorable baby girl, Khai (via Capital FM). Trotting from her NYC apartment to wide-open farmland, it's no wonder that the model has pared down her fashion looks and beauty routine to match.
Hadid told InStyle that, when it comes to makeup, she takes the "mother knows best" approach. The 26-year-old always listens to her mother, Yolanda Hadid's, advice for all things beauty; she is a former supermodel after all (via Bravo). As Hadid revealed to InStyle, Yolanda has always told her that "less is more, and to only use products out of necessity." And Yolanda takes her own advice, too: "My mom hardly wore makeup, and I certainly didn't have any of my own. It was fun to learn about it later in life." And learn she did: Hadid's beauty looks — on and off the catwalk — are works of art, and we're dying to know how to recreate them.
The L.A.-born covergirl recently filmed a Beauty Secrets session for Vogue, and we're freaking out about how down-to-earth Hadid's makeup routine is. With tons of drugstore cheapies, it's clear Hadid isn't one to turn her nose up at the best wallet-friendly products out there. Ready to know more? Prepare to be quite surprised at Gigi Hadid's makeup routine.
For Gigi Hadid, it starts with great skincare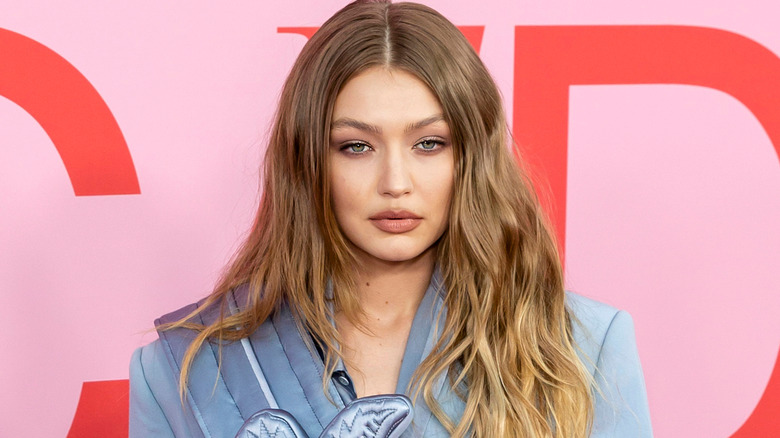 Like most other supermodels, Gigi Hadid is as interested in great skincare as she is in makeup. Creating a near-poreless base through her must-have dermatological products, Hadid's approach to beauty is about putting the skin first. The model went live on Instagram with makeup artist Erin Parsons to show how she nails her natural-yet-glam looks, and Hadid was adamant about starting with the right skincare (via Grazia). The model explained that, since becoming pregnant, she's been on an organic-product binge, saying she loves spraying her face with hydrating rose-quartz-infused mists.
Saying her skin is "always dry," Hadid showed Vogue exactly how she preps for major suppleness every morning. First stop? Cleanser, and it's way more accessible than you'd ever expect. Hadid explains, "Whenever I'm working a lot, or I'm wearing a lot of makeup, or I'm coming from a shoot, I use Cetaphil." The $6 dermatologist-approved face wash is more than enough for the top model, who says it "really cleans" her face. Clinically proven to reinforce the skin's moisture barrier, this cleanser is ideal for dry or sensitive complexions like Hadid's — at an unbeatable price.
Hadid also uses Oliveda for organic skincare, a brand known for keeping it all-natural with ingredients derived from olive trees. Talking about their amazing cleansers, moisturizers, and oils, the model loves the brand for a light summer routine. However, come wintertime, Hadid explains that she needs a much thicker moisturizer and loves the Dr. Jart+ Ceramidin Cream.
The supermodel's best skincare tips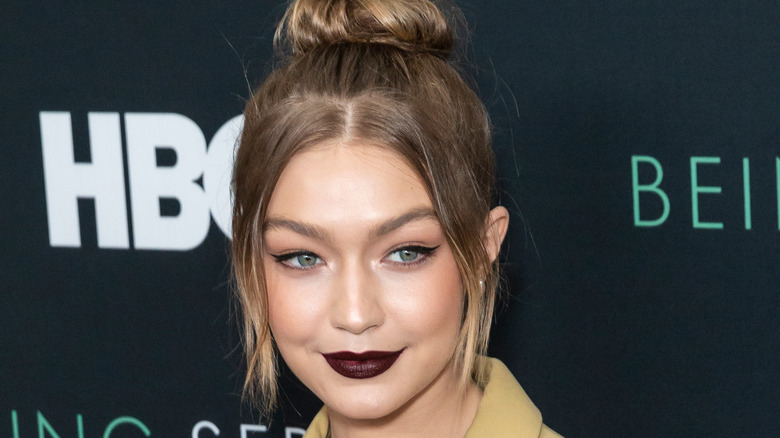 Once Gigi Hadid's face is cleansed and moisturized, she layers on the Odacité Mo+P Very Dry Skin Moringa + Petitgrain Serum Concentrate, formulated to nourish "rough, chapped, and cracked skin." Layering on the combination of moringa oil, rose, and vitamin E, the model applies her moisturizer-serum mixture all over her face for optimal quenching. 
Another important step to her routine? Exfoliation, and she cites drugstore-fave St. Ives Invigorating Apricot Facial Scrub as her pick until "pretty recently" (via Vogue). She told InStyle that the scrub's "exfoliating beads get the blood circulating," leaving the skin "feeling clean and soft." At an impressive $4, Hadid explains she's always "gone for drugstore skincare" and that she doesn't think you have to pay a lot for good products.
Now, about pimples: Hadid recounts the skincare horrors of fashion week, where makeup artists "take the same makeup brush all the way down the line on 30 girls." The model says fashion week almost always makes her break out on her chin and nose, which is only further aggravated by stress and lack of sleep. So how does a supermodel get rid of a pimple? Instead of opting for an expensive facial, Hadid says she does extractions herself, preferring to get rid of acne "gently" and at the source. While popping your own pimples isn't recommended by most dermatologists, it sure seems to work for Hadid! When she doesn't pop, Hadid follows her mom's advice: "I put toothpaste on spots at night and it dries it out." Noted!
Gigi Hadid is seriously into beauty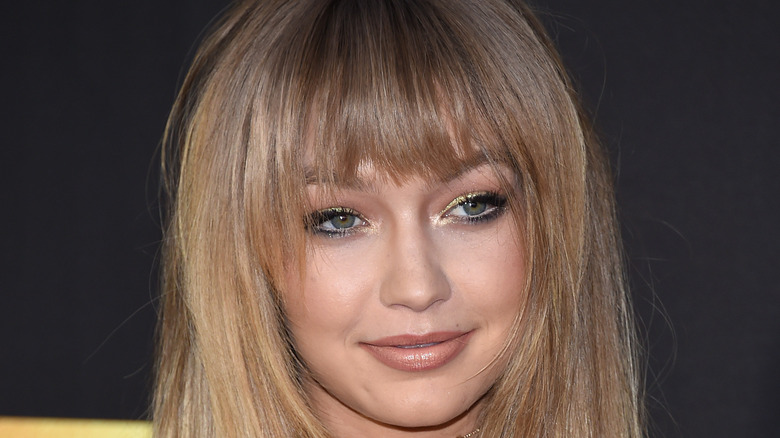 Gigi Hadid told Vogue that she always applies lip balm before starting her makeup routine so it can have time to soak into the lips. Try her favorite Lanolips Strawberry 101 Ointment Multi-Balm — Dry Lips Treatment, and apply it anywhere your skin feels dry (cheeks and nose included). And if you're still not moisturized enough, the new mom told InStyle that she also can't get enough of the Chanel Hydra Beauty Crème Riche, which she says "absorbs right into your skin" and isn't "too greasy under makeup."
Other skincare products the model absolutely loves? For Grazia, the model gave her Instagram followers a look inside her beauty cabinet, and fans were shocked at all the amazing finds. With "floor-to-ceiling glass shelving full of skincare, fragrance, and body products," the model's beauty arsenal consists of the Kora Organics Noni Glow Face Oil, the cult-fave $240 Augustinus Bader The Body Cream, tons of Dr. Barbara Sturm skincare, Chanel body creams, the seriously luxe $330 Victoria Beckham Beauty Cell Rejuvenating Power Serum, some St. Tropez Self Tanner, and the acclaimed Charlotte Tilbury Charlotte's Magic Cream. 
The model also recently shared on her Instagram stories that she's "loving" the drugstore fave Neutrogena Oil-Free Eye Makeup Remover, the Boscia Cryosea Firming Icy-Cold Cleanser for cryotherapy-like face-washing, the Boscia Rosewater Mist with Witch Hazel, the antioxidant-rich Belli Healthy Glow Facial Hydrator moisturizer, and the Dan & Lion Ever Oil as a perfect serum (via Teen Vogue).
How to get the model's signature glow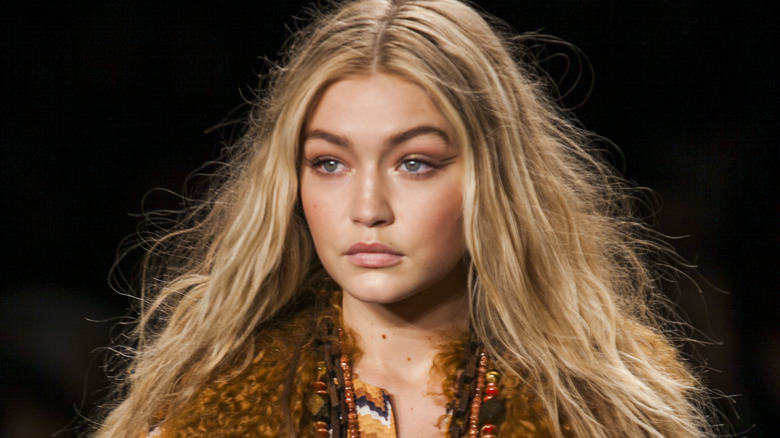 Once you have Gigi Hadid's perfect base, it's time to create a look that should have a glow while avoiding any kind of oiliness. Using your fingers, start with a few drops of Hadid's favorite Charlotte Tilbury Wonderglow Face Primer all over, being careful not to blend yet. Dab the Charlotte Tilbury Hollywood Flawless Filter highlighter on cheekbones, on the temples, and under the eyes (still no blending!), and layer on the Maybelline Fit Me Matte + Poreless Liquid Foundation just where you need it. Then, use both hands to blend the whole combination into skin, and spread it out to the hairline for a filter-like result that still looks natural. 
Hadid then swipes on the super-rich Maybelline Instant Age Rewind Multi-Use Concealer under her eyes, on the chin, and on the forehead, letting it sit for a few minutes to get thicker. Once that's done, tap in the concealer, instead of blending, so it doesn't thin out. Set the base of your look with the Maybelline Fit Me Matte + Poreless Pressed Powder, focusing just on the shiniest parts of your face.
Now, time for perfectly fluffy brows. The Palestinian-Dutch model uses a spoolie to brush the eyebrows upward, swiping on the Maybelline TattooStudio Tattoo Brow 36HR Pigment Brow Pencil to fill them in with a "hair effect." Preferring the natural look, the model seems to leave her eyebrows unplucked, creating a Brooke Shields-esque moment with Patrick Ta Major Brow Shaping Wax to make them "fierce."
Gigi Hadid's California-chic makeup look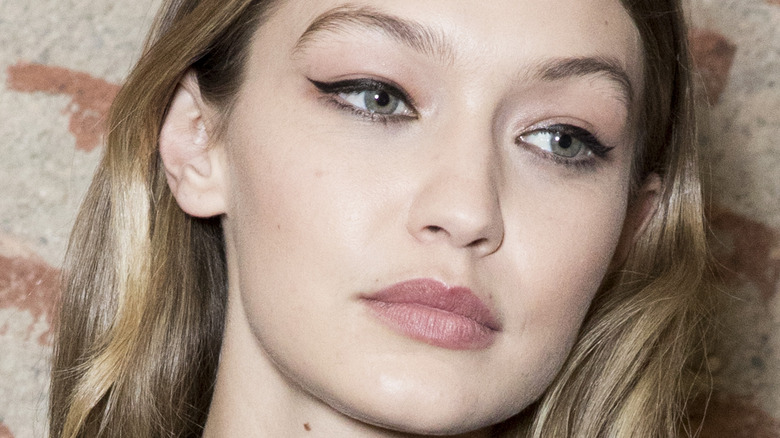 Gigi Hadid told Vogue she wasn't "a huge makeup person" in high school and eventually learned "what looked good" from working with makeup artists and getting photographed. And about those plastic surgery rumors? It's all about good contour: "It's really like, that's the power of makeup. I've never done anything to my face," she said. And her contour expertise shows no bounds: Hadid grabs her drugstore fave Maybelline City Bronzer to contour just under the cheekbones and all along the jawline. Then, using a smaller brush, she contours both sides of the nose and the tip to create the illusion of a thinner profile.
For blush, Hadid uses a compact she's had since high school, she said, that includes bronze and pink-peach tones. A fluffy brush is all you need to swipe the blush on cheeks, the forehead, and even the neck. In her Instagram Live session with M.U.A. Erin Parsons, Hadid also said she loves the Maybelline Cheek Heat Gel-Cream Blush for a moisturizing, super-natural approach that's illuminating to boot (via Grazia).
We can't have a full makeup look without a good eyeshadow moment, and Hadid loves the "orangey-tans" of the Maybelline Nudes of New York Eyeshadow Palette. She takes a few warm matte hues and goes under the brow bone, dabbing shadow from the top of the brow bone down to the inner corner of the eye. Creating "good dimension" for the eyes to "pop more," the model swipes the same shadow under the eyes to connect the whole eye look.
The it-girl's final makeup touches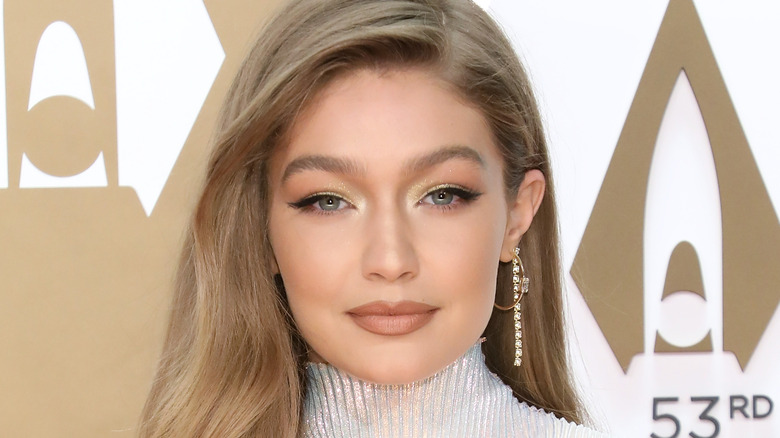 Once she's almost done, she curls her eyelashes and applies the Maybelline Falsies Lash Lift Mascara on the top and bottom lashes (via Vogue). While you might think she's done with blush, Hadid likes going back with a bit of Stila Convertible Color just at the apples of her cheeks. 
Now it's time to glow. Keeping it creamy, the Maybelline FaceStudio Master Strobing Stick Illuminating Highlighter is next, which Hadid swipes all along the cheekbones, tip of the nose, brow bone, and cupid's bow. Dust on some powder highlighter like Maybelline FaceStudio Master Chrome Metallic Highlighter for that something extra. As Hadid's red-carpet makeup looks show, it's all about highlighter for the it-girl (via Byrdie).
On to the lips: First, blot off most of your lip balm with a towel, leaving a perfectly moisturized pout. Start with a lip liner like the Patrick Ta Monochrome Moment Precision Lip Crayon, which features a squared-off tip the model loves. In her Vogue video, Hadid swipes on the Maybelline New York Color Sensational Matte Metallics Lipstick followed by the Maybelline Lifter Gloss With Hyaluronic Acid, but the options are limitless. So, no matter which you choose, you'll get a perfect Hadid-approved beauty look.
Source: Read Full Article