Crockett was performing when a white woman walked on stage and said she was offended by his routine
Getty Images
Comedian Affion Crockett on Saturday called out a "Karen" who interrupted his stand-up act by storming the stage "like the Capitol" in the middle of his routine to complain that she was offended by his act.
Crockett, who is Black, shared video of the encounter on his Instagram account. "When I perform, I SAID WHAT I SAID. If you don't like it, don't come," he wrote. Cancel deez nuts."
A post shared by Affion Crockett Comedy (@affioncrockett)
Crockett soon won support from a slew of stars, from Sharon Stone to Kathy Griffin, who said scenes like this are why she's hesitant about returning to the comedy circuit. Griffin re-posted the video of the encounter.
"This is why I'm not going back on tour yet," Griffin tweeted. "I cannot tell you how disturbing this is. I am fortunate enough to play theaters, as opposed comedy clubs, but believe me, this is not how even a 'normal heckler' behaves. Walking up on stage? I don't think so. She is zombie like."
Crockett was also taken aback by the woman's behavior. "Ma'am it's a goddamn comedy show, is what the f— it is," he said at the beginning of the video. "What's the problem? What's the problem?"
"What do you want to know? What do you want to know?" he continued after the audience began to jeer the woman.
"I'm a woman," the lady replied.
"We know you're a woman. We can tell," Crockett responded.
"And I'm married to a man," the woman added. "But you're insulting a lot of people tonight."
"How?" Crockett responded. "How am I insulting people by talking about sexual matters between adults? I'm talking about consenting adults here. I have sex. I have sex with women."
"So me being up here describing my life is insulting to you?" Crockett then asked.
The comedian then checked the crowd's temperature. "Is anybody insulted?" Crockett asked the audience, prompting people to respond with a resounding "no."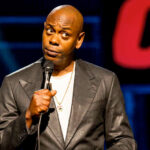 The woman then exited the stage to chants of "Karen" — a phrase used to describe an entitled older white woman.
Crockett also shared the video on Instagram and wrote: "Soo tonight I had my first KAREN storm the stage like the Capitol. I can't make this s— up."
Griffin announced in August she was taking a break while undergoing treatment for lung cancer.
Source: Read Full Article