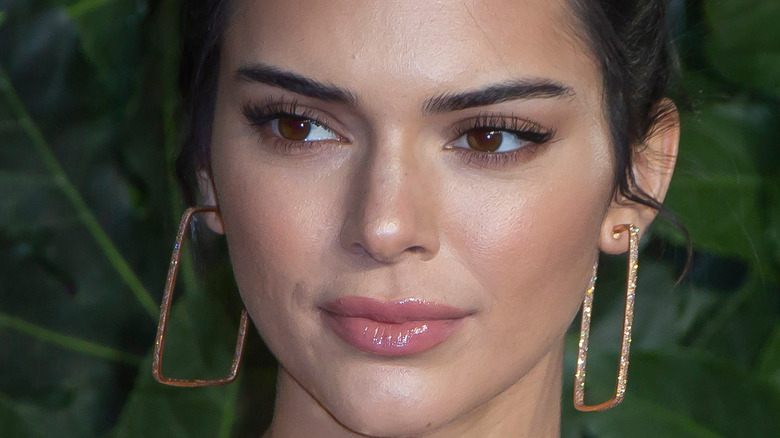 "Keeping Up with the Kardashians" star Kendall Jenner has spent most of her life in the spotlight. After filming 20 seasons of the show, we have seen many intimate and important moments of her daily life played out on our TV screens, per Vox. However, Jenner has not always been as open with the public as her celebrity sisters have. While we've seen her sisters' relationships play out on TV and in the tabloids, Jenner has chosen to keep her dating life private. That is until she started dating NBA star, Devin Booker.
While Booker never made an appearance on his girlfriend's hit reality show, Jenner has been open about sharing photos of him on social media (via Elle). This is a big step for Jenner who has never been so open about who she is dating online. So, you may be asking yourself, "Who is Kendall Jenner's boyfriend?" We have all the answers for you!
He is a successful NBA player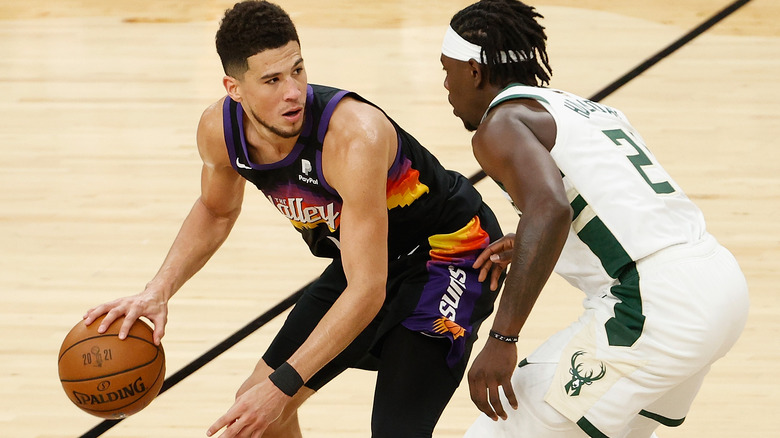 Booker is a successful basketball player. He is currently on the Phoenix Suns. During the 2020-2021 season, the Phoenix Suns have the chance to go all the way. Booker and his teammates are currently playing in the NBA finals against the Milwaukee Bucks. When speaking to the press, NBA veteran Chris Paul commented on the team's strategy. He said "All we can control is what we do. So, we're going to continue to play our game. [Booker] is one of the best to ever do this. So we're going to figure it out," as reported by USA Today. That's high praise from someone who has been in the NBA for 16 seasons!
Booker's compliments from Paul are well deserved. During the 2020-2021 season, Booker played 67 games where he averaged 25.6 points each night, according to Basketball Reference. If you're unfamiliar with the sport, that's pretty impressive! Both Booker and Jenner share success in their respective careers.
He comes from his own famous family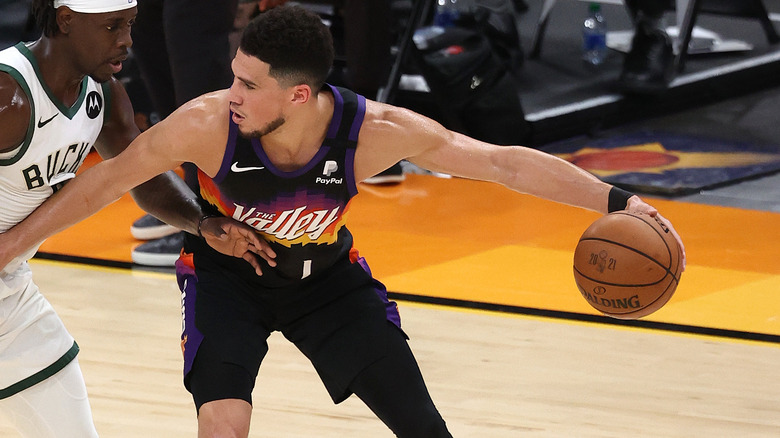 Other than success in their careers, both Booker and Jenner can bond over their experience growing up in the spotlight. While Booker's family are not global superstars like Jenner's is, he grew up with a famous father. Booker's dad, Melvin Booker, was a star in the NBA himself. Melvin Booker was able to make it into the NBA, although he was not drafted. He would play two seasons in the NBA (via Basketball Reference). He got his start playing for the Houston Rockets but was traded mid-season to the Denver Nuggets. From there, he would join the Golden State Warriors. While his NBA career was short-lived, he was a respected player at both the professional and college levels.
In an interview conducted by The Undefeated, Devin shared that Melvin is now his best friend, and he learned everything he knows about basketball from his father. Both Booker and Jenner were brought into the spotlight by their famous families, but have stayed there due to their own talents.
They run in similar social circles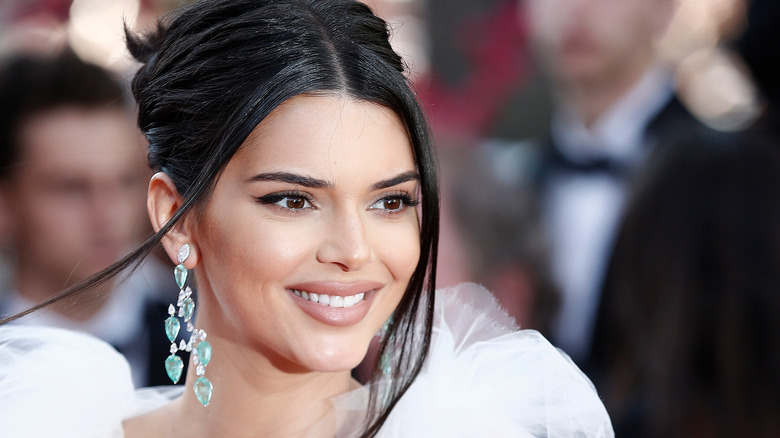 Booker has many celebrity friends. His closest friend is Drake, who has been seen rocking Booker's jersey on stage during his concerts (via Bleacher Report). Drake even gave Booker a shoutout when he sang on a Travis Scott track, according to Hoops Hype. Yes, the same Travis Scott who had a baby with Kylie Jenner, Kendall's sister. It seems these two were in the same social circle before they began dating.
The social circle connection doesn't end there, though. It seems as though Booker was once linked romantically to Kylie Jenner's best friend, Jordyn Woods. Us Weekly reported that Woods, Jenner, and Booker were on a double date with Jenner's then-boyfriend, Ben Simmons, back in 2018. It seems like the fling between Woods and Booker was short-lived, however. You may recall that Woods also had an affair with Khloe Kardashian's boyfriend Tristan Thomas in 2019, according to US Magazine. It is an interesting friendship dynamic, that's for sure!
Jenner and Booker seem to be happy. The couple celebrated their first anniversary together in June and shared about it on social media, according to Elle. This is the first boyfriend Jenner has let her fans get to know, so it must be serious! We are hoping to watch this relationship continue to blossom publicly.
Source: Read Full Article