Legend of country music and sitcom star Reba McEntire doesn't often air issues with other artists and entities publicly. As such, it was particularly noteworthy in 2006 when she took aim at The Chicks, formerly Dixie Chicks, on the stage of the Academy of Country Music Awards.
"If the Dixie Chicks can sing with their foot in their mouths, surely I can host this sucker," McEntire quipped about feeling nervous. So, what did The Chicks say that prompted such a public response from McEntire?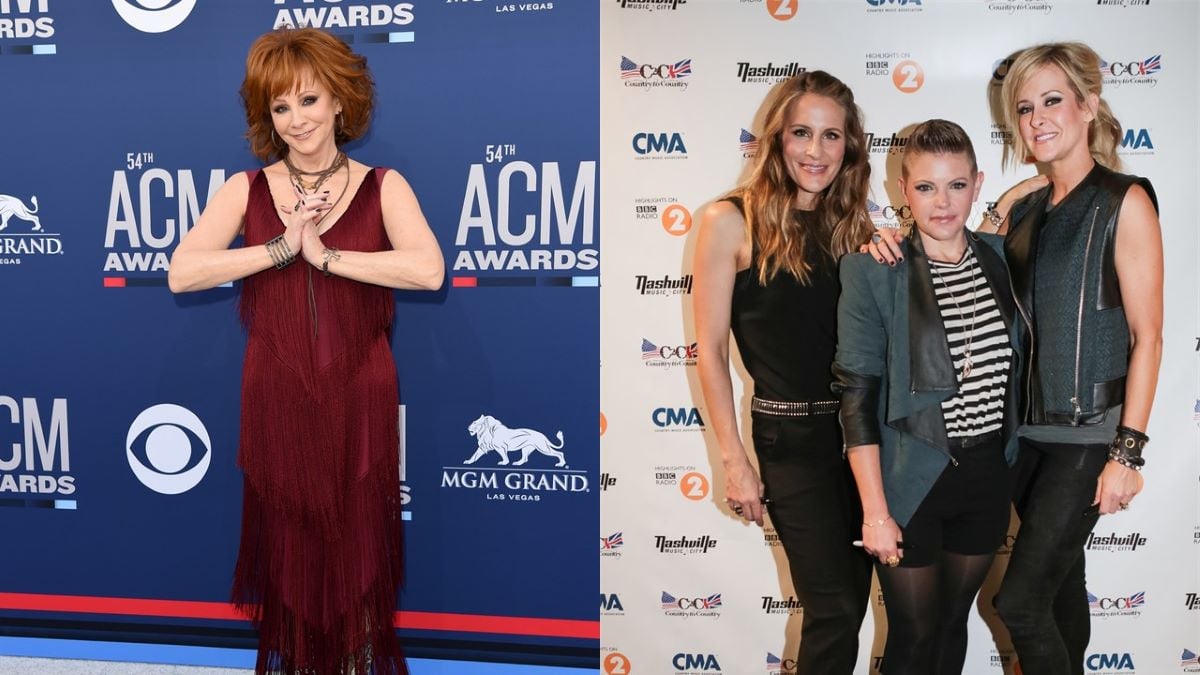 The Chicks sparked a heated discourse in country music
As reported in The New York Times, the roots of this moment seem to trace back to 2003 when George W. Bush was still in the White House, just before the U.S. invasion of Iraq. "Just so you know, we're ashamed the president of the United States is from Texas," Chicks lead singer Natalie Maines told a London audience.
Initially, the group faced the very pointed wrath of country singer Toby Keith and others in his corner. While McEntire admitted to making a joke about how The Chicks wouldn't be "performing at the Bush family reunion," she told CMT, "I never bashed them."
But in a 2006 Time magazine cover story, Chicks member Martie Maguire said they didn't want a specific kind of fan. She said the group wanted "a smaller following of really cool people who get it," and didn't want fans "that have us in their five-disc changer with Reba McEntire and Toby Keith."
"We don't want those kinds of fans," CMT reported Maguire as saying in the piece. Notably, the Time story is not available online. But it seems like making the remark about McEntire's fans made it personal for the "Fancy" singer.
Reba McEntire: 'I feel for the girls. I really do.'
After McEntire saw the Time comments, she said she felt good about her scripted ACM joke about The Chicks. She explained to CMT, "After they did come out in Time magazine and said that about [Keith] and me, I was very glad that I had the written script about me being nervous doing the [2006 ACM] awards show."
"I was ready to say that because I hope they realize that they're not doing themselves any favors," she added. McEntire also said she was "very disappointed" in them.
"When somebody talks bad about my music, my family, that does not set well with me," she said. "And when you bite the hand that feeds you, I just don't think that's very nice."
In the end, the "I'm a Survivor" singer shared, "I feel for the girls. I really do. I don't think they understand how many people are out there in the world who would love their situation and their spot on the radio and on the concert tour."
Stereotypes about country music fans
As The New York Times pointed out, the country music industry and its fans are not a political monolith. So, it seems The Chicks didn't just insult the former president, Keith, or McEntire, but also some of their own fans. NYT writer Kelefa Sanneh noted, "The unintended implication is that only sophisticated city folk oppose the war in Iraq, and only 'rednecks' support [Bush]."
In 2010, Maguire told Out of the response from McEntire: "She's been outwardly critical of us. Some of it has been poking fun and that's fine, because we have been the butt of jokes. However, some of it, and not just Reba in particular, was pretty harsh."
The Chicks have gone on to enjoy success outside country, which included a collaboration on Beyoncé's Lemonade album called "Daddy Lessons." And on one last related note, McEntire liked Beyoncé's "If I Were a Boy" so much she covered it in 2011.
Source: Read Full Article