The actor, who will soon reprise his role in DCEU's 'Shazam! Fury of the Gods', sparks a speculation that he may be anti-vaxxer as he agrees that the COVID-vaccine maker is a 'danger to the world.'
AceShowbiz –Zachary Levi is maybe giving Warner Bros. a headache now. The actor, who will soon reprise his role in "Shazam! Fury of the Gods", is facing backlash after he supported a critical tweet of the pharmaceutical giant Pfizer.
On Sunday, January 29, the former "Chuck" star quote tweeted a post from an account espousing anti-vaccine views that claimed Pfizer is "a real danger to the world." The original tweet read, "Do you agree or not, that Pfizer is a real danger to the world?"
Zachary gave his two cents on the debate, writing in his retweet, "Hardcore agree." His reply raised people's eyebrows, especially because he retweeted an account with a history of anti-vaccine views and transphobic rhetoric. This sparked a speculation that he may be a right-winger spewing anti-vax rhetoric.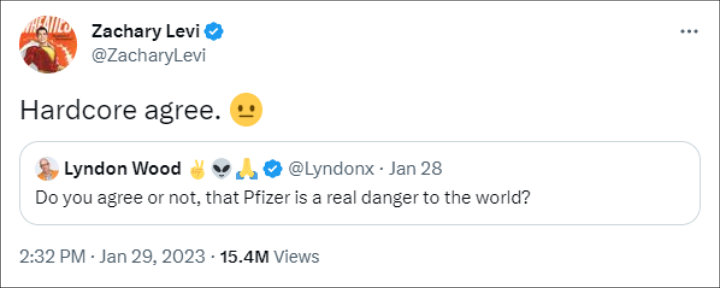 Zachary Levi retweeted a post posing a question if Pfizer is 'a danger to the world.'
"I really really want to give you the benefit of the doubt here, given that you cite in another tweet a fraud settlement that is wholly unrelated to vaccines, but even if you don't mean vaccines (and I deeply hope you don't), you're giving aid to those who do," one person told the 42-year-old star, "Please delete."
Another weighed in, "While I agree that pharmaceutical companies need better oversight, you retweeting that, singling THAT one out, especially when most people who decry it are antivaxx is.. disappointing. Hoping for some clarification as to what your point was."
Some others think that Zachary is ruining his own upcoming movie, which is slated to be released on March 17 in the U.S. "Here I was, actually kind of excited for your movie. But nah. I'm not supporting you now," a disappointed fan tweeted. Another wrote, "Bro how u gonna kill ur movie before it even starts smh," while someone else reminded the actor, "Hey man this is public, you know that right."
Some people, however, supported Zachary for voicing his opinion. "Yeah brother!" one of them said. Another reacted, "Glad to see Hollywood waking up," while someone else added, "Ignore the comments from all the morons."
Apparently catching wind of the backlash, Zachary later clarified his initial tweet by citing a 2009 DOJ press release touching on a fraud case Pfizer was involved in at the time. "Just one example of what I'm referring to…," so he claimed.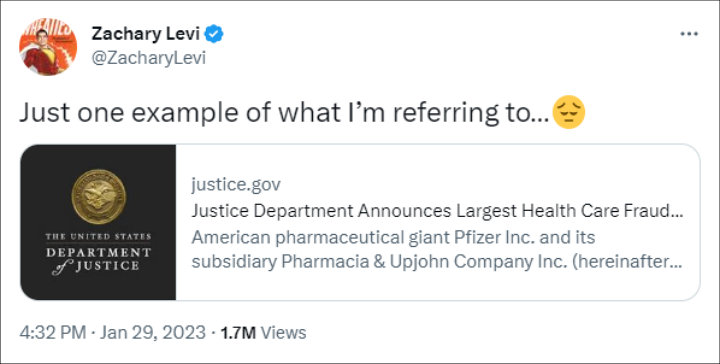 The 'Shazam!' actor clarified his previous tweet.
In other news, Zachary took to his Instagram page to announce the passing of his father Darrell Pugh after a battle with cancer. "Many of you have been asking for an update on my dad, Darrell. Though he fought valiantly until the end, my pop passed away peacefully a few days ago, surrounded by friends and family," he wrote in the January 29 post.
He went on sharing, "Watching anyone slowly die of cancer is one of the worst experiences I can attest to. But knowing that he's no longer trapped in his decaying body, and now singing karaoke in heaven, gives me so much peace and joy."
"Thank you for your overwhelming kindness thru such a difficult time. Sending you all endless love and light right back," the "Shazam!" star concluded his post.
"Hug those you love. Hug 'em tight. Talk about everything you need to talk about. Say all the things. And when the time comes, release them to journey back to where it all began. Back to paradise. A place we'll all be so lucky to return to some day."
You can share this post!
Source: Read Full Article