On the day she turns 21, T.I.'s daughter gets a snarky birthday message from her cousin who goes by Mecie on social media, prompting her mother Ms. Niko to come to her defense.
AceShowbiz –T.I.'s daughter Deyjah Harris, who isn't as talkative as her other family members, has been embroiled in a family drama. The 21-year-old has been feuding with a cousin, who called her "snake" while wishing her a happy birthday.
On Friday, June 17, Deyjah turned 21. She received the snarky message from her cousin, who goes by Mecie on social media. "Happy 21st birthday to my snake a** lil cousin," read the message from Mecie which she posted on her Instagram Story.
Noticing this, Deyjah reposted the Story along with her own message to her cousin. "baby you're in your 30's acting like this, I thought we were better than that..anyway, I thank you for the birthday post even though we both known it wasn't genuine," she wrote. She noted though, "It's all love on my end though, you know that. Have a great life and PLEASE take care of yourself, real s**t."
Over on Twitter, Deyjah further addressed her cousin's birthday message, "Lmaooo it's sad that older cousin will be on this type of time /; you could've kept it at happy birthday or simply said nothing at all if y'all knew the backstory to why she's upset, you'd say it's very much childish."
Mecie then hit back, claiming that Deyjah indulges in negativity, while also claiming her past birthday posts have gone ignored. Feeling embarrassed by the unnecessary drama, Deyjah clarified in the comments of The Neighborhood Talk's post, "I just wanna make it clear that this is my mom's side of the family lol…a few of my family members up in the dmv are crazy so I'm used to it however…even though I shouldn't have to say it, I just wanna apologize to anyone who watched my story or her story last night because that's absolutely ridiculous."
Deyjah also responded to Mecie's accusation, "I don't bother NOBODY at all so this genuinely caught me off guard and if she's felt a way about me not reposting her birthday message (which she hasn't done in years) then we should've been able to have a RESPECTFUL, HONEST, and HEALTHY conversation as adults as opposed to her bringing it to social media."
"It's so sad, we used to be so close growing up and now?" she continued. "Things have to change; Boundaries have be reinforced. My love has to be given from a distance. Again, I apologize to anyone who had to see me go back and forth with my own blood, that's sad. I hope y'all are having a great weekend, be safe if you go out anywhere, and take care of yourself please (:"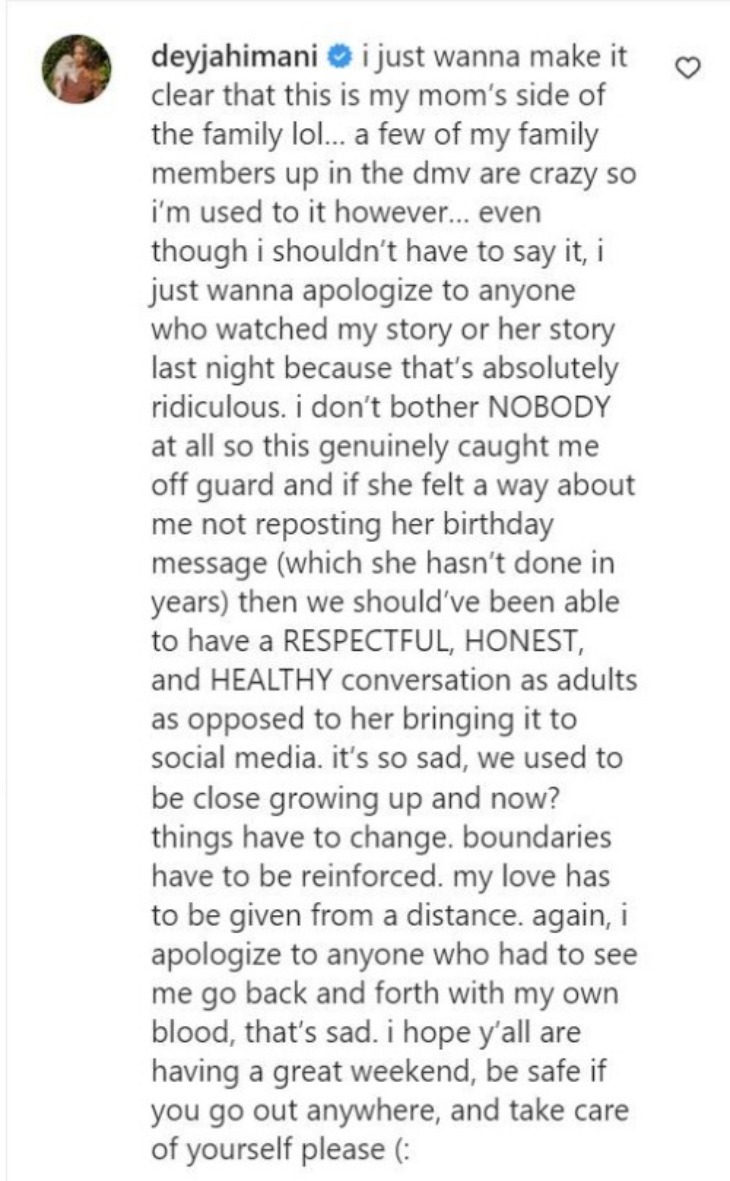 Deyjah Harris further addressed her back-and-forth with her cousin Mecie.
Her mother Ms. Niko also came to her defense. "I gotta lil punk a** cousin who better move TF around before the old me pop up and show her just how negative s**t can get…[100 emoji]," she wrote, before adding, "#FindSomethingSafeToPlayWithB***h #iBetiTAintMe #YouKNOWHowImComingBehindMine I know someone will show you this…so I'll wait…"
Meanwhile, T.I. clapped back at a fan who called him out for seemingly not giving a birthday shout-out to his daughter Deyjah. "My daughter know I love her, my daughter know I talk to her, my daughter know what -man, mind your mother**kin' business. Mind your business," he angrily said.
Insinuating that not everything has to unfold on social media, the rapper claimed, "Me and my daughter, man, on A-1000. My daughter one of the realest people I've ever met in my life, and she ain't impressed by no internet display. If a mother**ker display some s**t on the internet and that s**t ain't reciprocated in real life, she done already peeped that s**t anyway. Unlike you."
T.I. previously made headlines after revealing in 2019 that he annually took her then-19-year-old daughter Deyjah to check her virginity, which upset the teen. The two, however, have since patched things up.
Source: Read Full Article