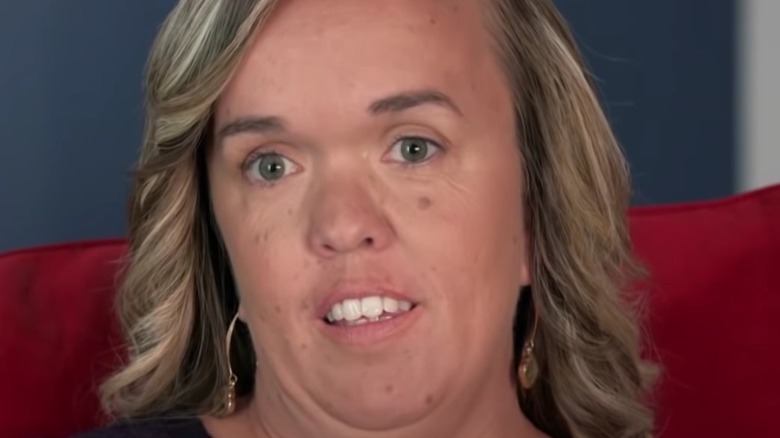 As all loyal "7 Little Johnstons" fans know, Amber Johnston isn't like other reality TV stars. She's headstrong, inspiring, and the epitome of a power mom. She also happens to have a form of short-limb dwarfism called achondroplasia. According to ABC News, neither Amber nor her husband and five kids stand higher than four feet tall, and they humorously call themselves "the real life seven dwarfs." Sure, they're the "largest family of achondroplasia dwarfs," but anyone who watches their show knows that they're just like any other big and bustling family. And Amber is the one who holds the whole household together.
Even though she can err a bit on the controlling side, she's her kid's number-one fan. She's also passionate about keeping her brood as happy and healthy as can be. According to TLC, she "uses her positive attitude to teach her children how to overcome any challenge." But that you can tell from watching a single episode. Here's everything about Amber the show breezes past or leaves out altogether.
Amber Johnston's love story is once for the books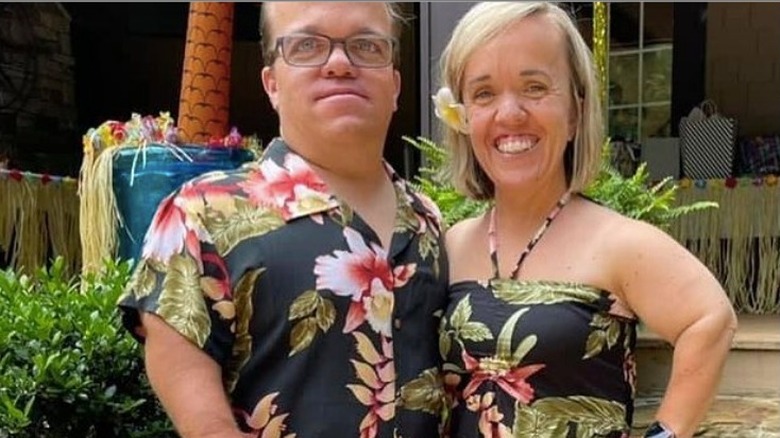 Although Amber Johnston tends to keep relatively tight-lipped about her past, The Celebs Info dug up some quality information on her relationship. According to the site, Amber first met Trent at a convention hosted by Little People of America, which is an organization that brings people with Dwarfism together (via Amo Mama). Although they were both in high school at the time, the pair hit it off straight away and their friendship quickly turned romantic. It was Amber's very first relationship. After dating long-distance for several years, she uprooted her life to move closer to her beau, and then in 1998, they finally walked down the aisle in front of 250 family and friends.
While still a newlywed, Amber gave birth to her first child, Jonah. Less than two years later, the couple welcomed a baby girl, Elizabeth, into the world. Due to the severe complications Amber faced during her second pregnancy and birth, they decided to begin the adoption process. As one can easily surmise from the show's title, the family of four soon became a family of seven! 
Even when their marriage gets rocky and their baggage gets aired on TV, the couple remains committed. "We honestly have always — in all of the challenges that we have faced and continue to face — been a team," she told Good Housekeeping. "We know that a relationship, parenting, and marriage is a constant work in progress. With both of us feeling that and knowing that, we don't give up."
Amber Johnston is a mom of five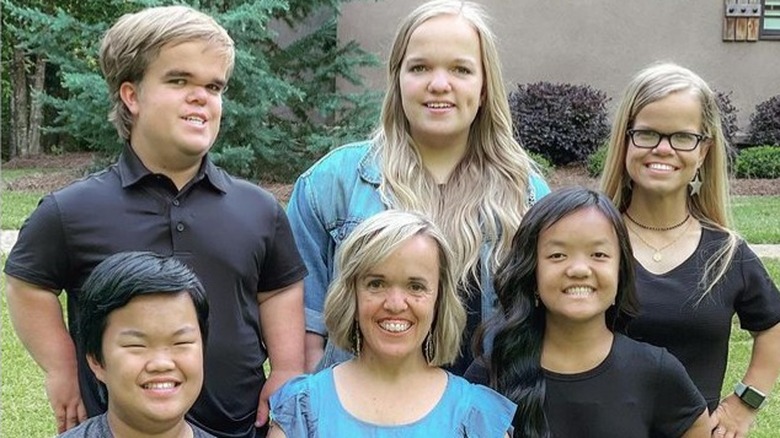 According to Amo Mama, Amber and Trent Johnston now share five children. While Jonah and Elizabeth are their biological kids, Anna, Alex, and Emma were all adopted into the family.
Jonah, the eldest child, is 21 years old and loves playing instruments and soccer. Anna trails just behind Jonah at 20 years old, but she was adopted from Siberia, Russia, when she was four. Prior to the pandemic, Anna was away at college to study early childhood education, per Distractify. Then comes Elizabeth, who the show depicts as a hard-working social butterfly. She's currently studying nursing in college. The youngest two children were both born in 2005, though Emma's birthplace is China while Alex's is South Korea. They're both highly creative and each operate their own Etsy shops.
We can only imagine how hectic the Johnston house must have once been. However, Amber is set to be an empty nester before she knows it. "We have five kids under this roof, three of which are entering adulthood," she explained in a Season 9 teaser (via YouTube). "It's a very busy, crazy time.
Being a reality TV star isn't Amber Johnston's only job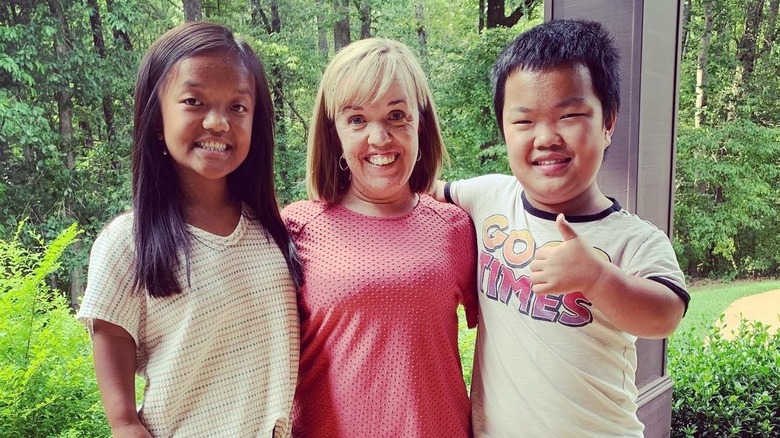 Even after TLC approached Amber and Trent Johnston about making a reality TV show about their family, the couple kept their day jobs. While Trent works as the director of landscape management for a local college (via Distractify), Amber works in real estate.
According to her Zillow profile, she works as a buyers agent and listing agent at Washburn & Associates and specializes in relocation and consulting. Her profile also claims she's "dedicated to getting you the results you deserve, whether it is listing and selling your property or finding you the perfect property to call home." She must be pretty good, seeing as she's garnered a full five-star rating from past clients! One glowing review reads: "Amber is a very smart and knowledgeable woman who will listen to all your wants and needs. She will give you pointers on what you need to do and how to do them. She is straightforward and to the point … [and] will not steer you wrong."
When Amber returned to work after a hiatus while raising children, the kids gave her their full support. In a YouTube clip for TLC, Elizabeth raves about her mom's uncanny work-life balance: "Now that she's back to work, she may not be here most of the time, but she always works around our schedule. And we are super-duper happy for her and we're very thankful to her for all that she's done."
Amber Johnston has experienced numerous health scares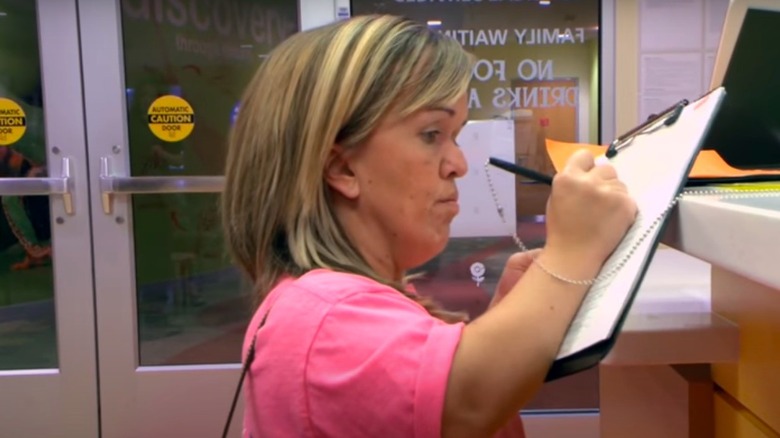 Amber Johnston is no stranger to health issues. After TLC aired an emotional sneak peek showing the reality star at a dermatologist's office, fans of the show went into panic mode (via Pop Culture). "I have been going to the dermatologist for over a year now," Amber told the camera, explaining how a mole on her back had to be biopsied because she's at higher risk for developing skin cancer. The results showed that the spot wasn't "full-blown melanoma," nor was it benign.
The clip also showed a very worried husband. "Amber is definitely a hard-working woman," Trent told the camera. "She doesn't like making time for herself. Some of this also may be just the matter of fear — going to the doctor and getting bad news." In February 2021, Amber posted a photo to the family's official Instagram account of herself at the doctor's office. The caption read "My #skincancerisrealcancer," which seemed to confirm the worst (via Reality Titbit). Hopefully, positive updates are to come.
Amber Johnston's parenting techniques sometimes rub fans the wrong way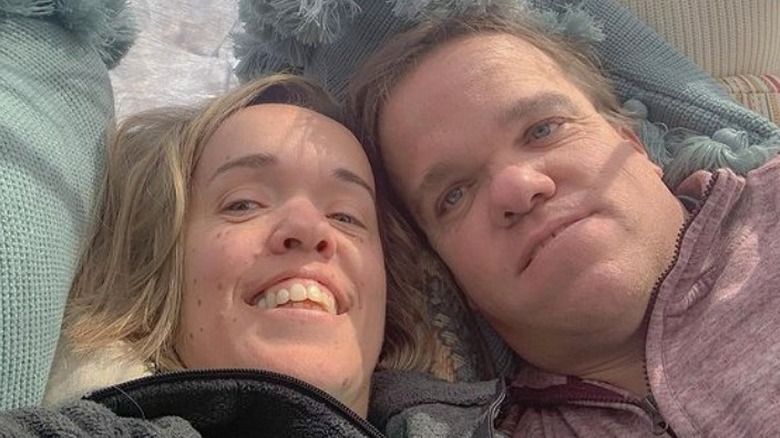 Throughout the show's nine seasons, some "7 Little Johnstons" fans have vocalized their concern over Anna getting treated differently — and unfairly — by her parents. In the Season 9 premiere, mother and daughter go head-to-head, bringing some such concerns to the surface. In it, Amber wants Anna to switch her occupation and she also overrides her choice of college. "Amber needs to lighten up and let go of Anna," one fan commented on the season's promo poster, per TV Shows Ace. "Let Anna follow her dreams, not guilt her into doing what Amber wants."
But there's one other aspect of Amber's parenting that rubs fans the wrong way. In their house, you won't hear "mom" or "dad" tossed around very much because Amber and Trent make their kids refer to them as "ma'am" and "sir" respectively. Addressing the controversial rule, Trent said, "Those things you don't hear these days anymore. It may not mean something to some people, but it means a lot to us" (via Amo Mama). Not all viewers deride the principle, though. "EVERY single thing they told their kids is correct," one fan tweeted, earning her a retweet by the famous family's official account. "Listening or not, they would be doing their children a disservice if they DID NOT tell them about real life. They are trying to teach their children and set them up for success as best they can."
One thing is for sure: The Johnstons sure know how to put on a good show. And they wouldn't be the tight-knit and entertaining family they are without their one and only matriarch.
Source: Read Full Article