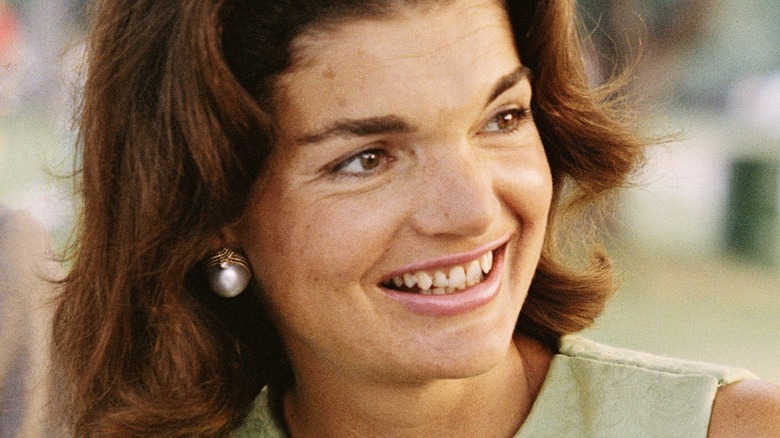 Michael Ochs Archives/Getty Images
By Sam Cohen/Sept. 8, 2021 10:16 am EDT
Despite the fact that Jackie Kennedy was married to one of the most famous men in the world, former President John F. Kennedy, she acquired her commonly used moniker "Jackie O"  during her second marriage to Aristotle Onassis. If you're only a fan of the Kennedy clan, you may not know the full story behind Jackie's marriage to her second husband. Onassis was a Greek shipping magnate who was introduced to the former first lady through her sister, Lee Radziwill. According to AmoMama, Radziwill was allegedly having an affair with Onassis at that time, and Jackie was still married to JFK.
After President Kennedy's devastating assassination in 1963, Jackie was scared for her safety and the safety of their children, Caroline and John Jr., who were quite young at the time of their father's death (via First Ladies). Author Paul Brandus claims it was this fear that led Jackie into the arms of Onassis. "Onassis offered security," he explained. "He had Skorpios, his own island in Greece, a private army with 75 heavily armed men and he owned an airline. He could give her anything she wanted" (via Closer Weekly).
Jackie married the Greek magnate in 1968 in a ceremony held on Onassis' island of Skorpios with her children in attendance. The two lived an incredibly lavish and highly publicized lifestyle, and it was during this marriage that the New York native transformed into the glamorous Jackie O we have all come to know and love.
Jackie Kennedy didn't spend much time with her second husband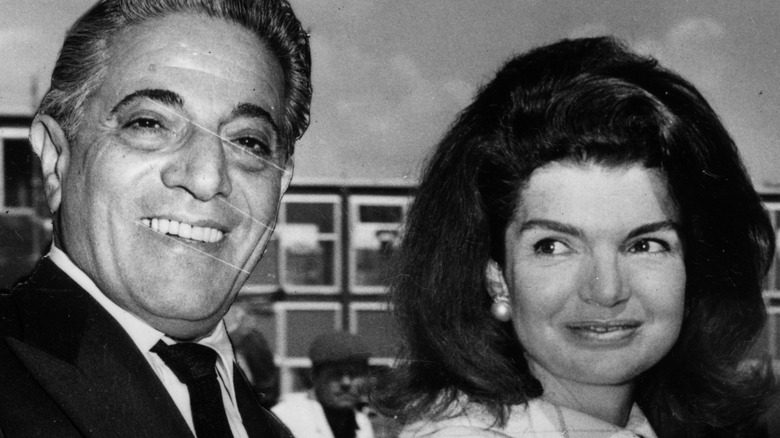 According to novelist Gill Paul, Jackie Kennedy and Aristotle Onassis spent very little time together during the duration of their marriage. "For most of their six and a half year marriage, they lived on opposite sides of the Atlantic. Jackie spent school term-time in New York, where her children were being educated, while Onassis was in Europe, running his businesses. During the summer holidays they were together on Skorpios, his private island in the Ionians, but when he came to New York, he stayed at his suite in the Pierre Hotel rather than her apartment" (via History News Network).
Though Kennedy and Onassis spent limited time together, their marriage was generally considered to be a happy arrangement that worked well for the two of them. Onassis said of their marriage, "She can do exactly as she pleases … and I, of course, will do exactly as I please. I never question her and she never questions me" (via Closer Weekly). At the time, Onassis had been making headlines for his apparent affair with opera singer Maria Callas, a detail that Kennedy didn't give much thought to, as she was content to continue living comfortably under the monthly allowance she was afforded by her shipping magnate husband.
Jackie Kennedy received a $30,000 monthly allowance from Aristotle Onassis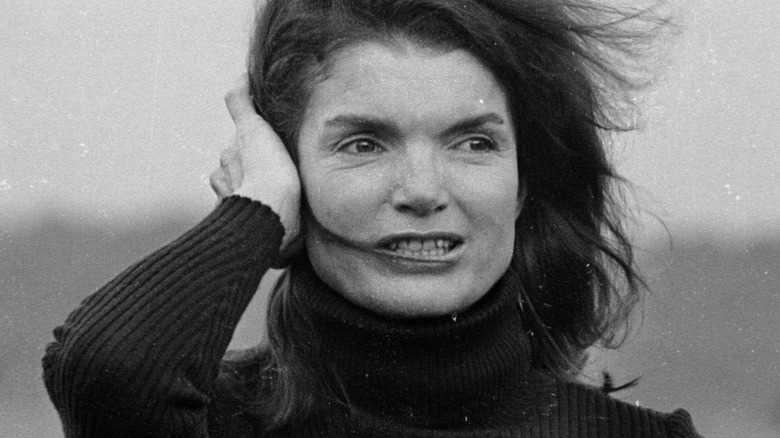 Jackie Kennedy's marriage to her second husband, Aristotle Onassis, was successful because of the security he offered her and the companionship she offered him. Onassis reportedly gave Kennedy a $30,000 monthly allowance to spend as she pleased, according to Closer Weekly. Kennedy had grown up with luxurious taste, and the wealth offered by her second husband allowed her to maintain the type of lifestyle to which she had grown accustomed. Though this was a generous stipend, Kennedy found unique ways to circumvent the allowance and earn herself more money.
As reported by InStyle, Kennedy would use the money provided by Onassis to "buy couture, wear a piece once or twice, and then resell it to a consignment shop and pocket the money." This arrangement worked well for both Kennedy and Onassis for several years, until the death of Onassis' son Alexander in 1972. The Greek magnate reportedly blamed Kennedy for the incident, as he was very superstitious and thought Kennedy had attracted the tragedy (via Closer Weekly). 
Jackie Kennedy and Aristotle Onassis remained married until his death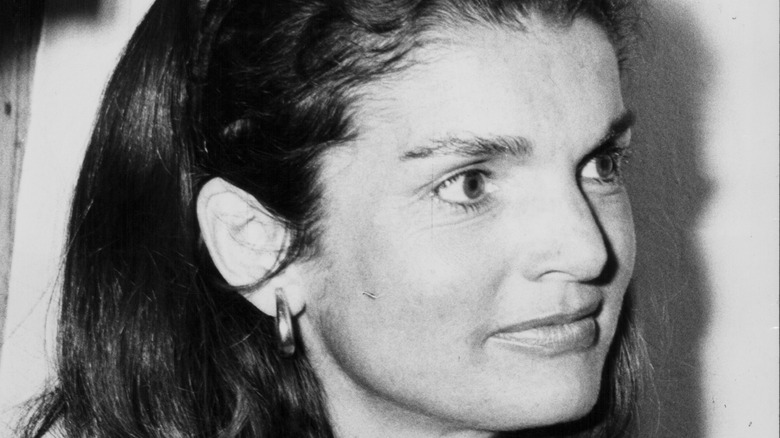 Jackie Kennedy and her second husband Aristotle Onassis drifted apart after the death of Onassis' son, Alexander, and many people believed they were headed for divorce. Onassis' health declined during these years, and he passed away in 1975 while the two were still married. He left Kennedy approximately $26 million in his will and the remaining $500 million of his wealth was distributed to his daughter, Christina (via AmoMama).
At the time of Onassis' death, Kennedy issued a statement saying, "Aristotle Onassis rescued me at a moment when my life was engulfed with shadows … We lived through many beautiful experiences together … for which I will be eternally grateful" (per History News Network). This made it seem as though the two were still on good terms when Onassis died, though it's hard to say for certain. 
Kennedy then went on to date Maurice Tempelsman, an American businessman, from 1980 until her death from non-Hodgkin's lymphoma in 1994 (per Closer Weekly).
Source: Read Full Article