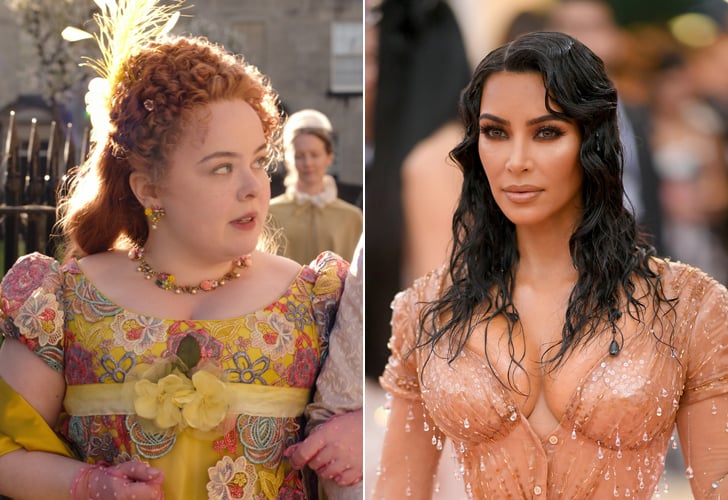 Kim Kardashian Bonded With Bridgerton's Nicola Coughlan Over — What Else? — Corsets

What do Kim Kardashian and Bridgerton's Penelope Featherington have in common? As Twitter just learned this week, their wardrobes include bespoke corsets made by the same designer, and the unexpected crossover has been the talk of "the ton."
The revelation came about when Nicola Coughlan, who plays the role of Penelope in the Netflix series, fired off a tweet to let fans in on a secret: that the Kardashians were "a massive inspiration" for the trio of Featherington sisters. Who knew?! After a fangirling Kim reposted Nicola's tweet and asked to attend a Bridgerton fitting, Nicola revealed that Mr Pearl, the famed designer who constructed the waist-cinching corset Kim wore under her 2019 Met Gala dress, also made Penelope's Bridgerton corset. "You've been part of the Bridgerton world for longer than you know!" Nicola tweeted.
Kim soon after responded, "OMG I'm gonna faint!!!!!! Does this make me an honorary Duchess in Bridgerton ?!?!?!? I am the corset Queen!!!" With the power vested in her as the one and only Lady Whistledown, Nicola dubbed Kim "Duchess Kardashian of Calabasas," which has quite the nice ring to it, if we do say so ourselves.
So, will Kim end up stopping by a dress fitting while the Bridgerton cast films season two? Only time will tell, dear reader, but in the interim, we'll be admiring the photos of Kim and Penelope ahead with a renewed perspective about their corsets hiding underneath.
Source: Read Full Article