The results of the collapse of the single employer bargaining system appear on my desk each week. Individual employment contracts prepared by major corporations and their lawyers and signed en masse by their employees. There is no bargaining, no negotiation. And unless you're Alan Joyce or another CEO represented by the Business Council of Australia, no real wage increase.
And as we now recognise, the collapse of single employer bargaining and the ascendancy of employment contracts has produced a decade of wage stagnation. Absent a functional collective bargaining system, the labour market reverts to no bargaining and no real wage increases.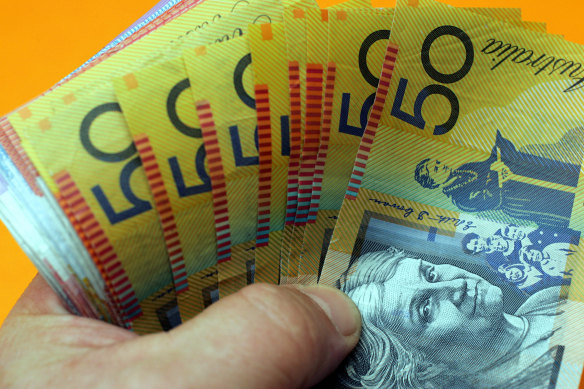 For many years now, employees have been told that a real wage rise is imminent.Credit:James Davies
For many years now, employees have been told that a real wage rise is imminent. For the last decade, Treasury officials have predicted healthy wage rises year after year. No dice. Former Treasurer Josh Frydenberg kept telling employees wage rises were just around the corner. In 2021 Frydenberg urged that the "key to driving increased real wages is actually to get a tighter labour market". Then in March this year, he counselled that "Switching jobs allows workers to move up the job ladder for better pay." That didn't work either. Finally, he urged workers to be patient.
Five years ago, Reserve Bank governor Philip Lowe declared a "low wage crisis" and urged employees to ask for higher wages. Nothing changed. A year later, his insight into the labour market had matured. Lowe recounted to a banking conference in Portugal that when he questioned Australian business leaders why they hadn't offered more pay for highly sought-after workers, "they look at me as if I'm mad". Lowe recognised that big business has become rather fond of wage suppression.
Now in 2022, its another case of Groundhog Day. The same business lobbyists who have successfully campaigned for laws that suppress wages since the 1980s are issuing the familiar cries of "We'll all be rooned". They caution that if multi-employer bargaining is introduced, jobs will be lost, the country will be beset with nationwide strikes, unemployment will spike and according to the Business Council of Australia "a recipe for disaster with deteriorating international conditions". Its advice to workers is two-fold. First, there's no rush. And secondly, we need to try some more with single employer bargaining.
Single employer bargaining has only ever worked well in large, blue-collar companies with predominantly full-time employees; in particular, male-dominated factories that were prevalent in the period after World War II. The system is now outdated, having ossified while business has radically restructured. Small and medium enterprises employ over 45 per cent of employees and those workers lack the capacity and power to bargain collectively for better conditions.
Workers in a 7-Eleven can't negotiate a collective agreement with their franchisee employer. They are hard-pressed being paid the minimum wage. Single employer bargaining doesn't work in labour hire, contracting, supply chains or for gig workers. Women working in feminised industries including childcare and aged care are unable to effectively bargain at the single enterprise level. Single employer bargaining doesn't work for casual employees either. It has evolved into a low wage growth system.
The Secretary-General of the OECD is former Morrison government finance minister, Mathias Cormann. The OECD endorses bargaining on a sector-wide or multi-employer basis, reporting that "bargaining systems that co-ordinate wages across sectors tend to be linked with lower wage inequality and better employment outcomes, including for vulnerable groups". Multi-employer bargaining operates in the Netherlands, Belgium, Switzerland, Austria, France, Denmark, Norway, Germany and Sweden, with New Zealand similarly just this week passing legislation to allow for industry-wide bargaining.
Nevertheless, Senate crossbenchers and the Australian public should assume the brace position in advance of a sustained blitz from big business lobbyists. There's a good reason for this technique. It's been hugely successful. In 2010, after the Fair Work Act was introduced in an attempt to resuscitate single employer bargaining, the BCA and other lobbyists including the Minerals Council of Australia launched a campaign against the new laws, arguing that they had created a "productivity crisis".
As the campaign unfolded, productivity was increasing at its fastest rate in decades. It didn't matter. The net result of the sham productivity crisis campaign was a review into workplace laws that recommended cutting the remuneration of low-paid hospitality workers. The pay cuts to those workers were duly delivered.
Now the Business Council is arguing that the key to productivity and wage rises for long-suffering employees is maintaining the system that it previously railed against: single employer bargaining. We have seen this show before. It's shameless.
As the econobabble workplace laws ramps up, all you really need to know is that there is no peer-reviewed research that treats workplace laws as a key driver of productivity.
When the politicians in Canberra are inundated with lobbyists seeking to block what is in reality a very cautious attempt to stimulate wage growth through limited multi-employer bargaining, they should ask the lobbyists one simple question; when are you going to share some of your record profits with your employees?
The Opinion newsletter is a weekly wrap of views that will challenge, champion and inform your own. Sign up here.
---
More from our award-winning columnists
Australia's future: Claire O'Neill, Minister for Home Affairs, is responsible for espionage, terrorism, foreign interference, cyberwar, criminal syndicates, and more. She says the best of times in modern history may be behind us – Peter Hartcher.
The bank of mum and dad: To what degree does a parent's income determine their child's future income? It turns out, the apple can fall far from the tree – Jessica Irvine.
Australia as a republic: If you're going to ask Australians to forgo the monarchy, you're going to have to replace it with something more fitting. What if, instead of a monarch or a president, we had an Australian Elder? – Waleed Aly.
Most Viewed in Politics
From our partners
Source: Read Full Article