The singer was less than thrilled with her GQ Mexico cover, taking to Instagram to share a makeup-free selfie to highlight what she actually looks like.
Singer Karol G expressed her extreme disappointment over the latest cover of GQ Mexico, which includes a photo of herself she believes looks nothing like her.
Taking to her 61.2 million followers on Instagram Thursday, the same day her cover for the publication was revealed, the Colombian star made it clear she was not happy with the photo used, claiming it was edited in such a way it no longer accurately depicts either her face or body.
She included a no-makeup photo of herself in the post, before then sharing the cover in question. The differences are stark.
Waiting for your permission to load the Instagram Media.
Instagram Media Unavailable
"I don't even know where to start this message … Today my GQ magazine cover was made public, a cover with an image that DOES NOT represent me," she wrote in a caption translated from Spanish.
"My face does not look like this, my body does not look like that and I feel very happy and comfortable with how I look naturally," she continued.
She went on to thank the publication for the opportunity to be on the cover, saying she was "very happy" with the honor — but added she voiced her concerns about the image.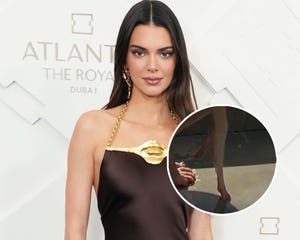 Kendall Jenner's Skimpy Bikini Pic Has Fans Calling Photoshop Police
"Despite making clear my discontent with the number of edits they did to the photo, they didn't do anything about it — as if to look good I needed all those changes," she wrote.
Acknowledging the "repercussions" speaking out could have, she concluded, "but beyond feeling it's disrespectful to me, it's to the women that every day we wake up looking to feel comfortable with ourselves despite society's stereotypes."
In her comments, Bebe Rexha wrote, "So beautiful," while The Game added, "You are naturally beautiful and whoever is responsible for that should be fired!!. ❤️."
Prince Royce also wrote, "They went too far."
So far, GQ Mexico hasn't responded publicly to Karol G … and her cover can't be found on their Instagram page. While the full profile is up on the website, featuring photos from the same shoot, the cover image isn't there either.
Kendall Jenner Responds to Photoshop Speculation Over 'Long Hand' in Bikini Pic
Source: Read Full Article