Storms have arrived in Sydney's west and are making their way towards packed beaches after a hot and humid start to Australia Day.
A volunteer lifeguard told the Herald that Thursday was the busiest she had ever seen Bondi Beach as people took advantage of the public holiday.
It's not certain that the storms will reach the beaches, but the Bureau of Meteorology warned beachgoers would be living dangerously in assuming they won't.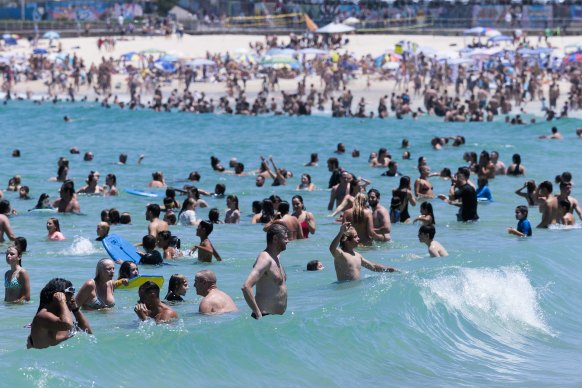 The wet get wetter: A busy Bondi Beach on Australia Day before storms reached the coastline.Credit:Brook Mitchell
"We can't be sure if they will make their way to the coast … when the storm hits the coastal cold air it could slow them down but it's sitting on a knife edge," meteorologist Jake Phillips said.
The bureau's rain radar indicated the most intense storms would affect the coastline from Manly in the northern beaches down to Cronulla about 4.30pm.
Almost all of Greater Sydney would be affected to some extent but conditions were not expected to reach levels of damage reported earlier in the week. There were more than 100 SES callouts after Tuesday night's storms that inflicted more than 20,000 lightning strikes.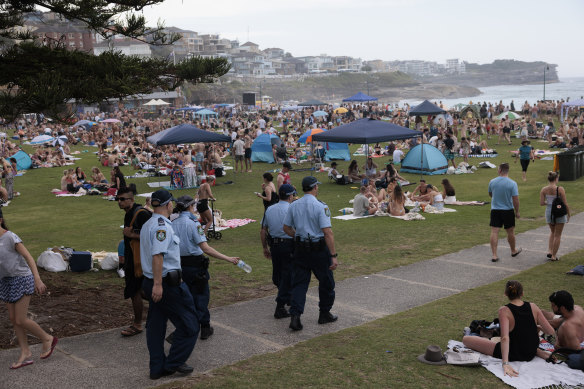 The sky turns grey at Bronte Beach on Thursday afternoon.Credit:Brook Mitchell
The weather bureau has issued a severe thunderstorm warning for damaging winds, large hailstones and heavy rainfall for a large inland area stretching from the Hunter in the north and down to Bega in the state's south. The warning area extends almost as far west as the Blue Mountains but not quite Canberra and includes western Sydney.
"There is potential for hail and damaging wind gusts mainly in the west but we can't completely rule out that reaching the coast," Phillips said. "We may need to extend the storm warning to the coast.
"We have some of the key ingredients for storms, being warmth and high humidity … the atmosphere is primed for storms, so we'll have to wait and see."
The bureau warned of similar conditions in NSW's Northern Rivers and Northern Tablelands regions near the Queensland border.
Phillips said the discrepancy between low total rainfall predictions and talk of storms were explained by the speed at which the storm was travelling east.
"If you are underneath one of those storms you'd get a heavy downpour but it wouldn't last very long … mainly about 10 minutes long," he said.
"There won't be high amounts of rainfall but if you are under a locally heavy rainfall you might see some flash flooding."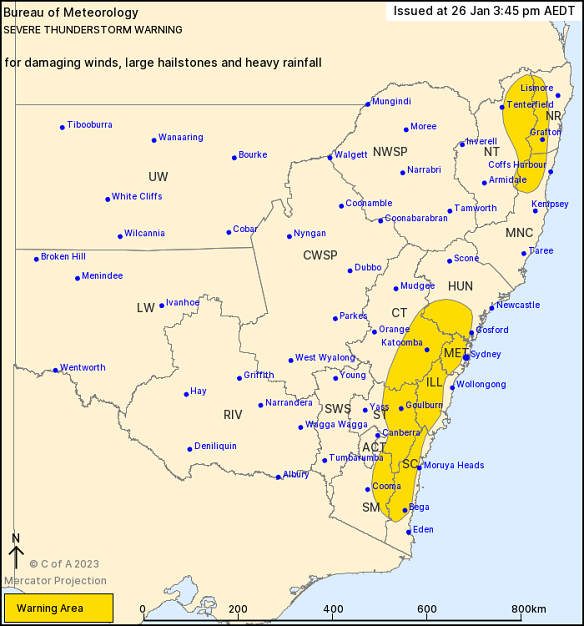 The storm warning for NSW on Thursday afternoon, issued by the Bureau of Meteorology at 3.45pm AEDT. Credit:Bureau of Meteorology
Our Breaking News Alert will notify you of significant breaking news when it happens. Get it here.
Most Viewed in Environment
From our partners
Source: Read Full Article