Every person who had been a fan of Spider-Man since Tobey Maguire played the superhero in the early 2000s was overjoyed while watching Spider-Man: No Way Home. Many actors from the original Spider-Man film returned to play opposite Tom Holland, who has been a fan of Spidey since he was a kid.
Tom Holland and Willem Dafoe faced off in 'Spider-Man: No Way Home'
Peter Parker, played by Tom Holland, and Doctor Strange, played by Benedict Cumberbatch, accidentally tore open the multiverse in Spider-Man: No Way Home. As a result, heroes and villains from other universes crossed over to the Marvel Cinematic Universe, including Norman Osborn/Green Goblin, played by Willem Dafoe.
Dafoe originally played the iconic villain in Spider-Man. Fans and critics alike praised the actor for his performance in the superhero film, and when he returned almost 20 years later, it was like no time had passed at all.
Dafoe seamlessly slipped back into the duality of Osborn and Green Goblin in Spider-Man: No Way Home. And the actor performed many of his fight scenes himself. Dafoe mainly faced off against Tom Holland in the MCU Spider-Man movie. And the British actor was more than pleased to work with one of his childhood heroes.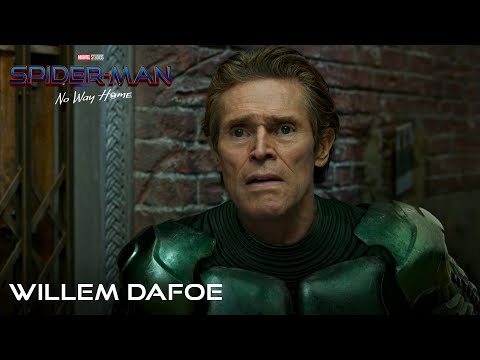 Tom Holland revealed what it was like to fight Willem Dafoe in 'Spider-Man: No Way Home'
One of the Spider-Man: No Way Home special features details Willem Dafoe's return as Green Goblin. And Tom Holland shared his experience of filming fight scenes with the veteran Spider-Man actor.
"It's one of the most surreal experiences I've ever had in my life," Holland explained. "When he becomes the Goblin, he is terrifying. And in the rehearsal, he starts doing the laugh, and he's saying all this different stuff about how much he hates Peter Parker. And we're doing this fight scene, and I just became, like, a five-year-old kid again, watching him in the theater."
Tom Holland was only five years old when Spider-Man premiered in 2002. So the fact that now, as a 25-year-old, he got to fight Green Goblin must have been a career-defining moment.
Jamie Foxx and Andrew Garfield praise Willem Dafoe's work
During the Spider-Man: No Way Home special features, Tom Holland was not the only one to praise Willem Dafoe's performance. Jamie Foxx, who played Electro, and Andrew Garfield, who played Peter Parker, also celebrated the actor's work as Green Goblin.
"Norman Osborn, the Green Goblin, is just like, I mean, to see him work while we're on the set …" Foxx said. "And that cackle, I was like, "Oh." I mean, that's real. You know, I forgot I was in the movie. I'm sitting there with my popcorn like, "This motherf**ker is good."
Garfield added, "Willem is just fearless. And Willem doesn't give a flying whatever. 'I'm doing this.' He's just like so un-self-conscious as an actor. Just totally free, and that's the dream."
Spider-Man: No Way Home is now available to own on Digital, Blu-ray, and 4K UHD.
Source: Read Full Article