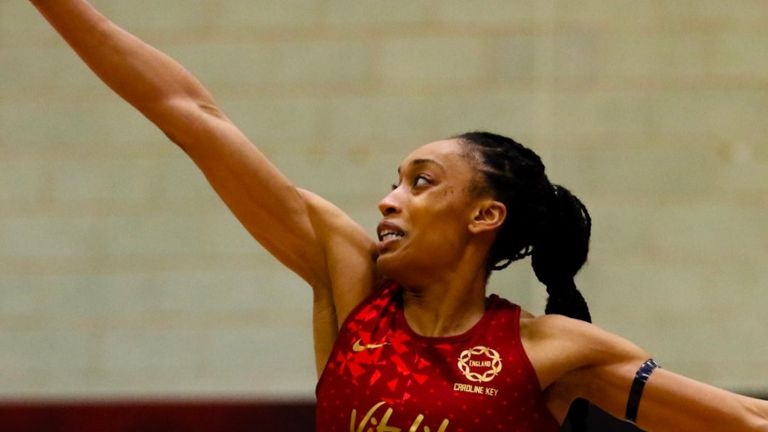 England's Vitality Roses ran out 70-54 winners over the Vitality Superleague All Stars as netball continued its return to UK courts on Wednesday night.
In the first of a three-game Legends Series at the Sir David Wallace Arena in Loughborough – the Roses' first netball action on home soil since last January – Razia Quashie, Eleanor Cardwell and Nat Haythornthwaite starred.
England had been due to face Jamaica in a four-match series, but travel restrictions due to the coronavirus pandemic put paid to a clash with the Sunshine girls, instead Manchester Thunder head coach Karen Greig took charge of a Superleague All Stars squad.
After an evenly-contested first half, the Roses burst into life in the third quarter, the introduction of Cardwell sharpening a shooting circle that needed to shrug off some early rust before powering to the finish line.
Since last January, the Roses have only played three matches, a young team beaten 3-0 in New Zealand in October and November last year, so all action is welcome as Thirlby begins to assemble a squad that can defend the Commonwealth Games title, which they won so thrillingly in Australia almost three years ago, in a little over 18 months time.
Jean Hornsby: I was the exception but now it's the norm
Greenway's Legends Series Ones to watch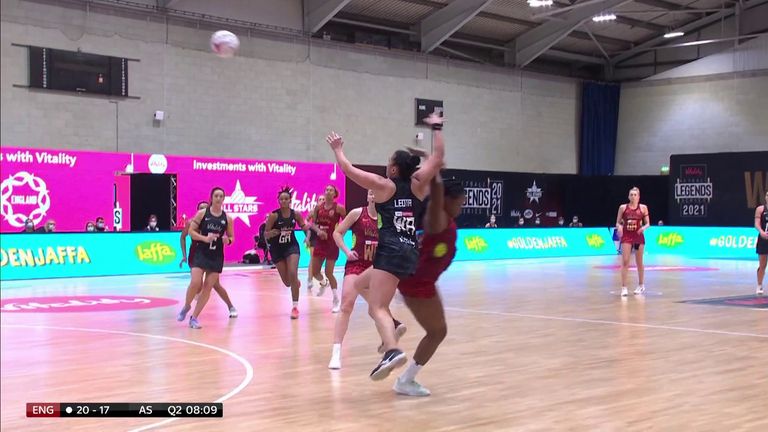 Vitality Netball Legends Series
The emergence of the talented youngsters was the biggest plus from the trip to New Zealand, and George Fisher and Quashie were handed starts in a strong-looking England line-up – Quashie excelling and picking up the player of the match honours.
After the World Cup in 2019, several Roses players have had extended breaks away from the game and on Wednesday in the biosecure bubble that has been the Roses home for the last few weeks, Layla Guscoth, Helen Housby and Serena Guthrie were among those returning.
Birmingham in July 2021 will see the Roses go for gold again and the coronavirus pandemic has hugely limited their court time so a few of the Roses squad were sprinkled into an All Stars squad that pulled in names from six different nations, including Australia, New Zealand and Malawi.
Summer Artman, Nat Panagarry and Yasmin Parsons were part of Greig's team, with Panagarry starting alongside captain Liana Leota, Joyce Mvula and Sam May among others.
The Starting Sevens
A lively first quarter was notable for a some understandable rustiness from both teams as early combinations struggled to find their way. While England forged an early advantage, it was the All-Star cast stepping up to their challenge despite a much shorter amount of playing time.
Pre-season friendlies are underway with the 2021 Superleague season expected to get underway in February and players including Sam May and Jo Trip relished the battle against Roses superstar Housby, and Fisher who will be playing her netball in New Zealand later this year.
With Panagarry offering a physical presence in the defensive end and Liana Leota at her flamboyant best in attack, the All Stars stayed competitive giving England as good a test as they could have hoped for.
world-class
/ˈwəːldklɑːs/
adjective
(of a person, thing, or activity) of or among the best in the world.
"a world-class player"
Also see – Liana Leota
? Live on Sky Sports Arena & Mix
? YouTube Stream*: https://t.co/elJDycH4dZ
? *UK & Ireland pic.twitter.com/l3cTrIIfPq
With little time to prepare a squad drawn from nine of the Superleague franchises, Greig had said she was excited to see what they delivered and they finished the first quarter strongly to trail by three.
England were able to extend that advantage to six by the end of the second quarter before strong words and a couple of tweaks from England head coach Thirlby, who had missed the trip to New Zealand after testing positive for coronavirus, underlined a dominant third quarter.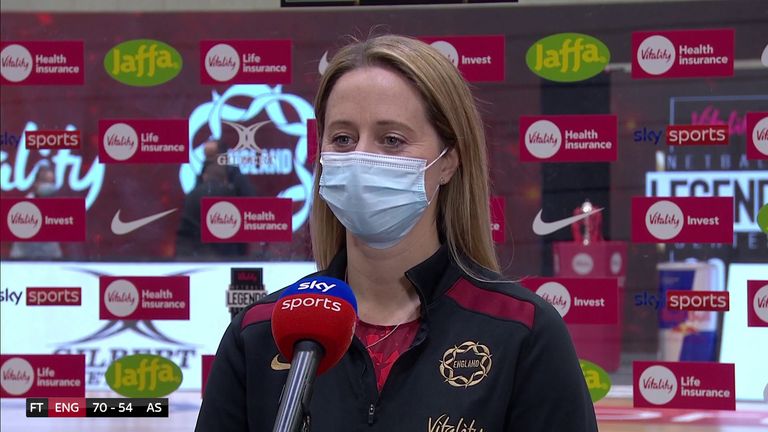 A 31-25 lead became 51-37 as the Roses continued to shake off the rust and bossed the remainder of the game.
Cardwell replaced Fisher at goal-shooter, and Haythornthwaite grew in influence as England's stuttering early attack gave way to a free-flowing tempo which the All Stars, making changes of their own, were unable to live with.
Having had Layla Guscoth back from the Achilles injury she suffered during the World Cup, England were also able to give Beth Cobden a welcome return to the court.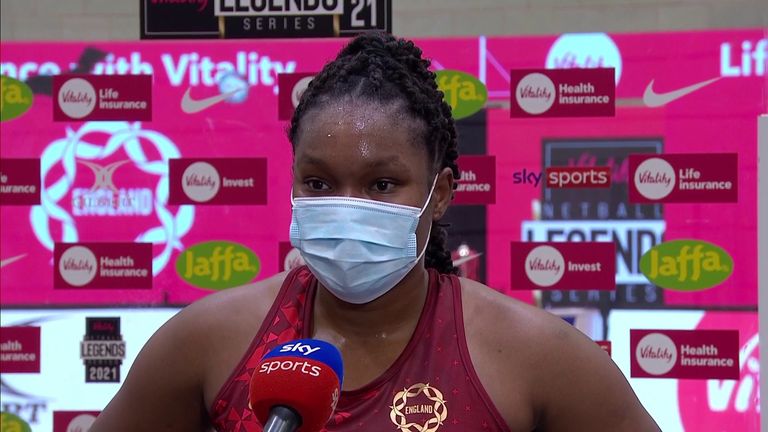 The mid-court star suffered a ruptured ACL on her last appearance in England for Loughborough a couple of years ago, and then suffered a repeat of the injury during her time playing the Suncorp competition in Australia.
But she produced a fine second-half display alongside her England team-mates Sophie Drakeford-Lewis and Fran Williams who also entered the action as the Roses' new wave of stars continued to pull away – their familiarity and time together proving decisive as the combinations continued to click.
In the end, a 16-goal win will have pleased everyone in the Roses camp, but more importantly, the sport being back on the court in the UK ensured there was plenty for everyone involved to celebrate.
https://youtube.com/watch?v=-q7rTWKZxh8%3Ffeature%3Doembed
Those living in the UK and Ireland can watch the game in full again on Sky Sports YouTube channel or by hitting play on the video above – the remaining two matches in the series will also be available via YouTube and also on Sky Sports Mix
Netball returns to Sky Sports with the Vitality Netball Legends series. Watch the second match on Sky Sports Arena and Mix on Friday from 5.45pm. All matches will also be streamed on the Sky Sports YouTube channel.
Source: Read Full Article