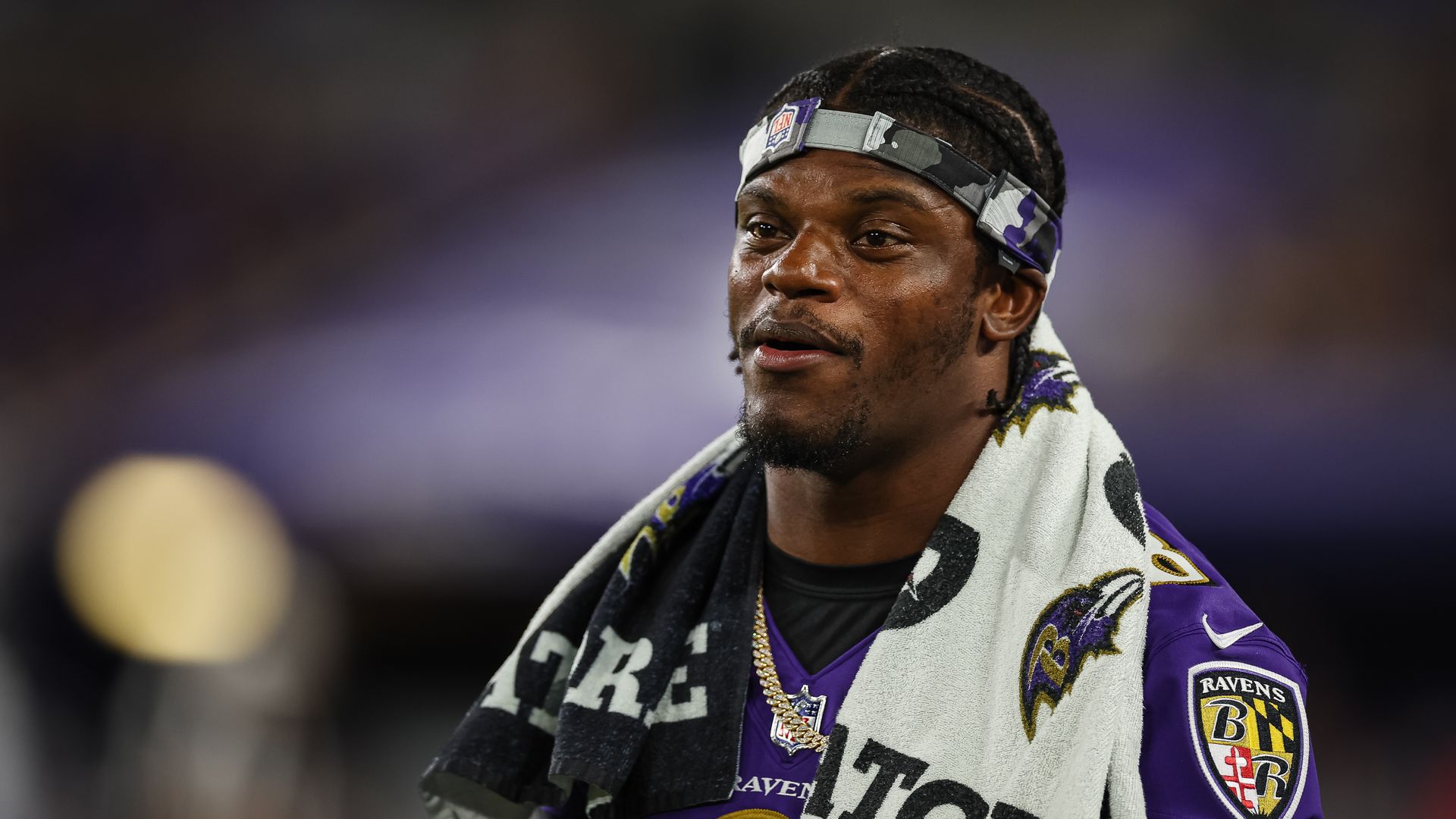 Photo: Scott Taetsch/Getty Images
Lamar Jackson and the Baltimore Ravens' contract standoff took its first concrete step on Tuesday when Baltimore placed the nonexclusive franchise tag on its starting quarterback.
Why it matters: Baltimore is rolling the dice, betting that Jackson won't find a better deal elsewhere but also opening itself up to the possibility of losing its 26-year-old former most valuable player.
How it works: Teams can use one franchise tag per year on an impending free agent, locking that player into a one-year deal at a predetermined salary (based on positional comps).
Details: There are two types of tags: exclusive ($45 million for QBs this season) and nonexclusive ($32.4 million).
The exclusive tag gives teams exclusive negotiating rights. Players can either accept the tag, work toward a new long-term deal or simply refuse to play.
The nonexclusive tag is cheaper but comes with risks, allowing the player to negotiate with other teams (though their original team can still match any deal).
Where it stands: If Jackson signs an offer sheet from another team, the Ravens have five days to match it. If they choose not to, they'll receive two first-round draft picks from Jackson's new team.
The question: Why would the Ravens risk losing a franchise player this young and this talented?
The answer: They likely believe the chances of that happening are very low.
Jackson reportedly wants a fully guaranteed contract despite missing 10 games over the last two seasons.
The nonexclusive tag is essentially the Ravens telling Jackson that they don't want to give him that deal, and they don't think anyone else will, either.
The big picture: Numerous teams with holes at QB have publicly said they aren't interested in signing Jackson, leading to speculation that collusion is afoot.
Some believe owners are working together to ensure that Jackson doesn't get the fully guaranteed contract he's seeking.
Why? To ensure the fully guaranteed deal Deshaun Watson controversially received last year remains an outlier, and doesn't become a precedent.
Between the lines: Jackson and the Ravens have been stuck at an impasse for so long that Baltimore could be using this tactic to simply find out what Jackson's actual market is.
In other words, let someone else negotiate for a bit, and if they're able to come to an agreement, then the Ravens can swoop in and match it anyway.
What to watch: This is just the fourth nonexclusive tag given to a QB this century. None of the other three got signed to an offer sheet by another team.
The bottom line: An in-his-prime player at the sport's most important position just became available for nothing more than a fair contract and a couple of draft picks. What comes next will likely say more about the league than the player.
Source: Read Full Article