20th Century Studios animated family film "Ron's Gone Wrong" also opens wide this weekend
Warner Bros.
"Dune," Warner Bros.' and Legendary's science fiction epic from director Denis Villeneuve, brought in $5.1 million at the box office in its Thursday night preview screenings. It opens on over 4,100 screens this weekend.
Critics and Villeneuve himself have urged audiences to see the film on the biggest screen possible. And of its $5.1 million total, $1.5 million of that gross came from people seeing "Dune" on IMAX screens, accounting for 29.5% of its total gross. The film opened on 402 IMAX screens in previews, and that percentage set a wide-release Thursday night record at IMAX, topping the previous record set by Christopher Nolan's "Dunkirk." That film in 2017 made $1.59 million from its total $5.5 million Thursday preview haul, or 28.9% in all.
"Dune" will open both in theaters and on HBO Max this weekend, and the film is tracking at an opening between $30-35 million in its opening weekend in theaters. It opens alongside 20th Century Studios' animated family film "Ron's Gone Wrong," which brought in $240,000 in its preview screenings that began at 6 p.m.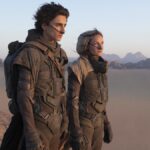 "Dune" is a sandworm sized blockbuster based on Frank Herbert's iconic and influential sci-fi novel of the same name. The film has done well overseas thus far, bringing in $129.7 million abroad. But with a massive budget, it needs a big performance to justify an equally expensive sequel. The film's best comparison may be to Villeneuve's previous film, "Blade Runner 2049."
That movie, though not released in a pandemic, was also a visually daring and dark sci-fi based on an iconic property. And in addition to being released by Warner Bros. back in 2017, it was also made for a hefty $150 million budget. That movie started on Thursday to just $4 million and opened to $32.7 million domestic, ultimately making a big chunk of its $259 million gross overseas.
"Dune" also has a strong 85% score on Rotten Tomatoes and boasts an impressive cast that includes Timothee Chalamet, Zendaya, Oscar Isaac, Javier Bardem, Rebecca Ferguson, Jason Momoa, Josh Brolin, Stellan Skarsgard, Dave Bautista and more. It's the story of Paul Atreides as the son of a noble family that takes control of a desert planet named Arrakis in order to harness a powerful spice that is the most valuable resource in the galaxy.
"Ron's Gone Wrong" is projected for an opening in the $10 million range, and it opens exclusively in theaters on 3,560 screens Friday.
For comparison to some other animated titles opening to Thursday previews, the first "Addams Family" film from October 2019 made $1.5 million in its Thursday previews and opened to $30.3 million. And the 20th Century release "Ferdinand" from 2017 made $350,000 in Thursday previews and opened to $13.5 million.
"Ron's Gone Wrong" sits at an 84% on Rotten Tomatoes and is the story of a teen boy who gets a walking, talking, digitally connected device and best friend, only to find out that his new tech wonder is defective. The film features the voices of Jack Dylan Grazer, Zach Galifianakis, Ed Helms, Olivia Colman and Rob Delaney.
Source: Read Full Article